Rihanna
Not only does Rihanna have an album entitled "Good Girl Gone Bad", she actual lives it. The wholesome but always flirtatious Rihanna used to be all belly shirts, jeans and pop songs. Now, Rihanna's lyrics and appearance are super-sexual. As the chorus in her song "Rude Boy" go:
Come here, rude boy, boy; can you get it up?
Come here rude boy, boy; is you big enough?
Lindsay Lohan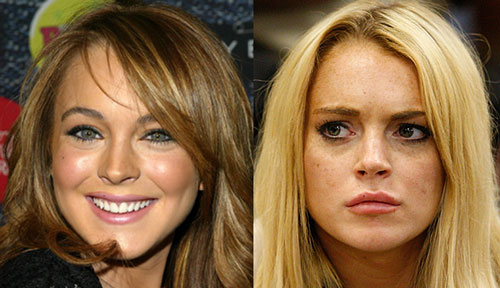 Yeah, Yeah, it's old news that Lindsay Lohan has done a lot of partying in her young life, but take a look at the healthy, vibrant young lady she used to be. It's a hard  knock life in Hollywood!
Taylor Momsen
Taylor Momsen is growing up. Some girls grow up and stay their old sweet selves, other, like Taylor Momsen, embrace the bad girl within.
Xtina Aguilera
Christine originally found her "bad side" on her second album… DIRTY. She was muddy, literally, girating, and singing nastier songs. But you already know all that. What makes her a true "good girl gone bad", is that since her Dirty album, she's married, had a kid, gone back to living a normal mommy life, but then recently ended it because she fell in love with some else. Tsk, tsk, you bad girl Christina! Jut kidding, we know you have to live your life!
January Jones
What man doesn't want Betty Draper? Before she was a star of the hit show, January Jones was more like the mousy girl next door. Now, she more va va voom and always looks like she's got something up her sleeve!
It's Britney B***h
Britney Spears is probably the first person one thinks of in the good girls gone bad category! So we won't talk about all the reason why. Instead take a look at the sweet, untainted girl she used to be. Sigh.
Tags bad celebrities Bad Girls britney spears child stars Christine Aguilera Good Girls Gone Bad January Jones Lindsay Lohan Rihanna taylor momsen teens