By now you know for the second year in a row, Captain Morgan has partnered with Spike.com to host the Captain Morgan 2011 BracketMaster Challenge. A couple of weeks ago we featured Angie who was handpicked as one of Captain Morgan's top 32 favorite Morganettes from across the country. We recently had a chance to ask her a few questions. Below is what Angie had to say about dating, Las Vegas, and of course Captain Morgan.
What's a Morganette?
Behind every great Captain is a good woman, and that's exactly where we come in! The Captain Morganettes are hand selected by the Captain Himself, to help him run the show and keep the party going! We are a team of classy, fun, relatable, sexy, take charge women who love meeting people, going out, as well as partying responsibly with the crew and the Captain. The Morganettes are known for helping Captain Morgan throw legendary parties… what's a party without the crew?
In addition to being Miss September in the Captain Morgan Swimsuit Calendar, I am currently in the West Bracket as a Southern CA Morganette of the Captain Morgan Bracketmaster Challenge. I need all your text votes and online votes to keep me in the game, so I can make it all the way to the finals to become the Ultimate Morganette Nationwide for 2011.
What dating advice would you share with Captain Morgan?
My main advice is to KEEP IT REAL! This saves a lot of time and makes dating fun. Many times, when a man is really interested in a girl, it seems he tries hard to impress her on the first date. You should keep the conversation going as well. Women want to see a man's personality. Laugh with her, share interests, feel comfortable and have fun! Have a good time, be yourself, and show us you are interested. This will make the woman all the more excited about you because she will feel more of a connection. A woman loves a man who she can go out with, who knows her, who she can have a good time and laugh with. If you've done all this–and you guys match up well- you're in! More importantly, I would make sure to tell Captain Morgan to be a gentleman!
Which Morganette would you double date with and why?
Kelly from Ft Lauderdale, FL or Tiffany from Atlanta, GA! Kelly and Tiffany are dolls, super sweet and fun. I did my photo shoot with them the same day. I can kick it with them and we'd just laugh and have a good time.
What's the wildest adventure you ever had in Las Vegas?
Hmm… I have taken many trips to Vegas, too many to count. I love going out to the clubs in Vegas. I have travelled Europe, lived in Paris, and of course I am currently live in Los Angeles, but hands down I must say Vegas has some of the most beautiful clubs I have ever seen. I must admit, I am a total glamour girl. When I go out in Vegas, I love putting on my diamond bling, getting all dolled up, and going out, even to the casino, shows or clubs. I just love the glitz and glamour stuff.
My last trip to Vegas was a girl's trip with my amazing and beautiful mom, and I rolled at the craps table for almost an hour. I got tipped from everyone and made some fun money. She was my lady luck! My other most memorable trip to Vegas was for my birthday couple of years ago. I was in Vegas at the Palms for a bikini pageant, and I taught my roomie and another friend how to play craps. We all won a grand off of like $20 bucks. I can't say I always win, but I can say I was very blessed those times and it' a so fun to have Vegas adventures like those.
What famous guy would you like to strike the Captain Morgan pose with and why?
I want to strike it with George Clooney. Are you kidding? What a great picture that would be! He's super confident and charismatic. I love him! Also, could you imagine one with Obama? That would be priceless!!! I know the question was to pick one, but I can't. Oh and Bobby Kennedy too! I attended the premiere of his (Robert F. Kennedy Jr.) documentary "The Last Mountain" about devastating Mountain Top Removal which exposes truths about toxins from coal mines and power plants that are hurting us along with his clean energy plan in America to fix it. Now that's a Captain! I'd love a Captain Morgan pose with him!
Captain Morgan Swimsuit Calendar Featuring Angie As Miss September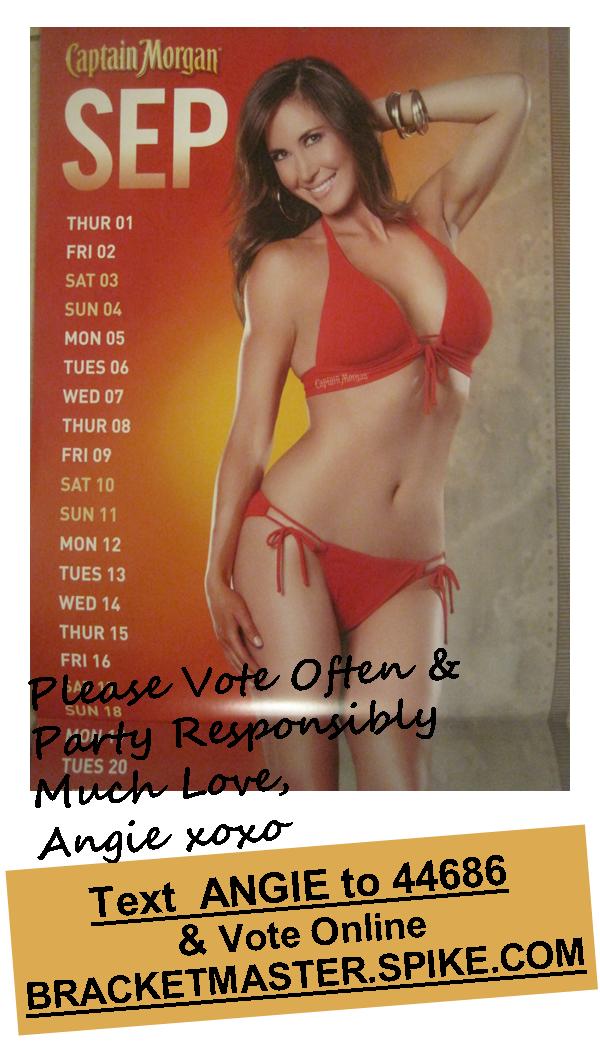 VIDEO
Angie Mixing Her Favorite Drink – Captain Morgan© Cream Soda
[pro-player width='575′ height='348′ type='video']http://www.youtube.com/watch?v=Bqyl5f_4RWY&feature=player_embedded[/pro-player]
Mankind Unplugged's Captain Morgan 2011 BracketMaster Picks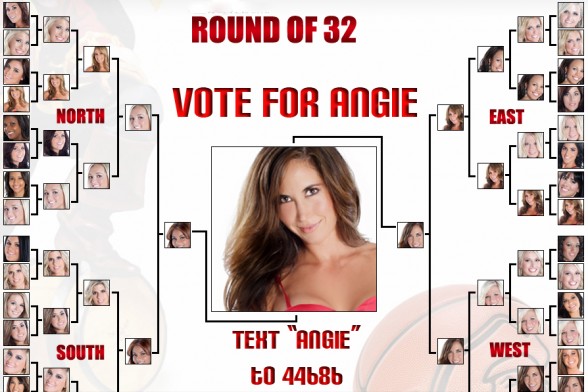 Now that you know a bit more about Angie we hope you are encouraged to help her reach the Sweet 16 (voting closes Wednesday, March 2) of the Captain Morgan Bracketmaster Challenge.
For more on Angie visit her Facebook page and follow her on Twitter @morganetteangie. For more details on the Captain Morgan BracketMaster Challenge and to vote for Angie go to bracketmaster.spike.com or you can text-to-vote by texting ANGIE to 44686. If you vote online and fill out a bracket, you have a chance to win big prizes, like the grand prize of a $10,000 home entertainment system and cash. The more often you vote the more chances of winning, and the chance to win the title of Captain Bracketmaster.
Tags Angie Ball BracketMaster BracketMaster Challenge Captain Morgan Captain Morgan Calendar Morganette Spike.com