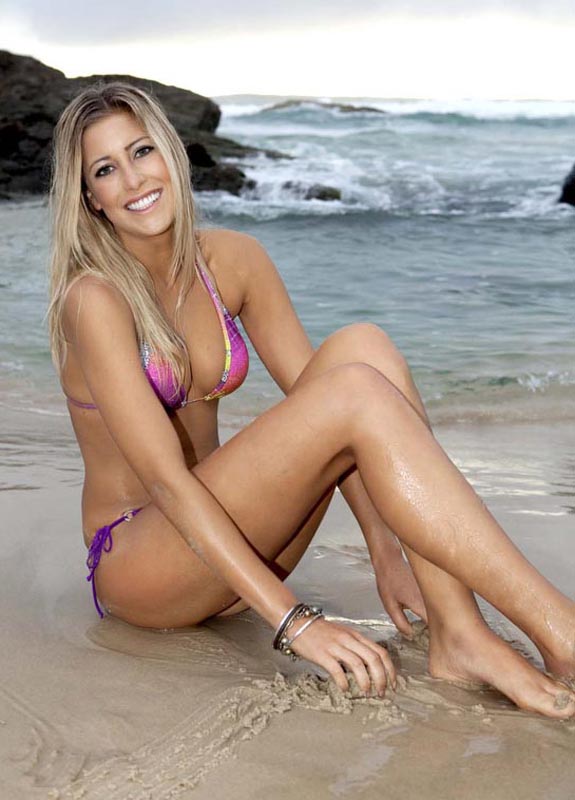 Tam-Star: As someone who's traveled the world I'm sure you've seen your fair share of partying or had your fair share of partying. What city or country has the best nightlife?
Erica: Oh, the best nightlife is a tough one because there are some good parties across the globe, but I would have to go with Brazil. The clubs in Brazil don't open until about 2AM and just goes crazy. They're just notorious for partying until the sun comes up. They've got the authentic food. That's kind of where I got hooked on the Jose Cuervo Authentic Margarita. Down in Brazil I had a couple nights with some good friends, and we just had amazing Jose Cuervo cocktails, and it was awesome.
Tam-Star: Tell us how you got involved with promoting Jose Cuervo's Authentic Light Margarita?
Erica: They started like a Cuervofornia, a California team, and they have everybody from surfers, myself, to pro beach volleyball player, a pro skater, motocross riders, and we all kinda' came together and we represent the Jose Cuervo team. They just throw epic parties. It was my birthday last night and they sent me the Jose Cuervo Jeep, and took all my friends and I out to a local sushi joint, and "shotted" Jose Cuervo margaritas. The Cuervo special gold is my favorite.
Now, they just launched their new light margarita. That's like my new favorite obviously. I can enjoy the cocktail without all the calories. I'm in a bikini all year round, so it helps my cause that's for sure.
Tam-Star:This is totally offbeat, but have you ever had a bikini malfunction?
Erica: Not just one, but about a thousand, yes. I've had everything from my bottom being completely ripped off my body. Thank God I have a leash on because they would be long gone in the ocean if I didn't. Going over the falls, the bikini sliding from end to the next and all sort of interesting body parts popping out, let's just keep it at that.
VIDEO
OC Weekly's 'Sexiest People' Cover Shoot with Erica Hosseini
Tam-Star: I love your website and blog, absolutely amazing. Can you tell us how you came up with Where's Erica [www.WheresErica.com]?
Erica: Yeah, I'm kind of a nerd at heart. I have all my electronics — my computer, my iPhone, my Flip, my iPad, everything. I built my website just sort of off the whim, EricaHosseini.com, just to get all my ad its and editorials, and have more of like an online resume. Then from there, once I finished it and updated it, I wanted a new project. So I started "Where's Erica" and I love on the downtime of surfing being able to make fun, homemade videos. Kind of took it one step at a time and realized there's a lot to be covered behind the scenes of a photo shoot, or traveling with my friends, or just mucking around on a training surf day when the waves are good.
Started that up and got a good amount of followers checking it out. Everybody seems to like it. My sponsors like it, I enjoy making the movies, and it kind of took off. Now, I'm just stoked that it's something kinda' catchy to follow me around the world, wheresErica:.com.
Tam-Star: Speaking of movies, I read someplace that you auditioned for X-Men First Class. Can you tell us a little bit about that experience?
Erica: Yeah, I did. I got a call, every now and then I do, I have agents in L.A. that keep me posted on opportunities that are more or less surf related. But he got a call from the casting studio looking for someone of my description. I went in to read the script for a few lines, and obviously, didn't get the part, but it was a great experience going in and definitely got the heart rate up. I was nervous. It would be a fun path to kind of pursue that acting gig. I'm such a huge fan of X-Men that I was more flattered than anything. I couldn't even believe that I got to say that I auditioned for that kind of movie. And can't wait to see it.
Tam-Star: Can we talk a little bit about the stunt work that you're doing for 90210?
Erica: Yeah, definitely. They told me the direction of the show was gonna' have a little surf scene it, and they were getting a new girl actress. Lucky for me she looks like me, tall, blond, and her character was supposed to be a surfer on the boy's surf team competing against the boys, which kind of was my true-life experience in high school. It was a great, great experience. I've done it a few times. They spoil us on set with chefs and our own dressing room and RV on the beach; it's definitely not just another day at the beach that's for sure. It's life and luxury. It's was an amazing opportunity to be able to meet all the actors and actresses on the show and see how it gets filmed. I'm a sucker for all those CW, and ABC drama shows, so.
Tam-Star: If you were in Australia on the Gold Coast and a hot guy was checking you out, what's the best way he should approach you?
READ MORE & PHOTO GALLERY
Tags Bikini Model Erica Hosseini Erica Hosseini pictures Hot Surfer Girls Pro Surfer Pro Surfer Chicks Surfer