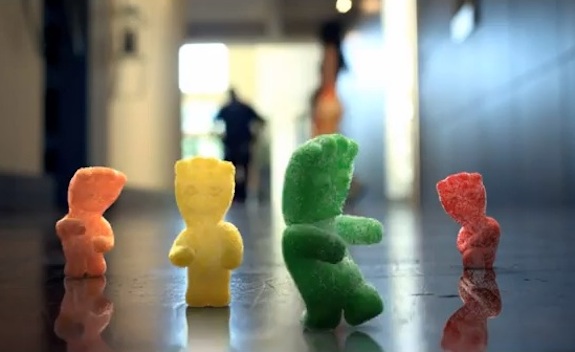 Did you ever think you would see Method Man busting a full 3 minute rap about Sour Patch Kids? Well, that day is here. No one seems to understand what "World Gone Wild" is about, but clearly no matter how confused you are, one thing is for sure. The video is INTERESTING, awesome, hilariously stupid, scary, and genius. Method Man, a few of his hommies, and Sour Patch Kids that come to life… yikes! Admit it, it takes skills to make an entire song about Sour Patch Kids; however, we can't help but wonder, what was Method Man thinking?
EXCERPT – Method Man
These kids are cruel till the day that they're chewed damn
That's bad news now they're in a bad mood damn
First they're sour then they're sweet little dudes
And they will fight the power till they're food.
VIDEO – World Gone Sour (The Lost Kids)
Tags Funny Video Method Man Sour Patch Sour Patch Kid The Lost Kids World Gone Wild WTF