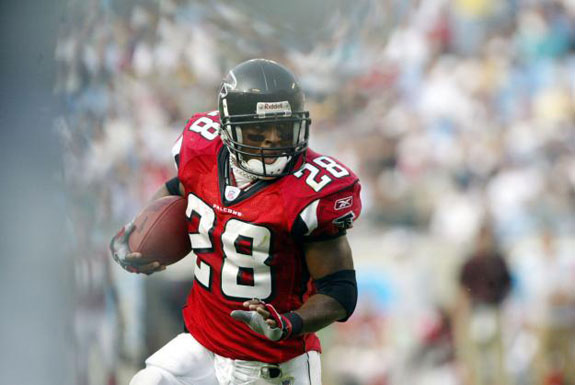 Tam-Star: Name your top three running backs of all time.
Warrick: This is probably too easy for me, but Barry Sanders by far the greatest running back ever to play. I am a Walter Payton fan, this dude was amazing. Gale Sayers, he was electrifying. And my childhood idol, Tony Dorsett. I patterned my game after him, that's who I looked up to.
Tam-Star: Let's talk about Walter Payton, your connection to Derrick Brooks and going to Florida State. You and Derrick share a lot in common. Both of you went to Florida State, played for the Bucs, worked as TV analysts for ESPN and were presented the Walter Payton NFL Man of the Year Award. How has it been sharing all those experiences with Derrick?
Warrick: It's been kind of amazing because I don't think people realize that two guys came from the same school, played on the same team together for six years and have won a lot of the same rewards. We've experienced the same things working on ESPN and so forth. It's been a good opportunity to really be around him and learn from him. Because he's older I've tried to follow his lead because he set a really good example…being a pro player, teaching me and really watching him be a pro, but also the things that he stands for, how he wants to change his community.
All that stuff has really rubbed off on me and when you follow someone you try to make it your own or make it better. I get advice from him. I'm lucky to have someone that I can always call and look up to for advice. It's been a special relationship.
Tam-Star: Most people don't realize Charlie Ward was a big brother figure for you when you were at FSU. How is your relationship with him now? Are you guys still in touch and are you close?
Warrick: Yes, we are close. We continue to talk. We talk all the time. He's a high school football coach in Houston, TX and he's just one of those guys. He has always been there for me. He has always supported me. He has always been the same person throughout winning the Heisman and playing pro basketball for 12 years. You can always count on him. He's just a tremendous person.
When you go out into the community you want to change it, make it better. He's one of those guys. I'm just honored to know him and thank God that he was my roommate my freshman year of college because he probably was the one person that I could really rely on and talk to in the toughest times of my life after losing my mom.
Tam-Star: What would people be surprised to know about Warrick Dunn?
Warrick: I am laid back, chill, funny, I like to have a good time, but I am responsible.
Tags Charity Work Crown Royal Football FSU NFL Running Back Running For My Life Tampa Bay Warrick Dunn