The playoff picture is shaping up and the games are getting a bit more unpredictable. Case in point, I went 7-9 last week. YIKES! Many of the so-called ESPN experts also had loosing records last week, so I don't feel that bad. It's week 16 and many of the teams fighting to secure a playoff spot are falling off down the stretch.
On Any Given Sunday…
During this time of year the games should be a bit more easier to pick, but after last weeks shockers (Indy win, Green Bay lose, and Raven's slaughter) it's clear that anything goes. The fact that the Bengals and the Detroit Lions are doing good this year shows us that on any given Sunday a team can win or loose.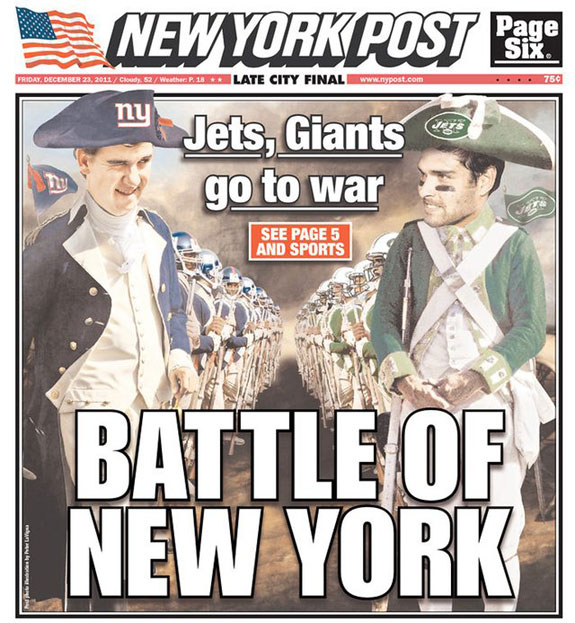 New York, New York
The only things that matters during week 16 is the battle of New York. If you read my picks each week, you already know it's all about the J-E-T-S. New York is a city that is unforgiven. Full of diehard fans, New York City loves you when you are doing great and will definitely turn on you when you aren't. Just ask the other Manning or Fireman Ed (photo below).
Having lived in New York City, I definitely miss reading the New York Post and their colorful headlines each week.
New York news-writers tend go uncensored and create very compelling headlines. With bragging rights up for grabs between the Jets and the Giants, this week was no different.
NBA vs. NFL
I hate this time of year. Not because it's Christmas, but because the NBA season is kicking-off and the NFL season is coming down to an end. Personally, I prefer to watch some football on Christmas day, not basketball. With only one football game (Falcons vs. Saints) this Sunday, I guess it's time to start embracing the new shortened NBA season.
Below are my straight picks for week 16. Drink and pick responsibly! Have a super MERRY CHRISTMAS!
Thursday, December 22, 2011
Houston Texans 16
Indianapolis Colts 19
Saturday, December 24, 2011
Cleveland Browns
Baltimore Ravens
Denver Broncos
Buffalo Bills
Tampa Bay Buccaneers
Carolina Panthers
Arizona Cardinals
Cincinnati Bengals
Oakland Raiders
Kansas City Chiefs
Miami Dolphins
New England Patriots
New York Giants
New York Jets
St. Louis Rams
Pittsburgh Steelers
Jacksonville Jaguars
Tennessee Titans
Minnesota Vikings
Washington Redskins
San Diego Chargers
Detroit Lions
Philadelphia Eagles
Dallas Cowboys
San Francisco 49ers
Seattle Seahawks
Sunday, December 25, 2011
Chicago Bears
Green Bay Packers
Monday, December 26, 2011
Atlanta Falcons
New Orleans Saints
Tam-Star's NFL Pick Em' – Week 15
Pick Em' Results: 7-9
Pick Em' Results (Season): 121-74
(note: DNP Week 8 and 11)
So-called ESPN NFL Experts Pick Em' Results for Week 15.
About me: I am a Producer, Managing Editor, freelance Social Media Producer, Writer… aspiring professional bowler, creative, quirky, all around Jane of all trades and just a little offbeat. I am an avid football fan and I blame my obsession with sports gambling and picking parlays on an ex-boyfriend… funny thing is that's all he was good for.
Tags Football Football Picks NFL NFL Picks NFL Picks and Predictions NFL Week 16 Picks Scores Sports Betting