How about those New York J-E-T-S? I know they are not playing in the Super Bowl. Last year I could not resist thinking about the possibilities and this year is no different. Like most New York Jets fans I would rather see any team playing in the big game except the New England Patriots, but like other J-E-T-S fans I have accepted that it didn't happen again this year. Our most hated rivalries are playing in the big game which makes it nearly impossible for us to logically bet on either team. Safely speaking, I think it's natural to root against your rivalry, but what do you do when both (New York Giants and New England Patriots) are playing?
0-everything
I let my dislike for both teams get the best of me last week and like last year, I went 0-2 in the Conference Championships. Looking back at my picks last week, what was I thinking betting against the Giants? Did the 49ers really have a chance? Maybe their chances were debatable, but the Ravens really could have went home with the W. Instead, they let that Tom Brady guy go on to possibly win another ring. Admittedly, I have not picked very wisely this playoff season. I've gone 0-everything as in I've not picked a winner since… well let's just say I have a super loosing record during the playoffs. Blame it on traveling.
London's calling
As we speak I am watching the NFL Network online from my hotel room in London. I will be on a train traveling from London to Paris and will probably miss the game, but that will not stop me from catching all the action. I am hoping to catch the game online at some point, but with the 9-hour time difference this just may be the first Super Bowl game I miss in at least 10 years.
Madonna, Vanilla Ice, the half-time show and football
I still dream about Prince stroking his guitar a few years ago during the Super Bowl half-time show. His performance was EVERYTHING. As a 'fading' fan of Madonna, I would have liked to see her perform at the Super Bowl in her heyday. I am not enthused with reports that she will take the stage with M.I.A. and Nicki Minaj to perform their new song 'Give Me All Your Luvin' (horrible by the way). Is this what the half-time show has come to? Will the NFL ever recover from the Janet/Justin disaster? On another note, is it just me or does the name Vanilla Ice and Super Bowl sound strange in the same sentence? If you must know, Vanilla Ice is out in Indianapolis promoting his new movie and confirmed he once dated Madonna. YUCK! Make that a double YUCK!!!
Eli…
This should be Peyton's time! Peyton is the better Manning brother. Unfortunately, if Eli wins most people will claim he is better because he has more rings. That's like saying Tom Brady is the greatest QB of all times just because he keeps winning rings. Yes, the QB leads the team, but again it's a team sport. In my opinion Tom is NOT the greatest QB of all-times and Eli will never be better than his brother. He is NOT an elite QB.
Below is my 2012 NFL Super Bowl XLVI prediction! Remember anything can happen on any given Sunday, Drink, and pick responsibly! On to the next sport (NBA, UFC, etc) at least for now.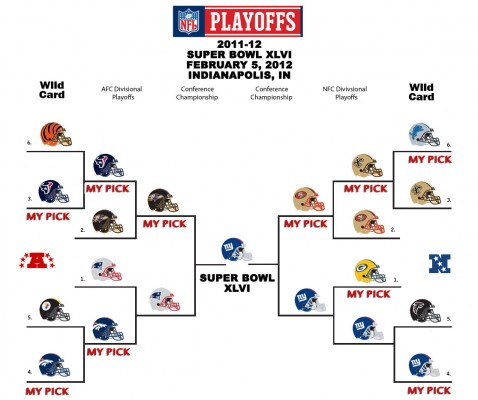 Sunday, February 5th
New England Patriots
New York Giants
Tam-Star's NFL Pick Em' – Conference Championships
Pick Em' Results: 0-2
*Pick Em' results for the 2011 NFL Regular Season: 146-81 (WINNING RECORD)
(note: DNP Week 8 and 11)
Pick Em' results for the Playoffs: 3-7
So-called ESPN NFL Experts Pick Em' Results for Conference Championships.
About me: I am a Producer, Managing Editor, freelance Social Media Producer, Writer… aspiring professional bowler, creative, quirky, all around Jane of all trades and just a little offbeat. I am an avid football fan and I blame my obsession with sports gambling and picking parlays on an ex-boyfriend… funny thing is that's all he was good for.
Tags 2012 NFL Playoffs Football NFL Expert Picks NFL Picks and Predictions NFL Playoff Picture NFL Playoffs Super Bowl Super Bowl 46 Super Bowl XLVI