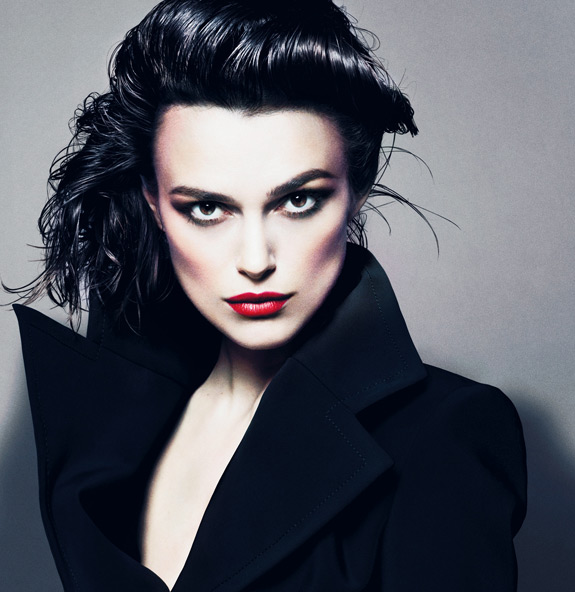 Keira Knightley latest cover shoot is a very enticing black and white spread shot by famed photographers Mert & Marcus for Interview Magazine.
David Cronenberg, who directed Knightley in A Dangerous Method, caught up with the 27-year-old actress at her home in London where she was enjoying some downtime after wrapping her latest film Anna Karenina. Below are the excerpts from their intimate conversation:
EXCERPTS
KEIRA KNIGHTLEY: I'm good. I'm in London. I've just left somebody in the kitchen making a chicken curry, and I was meant to be helping him, but now I'm not. [laughs] Where are you?
CRONENBERG: I'm in my office in my house in Toronto. So you're finished shooting Anna Karenina, have you not?
KNIGHTLEY: We finished just before Christmas.
CRONENBERG: Another Russian girl.
KNIGHTLEY: I know! I'm not quite sure what that's about. I seem to be having a Russian moment. I've never even been to Russia.
CRONENBERG: Me neither. You didn't do a Russian accent for Anna Karenina, did you?
KNIGHTLEY: No, I didn't, even though you told me that I should. I think you'll remember at one point in Venice you said, "Go back to Joe [Wright] and have a thick Russian accent."
CRONENBERG: Yeah, I'm so glad you didn't, though. I feel very possessive now of both Sabina [Spielrein, Knightley's character in A Dangerous Method] and you. I can't bear the idea of you working with other directors. I'm assuming that constantly on the set, secretly you were thinking, Oh, god . . . David wouldn't have done it that way.
KNIGHTLEY: I was always pining for you. [laughs]
CRONENBERG: So was this version of Anna Karenina done in a big epic way?
For more on the interview, take the jump over to www.InterviewMagazine.com.
Tags Anna Karenina David Cronenberg Interview Magazine Keira Knightley Keira Knightley Interview Magazine Mert & Marcus