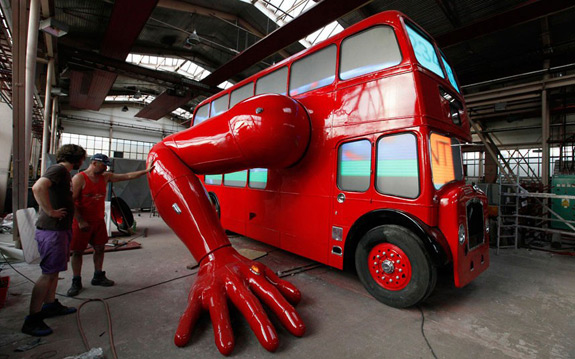 How cool is this bus designed by Czech artist David Cerny? Designed to resemble an athlete doing push-ups, the mechanical sculpture has two huge arms attached, an electrical engine and a lot of wiring and suspension tools to make it into a piece of art named 'London Boosted.' Mechanisms build inside make the 6-tonne bus move up and down on the arms and it is accompanied by recordings of a groaning voice and video projections in the windows.
"There is one common exercise for every sportsman in the world, and that is push-ups." ~ David Cerny
"It is training for sport activities but at the same time it is also punishment in armies and prisons. So the push-ups are a very universal physical activity…It is in a way very ironic." ~ David Cerny
The bus will be on display outside the Czech Olympic House in London.
VIDEO

Tags David Cerny London Boosted London Bus London Double Decker Bus London Olympics Mechanical Bus