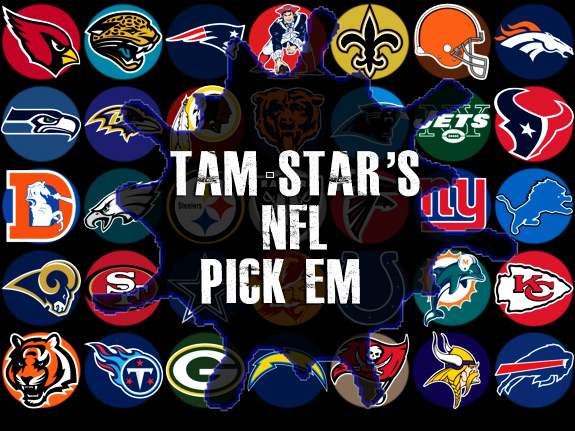 10-6 again this week. Week 13 wasn't a great week for me and my pick em's but it wasn't entirely bad either considering that the J-E-T-S won a game. Fireman Ed may have quit on the team, but I still believe in sexy Rex. I don't believe in Sanchez, but I am hoping he finds away to dig deep inside and get the job done this week in Jacksonville. After all, loosing to Jacksonville would be an all time low.
Last week a Dallas Cowboy player killed himself and this week a player killed another teammate. It's been a crazy week for the Cowboy organization to say the leas, but I believe they can get the W against the Bengals. Yes, I know it's somewhat of a fools bet, but I have to believe that the team will dig deep within like Juan Manuel Marquez did last night when he knocked out Manny Pacquaio in the sixth round. Marquez was down, but he wasn't out. Other great match-ups that I am looking forward to this week include the fading Ravens against the Redskins and the Texans at the Patriots.
Below are my straight picks for week 14. Drink and pick responsibly!

Thursday, December 6
Denver Broncos 26
Oakland Raiders 13
Sunday, December 9
St. Louis Rams
Buffalo Bills
Atlanta Falcons
Carolina Panthers
Dallas Cowboys
Cincinnati Bengals
Kansas City Chiefs
Cleveland Browns
Tennessee Titans
Indianapolis Colts
New York Jets
Jacksonville Jaguars
Chicago Bears
Minnesota Vikings
San Diego Chargers
Pittsburgh Steelers
Philadelphia Eagles
Tampa Bay Buccaneers
Baltimore Ravens
Washington Redskins
Miami Dolphins
San Francisco 49ers
New Orleans Saints
New York Giants
Arizona Cardinals
Seattle Seahawks
Detroit Lions
Green Bay Packers
Monday, December 10
Houston Texans
New England Patriots
Tam-Star's NFL Pick Em' Week 13
Pick Em' Results: 10-6 (week 13)
Pick Em' Results (Season): 98-65
(note: DNP Week 1 and 8)
So-called ESPN NFL Experts Pick Em' Results for Week 13.
About me: I am a Producer, Managing Editor, freelance Social Media Producer, amateur photographer, Writer… aspiring professional bowler, creative, quirky, all around Jane of all trades and just a little offbeat. I am an avid football fan and I blame my obsession with sports gambling and picking parlays on an ex-boyfriend… funny thing is that's all he was good for.
Tags Football Football Picks NFL NFL Expert Picks NFL Picks NFL Picks and Predictions NFL Playoffs NFL Week 14 Picks NFL Wild Card