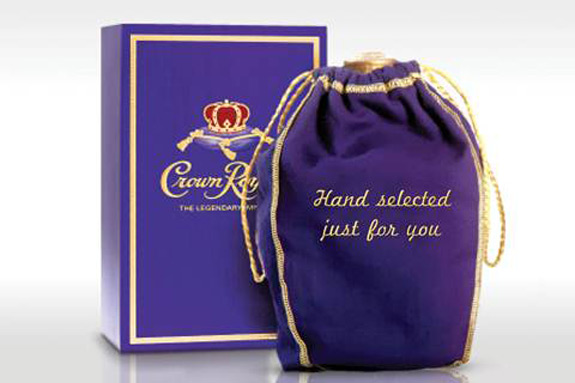 Tis the season to be jolly, tear open a few gifts, and enjoy some Crown Royal Maple Finished. Today we received an email from Crown Royal stating "Mankind Unplugged Is Up!" Before you ask, let us explain. Every year Mankind Unplugged participates in the ultimate gift exchange with Crown Royal and bloggers from all over the world.
Each blogger is sent a digitally embroidered Crown Royal bag (see photo above) and given a choice on whether to open it or not. Our Crown Royal bag gives us a clue to what gift is awaiting us and one lucky reader (you). If we decide to unlock the clue, we are stuck with the gift revealed. If not, we can "Pass The Crown" and take another bloggers gift that has already been revealed. We have until later today to figure out what to do. At the moment we are leaning towards opening our gift, but we want to know what do you think we should do. Should we pass the crown?
On Friday, The Hoop Doctors stole Eco-Dive Scuba Fin Sports Watches from Everyday Drinkers who received Reed & Barton Decanter sets in their place. Previous gifts have included The Roosevelts receiving TOMS Sunglasses, MANjr.com receiving a Crown Royal Black Happy Hour, @DadatworkNJ at Yahoo! Voices received SOL Headphones and our guy @Sysko212 over at Examiner.com scored a Birchbox Membership. As of today the most coveted gift seems to be the iPad mini. It's currently in the possesion of our friends over at The Smoking Section, but we have a feeling that won't be for long. Should we #PassTheCrown or steal the iPad mini is the question. Decisions, decisions, decisions.
Follow all the action on Twitter (hashtag #PassTheCrown) and give us a few suggestions. If you are curious about those awesome customized embroidery Crown Royal bags, make sure to visit www.CrownRoyal.com to created your very own personalized bag for $9.95. Additionally, be sure to Tweet and use #PassTheCrown. For every #PassTheCrown tag, a U.S. soldier overseas receives a Crown Royal gift bag through the Crown Royal Heroes Project. Don't forget you must be 21 years of age and to drink responsible.
Tags #PassTheCrown alcohol Crown Royal Crown Royal XR Custom Bottles Custom Labels Gift Exchange