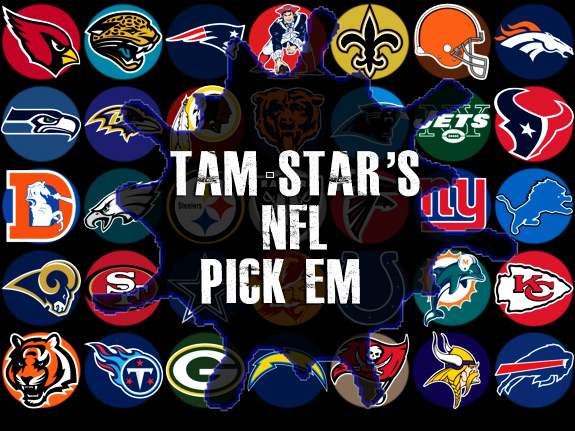 The NFL Conference Championships were almost overshadowed by the never ending saga of the Manti Te'o "Catfish" hoax. Luckily for us, the teams playing in the Conference Championships have some compelling storylines that will hopefully really put the fake girlfriend to rest if only for a day.
Will the Baltimore Ravens ride the emotional wave of Ray Lewis' retirement? Will the Patriots help Tom Brady make it to the Super Bowl and perhaps become the greatest NFL QB of all times? The Dirty Birds have only made one Super Bowl appearance in 1998; will they win this weekend to make it their second appearance? Will the 49ers, one of the NFL's greatest dynasties return to prominence? Questions, questions, questions!
Below are my picks for the 2012-13 NFL Conference Championships. Remember anything can happen on any given Sunday, so Drink and pick responsibly!
Sunday, January 20th
San Fransisco 49ers
Atlanta Falcons
Baltimore Ravens
New England Patriots
Tam-Star's NFL Pick Em' – Divisional Playoffs
Pick Em' Results: 3-1
Pick Em' Results (Season): 143-84 (WINNING RECORD)
(note: DNP Week 1 and 8)
Pick Em' results for the Playoffs: 6-2
So-called ESPN NFL Experts Pick Em' Results for Divisional Playoffs.
About me: I am a Producer, Managing Editor, freelance Social Media Producer, amateur photographer, Writer… aspiring professional bowler, creative, quirky, all around Jane of all trades and just a little offbeat. I am an avid football fan and I blame my obsession with sports gambling and picking parlays on an ex-boyfriend… funny thing is that's all he was good for.
Tags 2013 NFL Playoffs Conference Championships Football NFL Expert Picks NFL Picks and Predictions NFL Playoff Picture NFL Playoffs Playoff Weekend