50 and Jimmie – Photo Credit: 283087 Jerry Markland/Getty Images

NASCAR opened the season to heartache, misery and excitement. A crash resulted in several fans being injured at the conclusion of the NASCAR Nationwide Series opener at Daytona, but didn't stop the exhilaration many felt for the start of the Sprint Cup Series and the 55th Daytona 500
READ: NASCAR Crash: Last Lap Accident Sends Debris Into Grandstand Injuring Fans At Daytona [Photos]
The star-studded event began with a bang as Super Bowl champion Ray Lewis waved the green flag as the honorary starter for the 55th running of the Daytona 500. Prior to the race, fans who watched from home were treated to somewhat of a "show" when Erin Andrews appeared to reject rapper 50 Cent's "friendly" kiss live on television. Other celebrities in attendance included Rapper T.I., comedian Drew Carey and actor James Franco.

Danica and Smoke – Photo Credit: 283101 Mike Ehrmann/Getty Images

Danica Patrick made history as the first female ever to lead a lap at the Daytona 500 and finish in the top 10. Danica raced well despite her teammate Tony Stewart missing a good portion of the race due to an accident during lap 26. Juan Pablo Montoya, Brad Keselowski, Kevin Harvick, and Greg Biffle who were also involved in the same crash all returned to the track. Kyle Busch and Matt Kenseth, who both drive Toyota cars, left the race and did not return due to engine issues.

Photo Credit: 283109 Jonathan Ferrey/Getty Images
VIDEO: Daytona 500 Wreck Involving Kasey Kahne, Kevin Harvick, Juan Pablo Montoya and More

[jwplayer mediaid="17009″]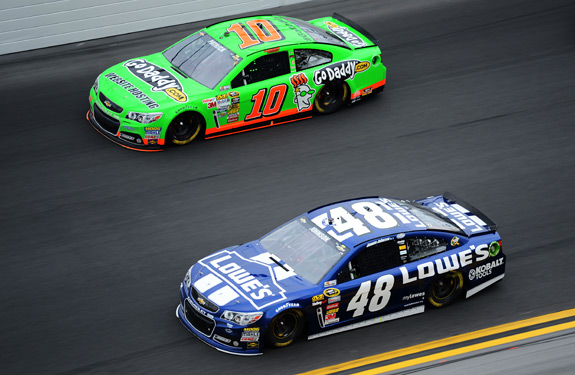 Jimmie and Dale – Photo Credit: 283116 John Harrelson/NASCAR via Getty Images

Unlike last year's Daytona 500, there wasn't a huge fiery crash, but the race to the checkered flag was thrilling. The race came down to the last few laps with teammates Dale Jr. and Jimmie Johnson running first and second. Jimmie would eventually hold off Dale Jr. to take the checkered flag and become the 10th multiple winner of the Daytona 500. Jimmie, who also won the Daytona 500 in 2006, became the first driver to ever win in NASCAR's new Gen6 car. Last year's Sprint Cup Series winner Brad Keselowski placed fourth, while Mark Martin came in third.
The 2013 Daytona 500 was definitely an exciting and spectacular way to start the season. The only thing that could have been better is a win from Dale Jr. NASCAR fans all agree that Dale is well overdue.
VIDEO: Final lap of the 2013 Daytona 500

[jwplayer mediaid="17007″]
VIDEO: Daytona 500 Victory Lane with Jimmie Johnson 48!

[jwplayer mediaid="17008″]
Tags 50 Cent Danica Patrick Daytona Daytona 500 Daytona Crash Nascar NASCAR Crash Tony Stewart