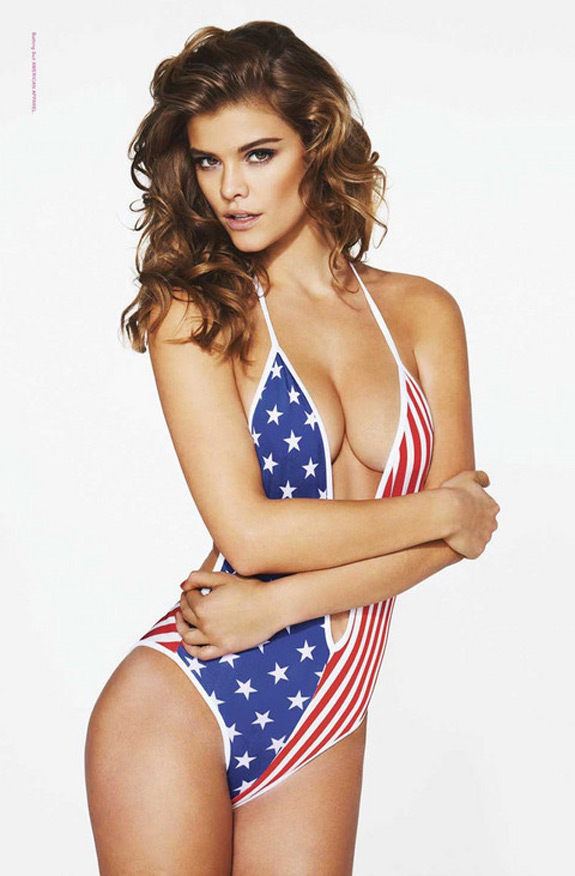 Danish fashion model Nina Agdal is covering the summer bombshell issue of Galore Magazine looking very patriotic and bursting with American pride. The Sports Illustrated Swimsuit model talks about her love for Justin Bieber and her deliciously alluring Carl's Jr. commercial. Nina also discusses her girl crushes on Mila Kunis and Rihanna.
EXCERPTS
AC: Rumor has it you have a lil crush on Justin Bieber…
NA: Oh my God, the Biebs! Justin is having a rough time. I just want to be there for him and support him. I think he's so cute! Imagine how much he has accomplished. I just think he's fucking cool man. I was at his concert front row and I was like, "Look at me!" I don't know if he saw me, but I really, really tried to get his attention.
AC: So, do you have posters of the Biebs all over your bedroom walls?
NA: I actually don't! I have a lot of photos of him on my phone though.
AC: Moving on. How does it feel to be a "bombshell"?
NA: I really don't consider myself one. I think it's just about like… I have boobs! I was born with boobs and a butt. And I'm really confident — I think confidence is the sexiest thing on a woman or any person. I have that so I guess that's why people think I'm sexy. I dunno.
AC: Okay, and let's talk about that yummy Carl's Jr. commercial…
NA: It premiered during Super Bowl which was really exciting. I love it but I was so nervous about my grandma seeing me in that way. She's on YouTube, Twitter, Facebook, Instagram everything! But she watched it and said I looked amazing. And really tan — I was so tan! I had like three spray tans.
AC: How many fish sandwiches did you end up eating?!
NA: I didn't eat all of them, but I think I went through like fifty to seventy five.
AC: OMFG! Do you have any borderline insane asylum Twitter fans?
NA: I have great fans — they are so cute and so sweet. But once there was some guy who wrote to me on Facebook in a private message that he wanted to eat ice cream off my curves. Another time, a couple sent me nude photos of themselves and said they'd pay to fly me to Berlin to their hotel and have a threesome with them.
AC: Amazing. Got any bombshell girl crushes?
NA: I think Mila Kunis is sooo sexy. I mean, Rihanna blows me away — she's to die for. Rihanna, keep it up! You're making the whole world happy by just looking at you.
Check out Nina's official twitter page @NinaAgdal and her Instagram page.
Tags Bikini Model Galore Magazine Glamour Model Hot Girls lingerie model Nina Agdal Nina Agdal Photos Patriotic Sexy Girls Sexy Photo