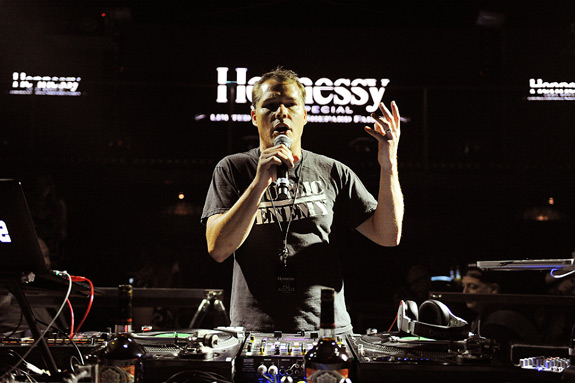 Internationally renowned artist and pop culturalist Shepard Fairey journeyed to Cognac, France to immerse himself in the unparalleled legacy of artistry and excellence at the home of Hennessy. While in Cognac, Fairey created his own Hennessy V.S Limited Edition bottle. The results were an undeniable work of art.
My inspiration for this limited edition design was based on the legacy of Hennessy as a brand. To me, Hennessy has always been about Quality, Authenticity, Tradition, and Elegance." ~ Shepard Fairey
Known for his provocative artworks, his new Hennessy V.S Limited Edition bottle represents the latest in Hennessy's series of collaborations with legendary renowned artists. To kick-off the partnership, Hennessy not only created a unique ultra-limited offering for collectors and connoisseurs, but they hosted a series of "Hollywood" worthy events in Los Angeles.
Hennessy gave Los Angeles area tastemakers an exclusive look at the Fairey signature bottles at an exclusive lunch to kick off the #ArtofTheChase. The Hennessy V.S Limited Edition bottle official launch also included a star-studded party at Hollywood hotspot Create Nightclub. The event was hosted by DJ D-Nice, Z-Trip, and Shepard Fairey (aka DJ Diabetic) who all took to the turntables. Hip-Hop artist Kendrick Lamar hit the stage as the night was closing. Celebrities in attendance included: Ne-Yo, Travis Barker, Hit-Boy, Amber Rose, Tachina Arnold, Futura, Leah McSweeney, Karrueche, and Chris Brown.
"It was amazing for me to see how I could translate my art to the bottle, hopefully retaining the essence of what is beautiful and powerful about it, while bringing my own spirit to it." – Shepard Fairey
We were lucky enough to snag an invite to the party as well as a limited edition bottle along with a keepsake book from the lunch. There are only 1,500 units available for purchase of the deluxe two-bottle box set with exclusive gold- and silver-label designs available in the US. Each individually numbered set features Fairey's signature striking bold colors, reminiscent of his globally acclaimed work. Each bottle contains the same exceptional Hennessy V.S blend of more than 40 eaux-de-vie, aged up to 8 years.
The Hennessy V.S Limited Edition Bottle by Shepard Fairey is a piece of. Learn more about its creation at Hennessy.com and follow the hashtag #ArtofTheChase.
Tags Hennessy Hennessy Limited Edition Hennessy V.S Shepard Fairey