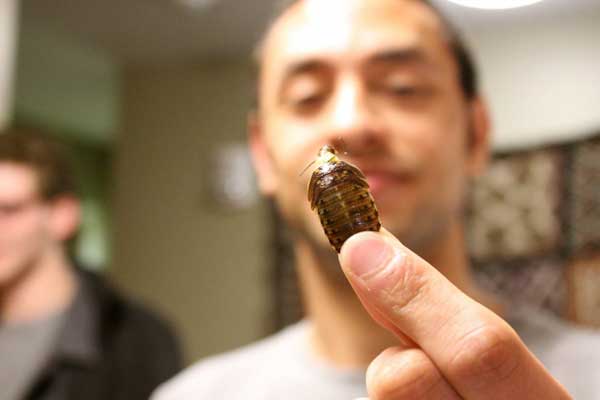 Let's face it, people do weird sh*t. The reality is we will never know why and what motivates these people to do the things they do. The only bright side to the madness is we do have a chance to laugh about it. After all, who doesn't love a good laugh from time to time.
Yesterday, I had a rather interesting conversation with my mom. At the end of the conversation, I thought to myself, WHAT THE F*CK. See, me and my mom literally spent 10 minutes talking about all the weird news we had read on the internet. The conversation went something like this:
Me: OMG! Did you see the two Japanese girls blowing cockroaches back and forth in each others mouth?
Mom: You know I saw that shit (Yes, mom uses bad words). I read all those crazy stories all the time. Wait, have you seen the video of the idiot having sex with a car tailpipe?
Me: WHAT? Naw, get out of here. How is that possible.
Mom: My friend sent me the video. That fool really got down on his hands and knees then tried to hump the damn thing.
Me: People are crazy. Speaking of foolishness, did you read about the student who only ate bugs for a month?
Mom: Get the f*ck out of here.
If you haven't heard a college student decided to only eat bugs for one month. You can read all about why he made this important decision on Food Republic. In a nut shell (pun intended), 21-year-old college student, Camren Brantley-Rios, pledged to eat insects three times daily for an entire month and blogged about it on his blog, 30 Days of Bugs. He was inspired by another blog, Girl Meets Bugs. He also had a desire to do something good for the world. Before you shake your head, bugs are healthy and his website is really insightful.
Now, for the two Asian Girls who blew cockroach into each others mouth on a Japanese game show, well, we will let you be the judge. Check out the video below and let us know what you think. Some do it for the gram (Instagram) while others do it for fun and games. In this instance they did it for a game show.
Last and definitely least, let us have a moment of silence for the freaky guy who humped and humped and humped the tailpipe of a car. Why? Because he is dead wrong for this.
Tags Humor offbeat Weird News WTF