Porsche is the ultimate car — at least, it is in our world. What other automobile comes to mind (besides Ferrari) when you think of iconic exotic sports car manufacturers? We'll wait.
Have you heard of the Cayman, Boxster, Macan, Taycan, Panamera, 718 Spyder, or even the 911 Carrera & Targa models? Have we piqued your interest yet? Regardless of whether you're a Porsche owner or an admirer of fast cars, no one can argue that this iconic car is nearly perfect.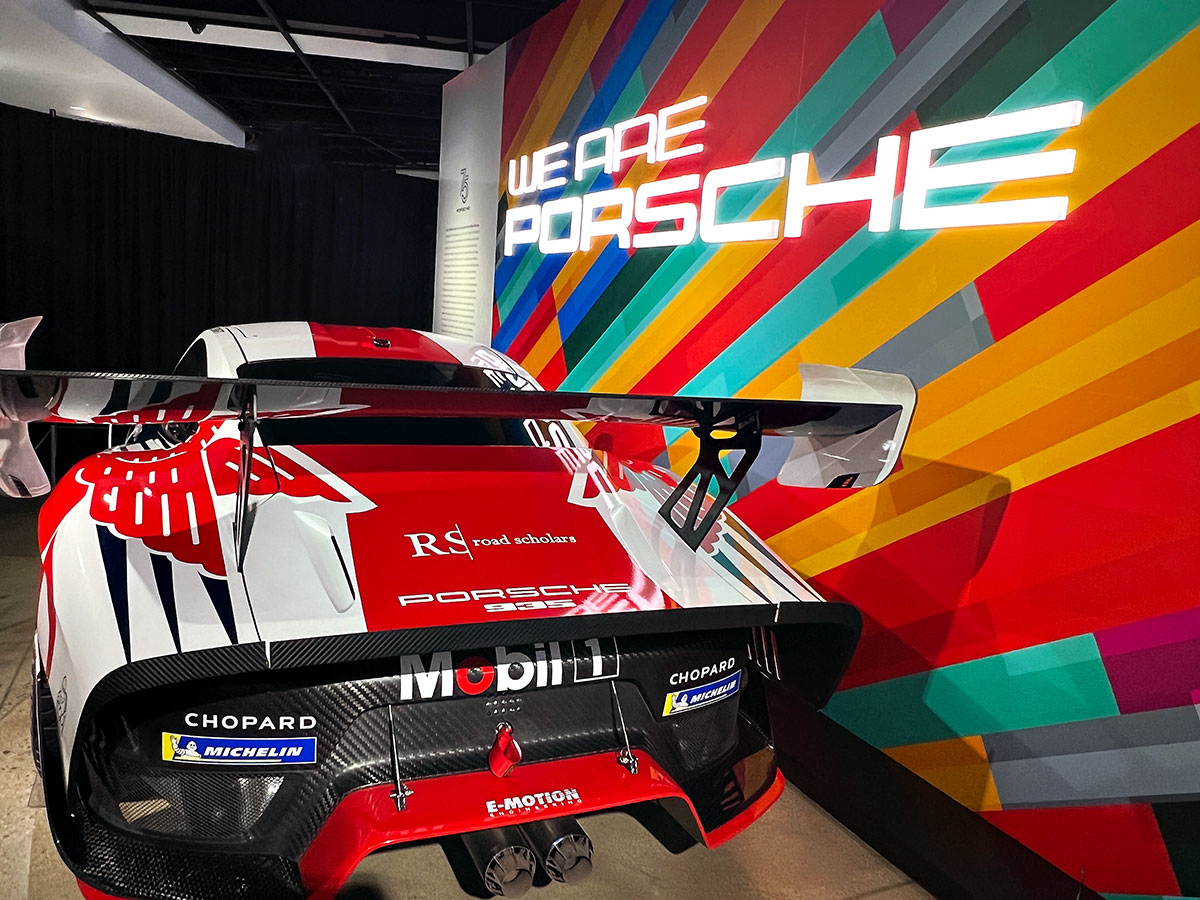 To commemorate the 75th anniversary of Porsche Cars North America, there is a new book about the occasion, an auction at the Porsche Experience Center featuring a sale of rare and collectible Porsches, and an exhibit called "We Are Porsche" at the Petersen Automotive Museum in Los Angeles, California. We were lucky enough to snag an invite to preview the exhibit where we viewed historic Porsche models and highly recommend it. The exhibit is an unforgettable experience that takes you on a journey through the history of one of the most iconic car brands in the world.
The 40-car exhibition at the Petersen Automotive Museum celebrates Porsche's 75th anniversary and is the largest Porsche exhibit in the United States. It features a range of Porsches and key models, showing off the brand's rich history and racing heritage. Visitors can peek into Porsche's legacy and the celebrity personalities that helped propel the brand's success. The exhibit highlights the 1953 550 Spyder raced by Betty Shutes and Ken Miles, the 1958 Carrera GT Speedster raced by Bruce Jennings, the 1964 904 GTS, Dean Jeffries' custom 1957 356 Carrera, Porsche's first-and-only 1962 804 Formula 1 racer driven by Dan Gurney, and the 1959 718 RSK that crossed the finish line first in the 1959 12 Hours of Sebring and the 1960 24 Hours of Le Mans.
There were a lot of cool cars on display, including racing cars, but one of the coolest things we saw was the 1948 Porsche 356 Wooden Buck. This is the wooden model that Porsche constructed the early examples of the 356 at its makeshift facility in Gmund, Austria, between 1947 and 1949. The model was used to create the body of the 356, serving as a point of reference and allowing metalworkers to test-fit the complex panels.
For our Star Wars fans, the 2017 Porsche Lucasfilm Tri-Wing S91x Pegasus Starfighter scale model, as depicted in the TV series Obi-Wan Kenobi, was a highlight. It was a collaboration between designers from Porsche and Lucasfilm, who teamed up to create the fantasy starship as part of a promotional campaign for the 2019 release of Star Wars: The Rise of Skywalker.
The exhibit also has a special section dedicated to Porsche's celebrity fans, showcasing some famous people in entertainment from TV and film to music who are Porsche lovers. These ambassadors have helped Porsche become a popular brand among car enthusiasts alike.
American actor, film director, and producer Steve McQueen's association with Porsche has helped to cement the brand's image as a car for the daring and adventurous. His legacy, prominently on display at the exhibit thanks to his family, continues to inspire car enthusiasts worldwide. McQueen was a skilled driver and often used his Porsches for racing. He competed in the 12 Hours of Sebring, the 24 Hours of Le Mans, and even won the 1970 Can-Am championship.
There is a section dedicated to Rock & Roll Hall of Famer inductee Slash, who is a fan of Porsche's racing heritage, and has owned many Porsches over the years, including a 1998 Porsche 911 Speedster, a 2005 Porsche 911 GT3, and a 2014 Porsche 911 Turbo S. He has said that he is inspired by the company's commitment to innovation and performance. In 2019, Slash partnered with Porsche to create a limited-edition guitar, the Porsche Design Slash Electric Guitar.
Brand ambassador Patrick Dempsey, a Porsche Club of America member, has competed in several racing events behind the wheel of a Porsche, including the 24 Hours of Le Mans. His love for racing Porsches was on display. at the exhibit. James Dean, who owned a Porsche 550 Spyder, which he nicknamed "Little Bastard" was also featured.

Porsche is one of the most iconic and successful car brands in the world. For 75 years, the company has produced some of the most sought-after and luxurious sports cars on the market. Since its inception with a rear-mounted engine, this iconic high-performance German sports car has remained a status symbol. A book outlining the history of Porsche, the brand's racing legacy, and philosophy cannot replace having one of these bad boys sitting in your driveway. However, we'll happily add a book like Porsche 75th Anniversary to our coffee table any day.
Considered one of the top transportation photographers and historians in the game today, Randy Leffingwell has authored over 50 titles, covering everything from sports cars to motorcycles to farm tractors. In Porsche 75th Anniversary, he offers a most excellent recounting of Porsche's history along with rare images from Porsche's own archive.
"We Are Porsche" is a must-see for any car enthusiast, and Porsche 75th Anniversary is a book worthy of anyone's bookshelf. You can grab a copy of the book here. We haven't put the book down since we got it! We had a great time at the exhibit and learned a lot about Porsche's history and racing heritage. The exhibit is open to the public and will run through September 18, 2023. Tickets are available online or at the museum. Be sure to check out the exhibit and pick up a copy of the book!
Tags 75 Years 75 Years of Porsche Petersen Automotive Museum Porsche Porsche 75th Anniversary Porsche Book Porsche's History We are Porsche