Every man deserves luggage that embodies style and functionality when traveling, right? Enter RIMOWA, a brand synonymous with luxury travel for over a century. With its latest offering, RIMOWA Distinct, the brand has once again redefined the art of travel with a touch of sophistication and elegance.
The Brand: A Legacy of Excellence
RIMOWA has long been a trailblazer in the world of luxury luggage, known for its iconic aluminum suitcases that have graced the hands of discerning travelers and celebrities alike. The brand's commitment to quality, innovation, and timeless design has solidified its position as a leader in the industry. With the introduction of Distinct, RIMOWA continues to push the boundaries of what luxury travel means in the modern age.
Why Consider RIMOWA Luggage?
For the modern man who values style, RIMOWA luggage is the epitome of sophistication. Crafted with the finest materials and meticulous attention to detail, RIMOWA suitcases are not just a means of transporting your stuff. Their suitcases are a statement of refined taste and discerning elegance. The Distinct Collection, in particular, offers a seamless blend of classic luxury and contemporary design, making it the perfect choice for the man who appreciates the finer things in life.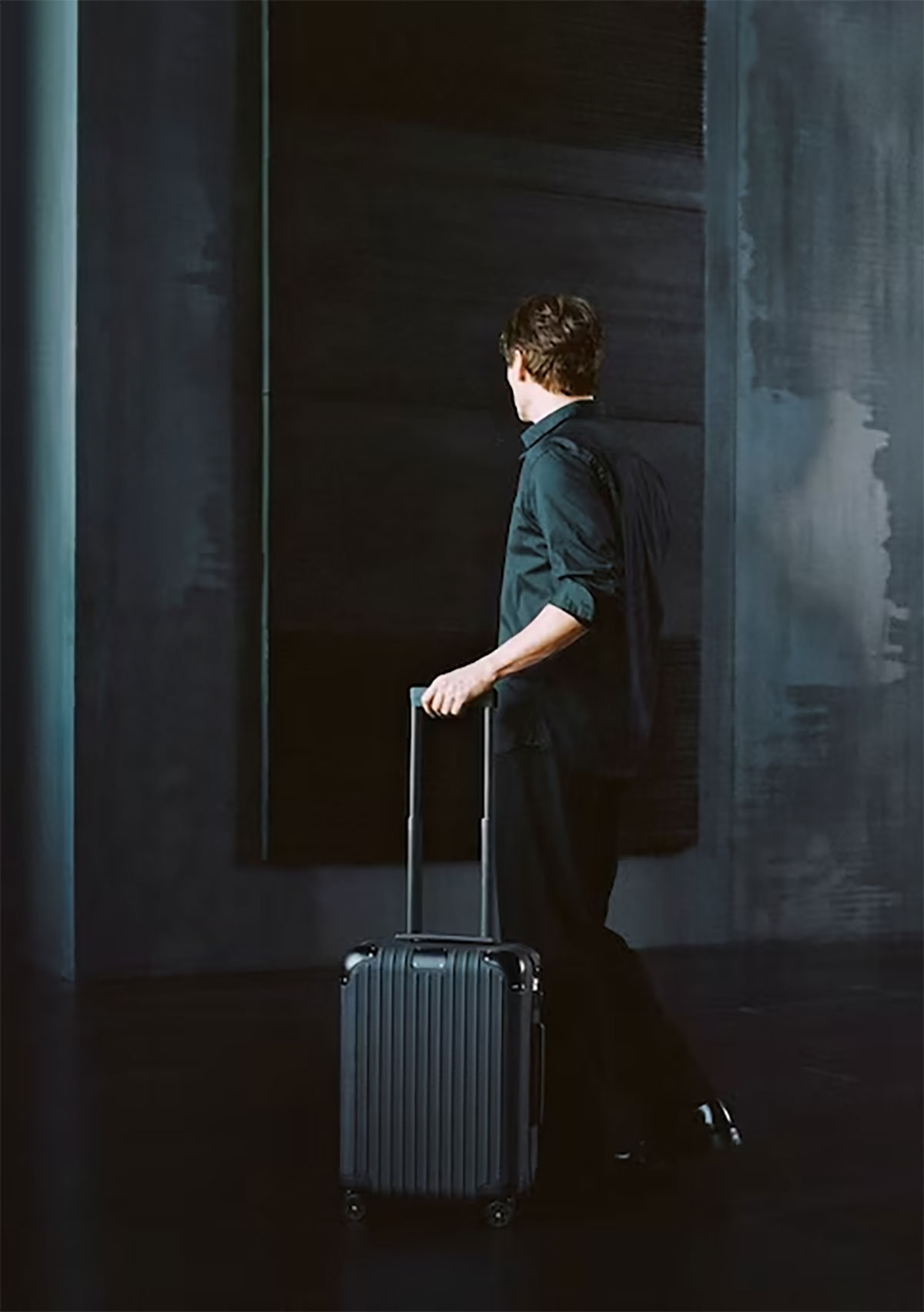 There are countless reasons why a man should consider investing in Rimowa luggage. Here are just a few additional reasons for an elevated travel experience:
· Durability: Rimowa suitcases are built to last. Their aluminum and leather construction can withstand the rigors of travel, ensuring that your luggage will be there for you for years to come.
·
Style: Rimowa suitcases are not just functional; they are also stylish. The iconic grooved design and sleek lines exude a timeless elegance that will never go out of style.
·
Versatility: Rimowa suitcases come in various sizes and styles to suit every need, from weekend getaways to extended business trips.
·
Security: Rimowa suitcases are equipped with TSA-approved locks to keep your belongings safe and secure.
Introducing the RIMOWA "Distinct Cabin" Suitcase
The crown jewel of the Distinct Collection, the RIMOWA "Distinct Cabin" suitcase, is a testament to the brand's unwavering commitment to excellence. This exquisite craftsmanship is designed to elevate the travel experience to new heights, offering a harmonious fusion of style and functionality.
Features
Cost: The RIMOWA "Distinct Cabin" suitcase is priced at $3,330, reflecting the unparalleled quality and craftsmanship that define the RIMOWA brand.
Size: With dimensions of 21.6 x 15.8 x 9.1 inches, this cabin-sized suitcase is perfectly tailored to meet the needs of the modern traveler, offering ample space while remaining compact and convenient.
Wheels: Equipped with RIMOWA's signature Multiwheel® system, the suitcase effortlessly glides through airports and city streets, ensuring smooth and effortless maneuverability.
Locks: The TSA combination lock provides peace of mind and security, giving travelers confidence.
Other Features: The interior of the "Distinct Cabin" suitcase's thoughtful design maximizes organization and convenience, featuring luxurious leather detailing and a flex-divider system for effortless packing.
The RIMOWA Distinct Collection represents the pinnacle of luxury travel, offering men the opportunity to indulge in the art of sophisticated exploration. The "Distinct Cabin" suitcase is a testament to RIMOWA's unwavering dedication to craftsmanship and innovation, offering a timeless piece that is as functional as it is stylish.
With its meticulous craftsmanship, timeless design, and unwavering commitment to excellence, RIMOWA set the standard for luxury luggage high, making it the ideal choice for any man who wants to travel in style.
Tags luggage Men's Travel Travel