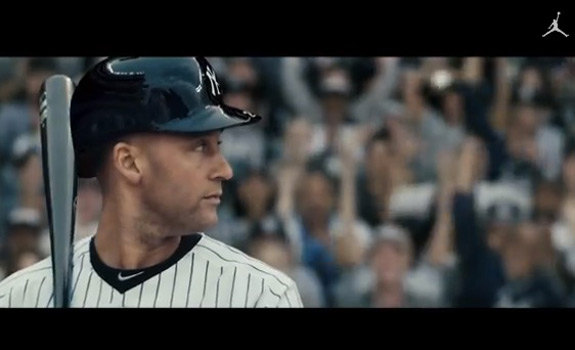 How can you not tip your hat to the man who is Derek Jeter? To celebrate his retirement from the game of baseball, Jordan Brand produced an enduring TV spot culminating the love and "RE2PECT" that is shared by the masses for their first brand-endorsed baseball athlete. Notable individuals that pay homage to the Captain in the new Jordan Brand commercial include: Jay-Z, Joe Torre, John Lackey, Rudy Giuliani, Mariano Rivera, Carmelo Anthony, Tiger Woods and Billy Crystal, Andy Pettite, rapper Action Bronson, skater Eric Kosten, Spike Lee, Maya Moore, Jeanie Buss and Phil Jackson. As the brand's longest-tenured athlete, Jeter has 12 signature cleats and the most signature shoes of any Jordan Brand athlete other than Michael Jordan.
[jwplayer mediaid="22128″]
Make sure to catch the spot airing on TV just before Jeter's first at-bat in tonight's MLB All-Star Game. Follow the hashtag #RE2PECT on social media.
Tags Derek Jeter Derek Jeter RE2PECT Jordan Jordan Brand Jordan Brand Baseball Respect