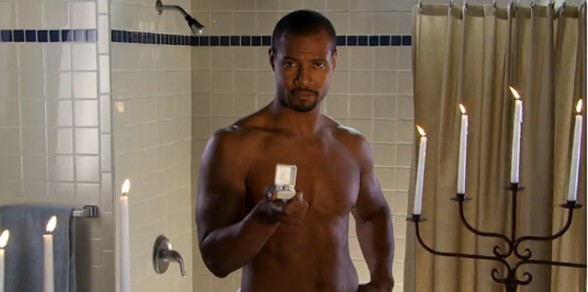 To say the Old Spice campaign has gone viral is definitely an understatement. Old Spice has given social media a whole new meaning by doing a series of YouTube video responses to people who mention them on Twitter. Unless you have been living under a rock or have not accessed the internet in several days, Old Spice front man, Isaiah Mustafa has been responding in character to regular people as well as celebrities.
Yesterday, I wrote about the Old Spice Guy Records Voicemail Message, Now Has Voicemail Generator Website. After shifting through some of my favorites (see below) including "the proposal" video, all I can say is the Old Spice guy is definitely loved by women and respected by men.
@Jsbeals | Old Spice From: OldSpice
On Twitter, @Jsbeals wrote "@OldSpice Can U Ask my girlfriend to marry me? Her name is Angela A. Hutt-Chamberlin #Johannes S. #Beals"

@ryanseacrest | Old Spice From: OldSpice
On Twitter, @ryanseacrest wrote "@RyanSeacrest: New @oldspice commercial! http://bit.ly/92jJnJ. Great stuff @isaiahmustafa.

@Gillette | Old Spice From: OldSpice
On Twitter, @Gillette wrote "@OldSpice what's up my friend…big fan :)"…

@Gizmodo | Old Spice From: OldSpice
On Twitter, @Gizmodo wrote "@OldSpice Gadget-lovers need to know: will anything surpass the loofah as the predominant body wash-applying technology?"

Alyssa_Milano 3 | Old Spice From: OldSpice
On Twitter, Alyssa_Milano wrote "Are you flirting with me, @oldspice guy?"

Tags Alyssa Milano old spice Proposal Ryan Seacrest Twitter Viral Campaign YouTube