Tis the season to smell manly. After all, everybody's a sucker for a well-groomed, good smelling guy, right? Having spent nearly 80 years as a purveyor of some of the manliest grooming supplies on the planet, Old Spice is well aware of the characteristics of a manly man, so to help you, they are pulling out all the stops this holiday season. In fact, Old Spice is introducing a fantastic line of gift boxes that will leave you looking good and smelling good – and all for under $20, so there is no need to break the bank!
Nothing says "manly" like Old Spice's selection of grooming and hair care products for the holidays. Whether it's body sprays, antiperspirants, or shampoos and conditioners, Old Spice full line of gifts are on point this year.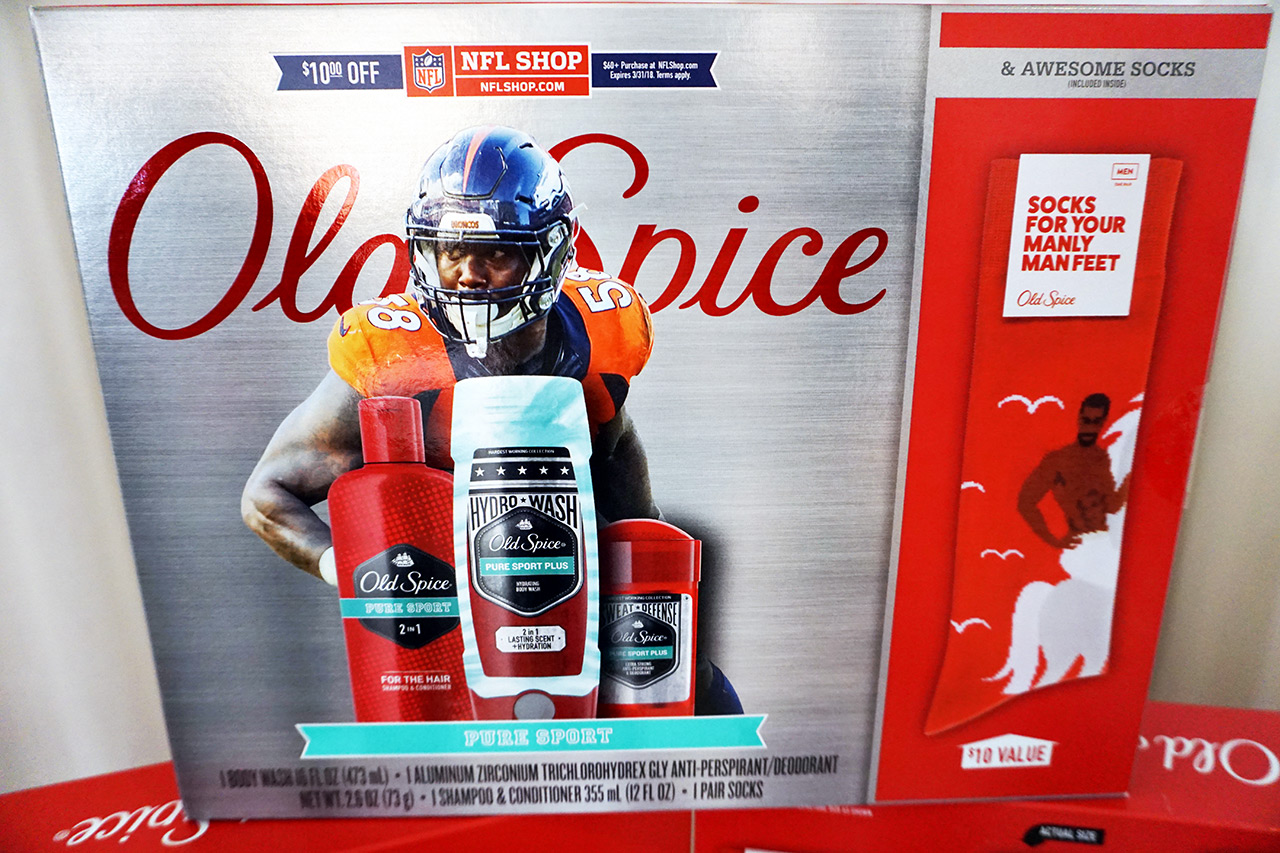 The Pure Sport Gift Set Featuring NFL Player Von Miller

Considered the Hardest Working Collection, each pack brings together more odor blocking, sweat defending and dirt destroying power. It contains:
– Old Spice Hydro Wash Body Wash Pure Sport Plus 16 oz
– Old Spice Pure Sport 2in1 Men's Shampoo & Conditioner 12 oz
– Old Spice Sweat Defense Antiperspirant Deodorant Pure Sport Plus 2.6 oz
– 1 Pair of Socks for your Manly Man Feet
The Swagger Gift Set

For the guy who want the gift of Swagger, this pack features some of Old Spice's most powerful products, delivering superior protection to keep your fresh manly smell in place.. It contains:
– Old Spice Dirt Destroyer Body Wash Stronger Swagger 16oz
– Old Spice Swagger 2in1 Shampoo and Conditioner 12oz
– Old Spice Antiperspirant & Deodorant Sweat Defense Stronger Swagger 2.6oz
– 1 Pair of Socks for your Manly Man Feet
No matter which collection you pick, Old Spice has the goods that you will want in your stocking this holiday season. Looking for more? Old Spice's entire line of hair styling products, from its Swagger Gel to its Unruly Paste, will tame those manly locks so you can look great under the tree.
READ: Interview: Isaiah Mustafa Talks Old Spice, Yoga, Doing Epic Stuff, and The Male Standard
Look At Your Man, Now Back At Me

Old Spice hasn't stopped with gift sets this holiday season. Now you can experience even more manliness, thanks to World-famous Old Spice Guy and Actor, Isaiah Mustafa. He might have a new gig on the television show "Shadowhunters" fighting off supernatural threats, but to us, he will always be the the guy in the Old Spice commercials sitting on a horse. Thankfully for us, Isaiah is up to his old tricks this holiday season with a free pair of socks for your manly man feet. These awesome socks feature Isaiah's image, literally back in the saddle, embroidered holiday sweater style so that our hero is forever with us. And luckily for you, you can grab a pair since they are included in Old Spice's Pure Sport and Swagger gift boxes.
Don't smell yourself short. Getting that irresistible "mansmell" is a lot easier and affordable than you think. Shopping days before the end of the holiday season are quickly running out, but there is still time to share in the ultimate male grooming experience by gifting yourself or a friend some Old Spice products. After all, "Tis the season for giving." You can go down to your local drugstore, grocery store, or supermarket to pick up your favorite Old Spice products or order online at OldSpice.com. Have a fragrant holiday!
Disclosure: This post is sponsored by Old Spice, but all opinions are ours. #SponsoredObviously