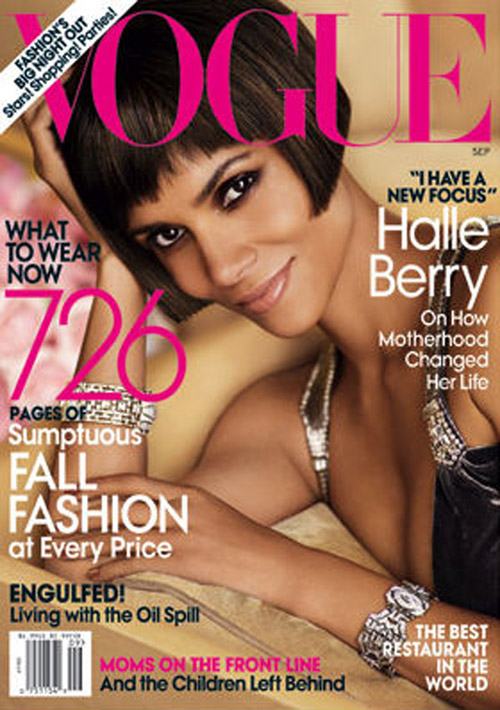 Halle Berry is VOGUE'S September issue cover girl which hits newsstands on August 24th. Back on-screen and soon to be on Broadway, the newly single Halle gives VOGUE magazine a glimpse into her surprisingly grounded L.A. life – it's Halle's Hollywood.
EXCERPTS
On her first interview in three years: "I was burned-out with having other people tell the story about me that they wanted to tell. I told my publicist, 'I'm not going to talk anymore. I'm just going to live my life and be who I am.'"
On her appreciation of the female body: "I love the naked female form…. I just feel like that's the most empowered position you can be in."
"That comes with age," she says. "I've been slowly getting there. If the world wouldn't persecute me, I'd take nude pictures every day of the week."
On saying she would never get married again: "I'm not done with love, but I refuse to settle. I am a hopeless romantic. And I won't stop till I get it right." "I don't think I'm unlike a lot of people. I am just someone who is trying to find that mate, and I think it's a really hard thing to do. And I'm not willing to stay somewhere where I am really not happy. And I am not willing to pretend I am for the kid's sake or so that I don't have to go through another public humiliation."
On being asked to be on the cover of the September issue of Vogue: "What that means for a woman of color and what that means in the fashion world, what that means to pop culture, there was no way I could say, 'No I'm not going to be on the biggest issue of the year.'"
For the complete interview visit Vogue.com.
Tags Celebrity Halle Berry Halle's Hollywood Hot Girls Vogue WOMENkind