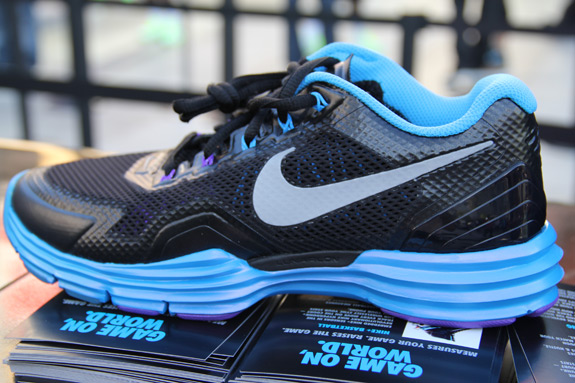 The dunk seen on ESPN's SportsCenter…Jus Fly! Yes, that dunk. Yes, we are talking about that guy, Jus Fly, the one who did the cartwheel, picked up the ball, and went in for the dunk during the Nike+ Basketball "Game On, World" slam dunk contest at LA Live in Los Angeles. Yes, we were there and we have all the details on the new Nike shoe Jus Fly was wearing, how Nike was able to measure his vertical jump, and more on his dunk clinic.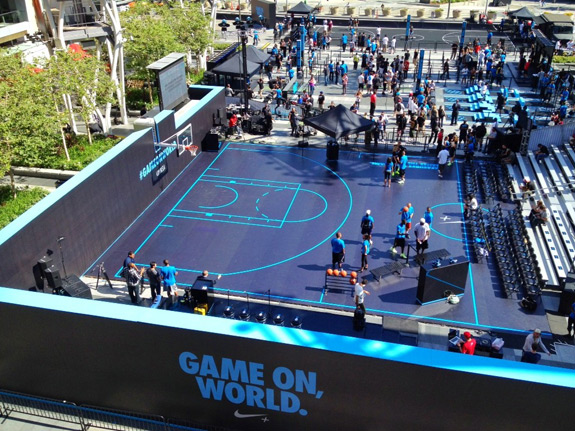 Nike+ Basketball has decided to raise the game of the streetballer while changing the game. In a revolutionary experience, Nike+ Basketball is connecting digitally enabled footwear with an interactive mobile application bridging the physical world of sport with the social elements of digital. First unveiled for running products in 2006, NIKE+ already has seven million digitally connected athletes and is quickly growing with the recent launch of the Nike+ FuelBand, a wrist-based device designed to track everyday activity.
"I think Nike+ Basketball will change the game… Giving every player access to this level of information will have a huge impact on the way players train and play the game." ~ LeBron James.
The new NIKE+ enabled basketball shoe can track information on all your movements (i.e. how high, how quick, etc) and deliver the information to you. For those of us luckily enough to be in attendance at Nike+ Basketball "Game On, World" slam dunk contest we were fortunate enough to see exactly how it works thanks streetballer Jus Fly and the Nike Lunar Hyperdunk digitally enabled sneaker he was wearing.
It's been exactly a year now since our very own Tam-Star teamed up with Stiletto Jill to bring you all the action on the 2011 ESPY red carpet. Thanks to the Nike+ Basketball event, we were able to reunite and bring you an exclusive look at 'that dunk' along with a close-up look of the Nike+ Basketball app in action.
Are you ready for Game On, World? #GameOnWorld
VIDEO – The Stiletto Jill Show: Game On, World.
Tags Digital Sport Jus Fly Lebron James Nike Nike Basketball Nike Lunar Nike Lunar Hyperdunk Nike Slam Dunk Nike Slam Dunk Contest Nike+ App