Tattoo and graffiti artist Mister Cartoon recently worked with Diesel on their first-ever watch collection collaboration. Known for his hand-rendered designs, murals, album covers, logos and celebrity tattoos, Mister Cartoon designed two distinctive watch models for Diesel.
DZMC0001 – Retail $295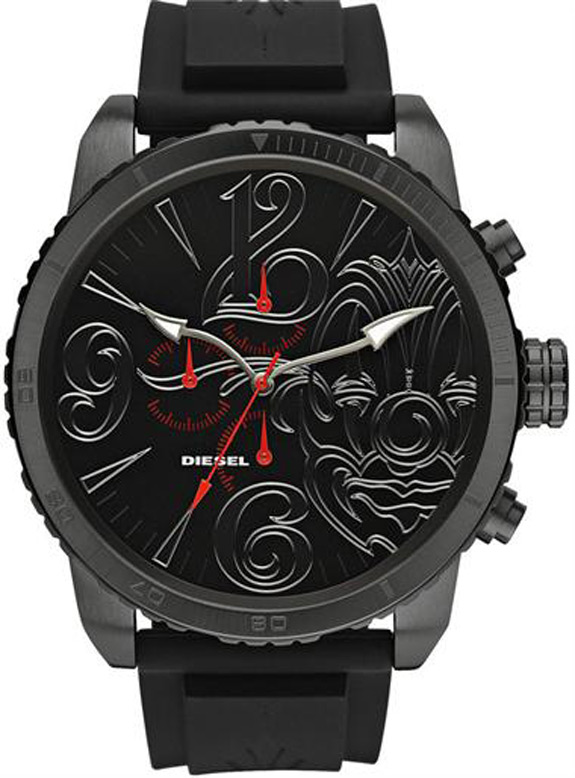 The DZMC0001 features the Mister Cartoon's iconic clown face in silver on a black dial with red details and is based on his own hand-drawn design. On the back, he has revisited the famous Diesel Mohican, giving it his own satirical and creative twist. The watch features custom engraving on the side of the case and embossed stenciling on the silicone band.
DZMC0002 – Retails $325


The DZMC0002 features oversized roman numerals by the artist, as well as his personal logo. The chronograph watch also has an LED light display function, while the silicone band is a striking olive color with custom stenciling.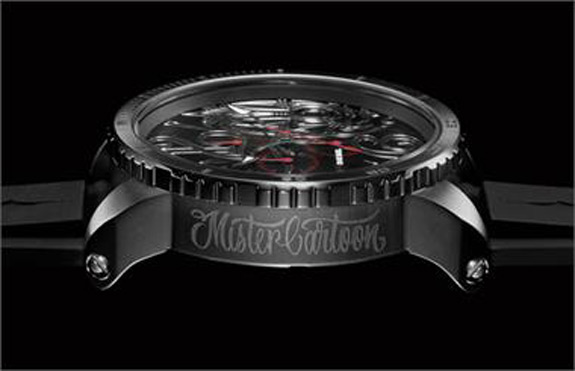 Each limited edition watch will be sequentially numbered and sold in special packaging. For those that are fans of Mister Cartoon and who can't afford his tattoo prices or the ridiculously long waiting list, the Diesel x Mister Cartoon limited edition watch it perfect.
Cartoon also recently spent three weeks in Thailand tattooing some of the country's most influential people and tastemakers which was documented by Estevan Oriol in a four-part series the trio have titled "Time 2 Ride."
VIDEO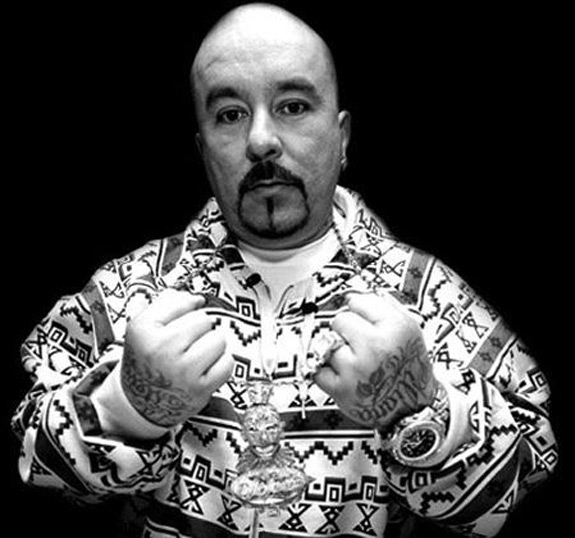 Boasting a client list that reads like a who's who, Mister Cartoon has inked Dr. Dre, Eminem, Beyoncé Knowles, Snoop Dog and Justin Timberlake to name a few. Mister Cartoon has also designed a concept car for Toyota, a limited-edition shoe for Nike, a phone for T-Mobile and the lettering used in Grand Theft Auto. Thanks to Diesel, you to can boast that you have been touched by one of the most sought after tattoo artist in the world, Mister Cartoon.
The Diesel x Mister Cartoon limited edition collection will be available worldwide October 10, 2012 in Diesel stores, select department stores, specialty retailers and online at dieseltimeframes.com/mistercartoon.
Tags Cartoon Tattoo Diesel Diesel Watch Mister Cartoon Mister Cartoon Diesel Watch Tattoo Artist