There's an impressive, smartly designed and reasonably-priced sports car at this year's Geneva Motor Show that you don't want to miss: The Opel GT Concept. The only problem? It isn't slated to go into production…but some say a final decision hasn't been made on that just yet, so we thought we'd tell you about it anyway, cross our fingers and hope they reconsider.
This is what every future affordable sports car should be. Most obvious: the un-obvious doors, a paramount decision in achieving sleek body lines. The Opel GT's door extends all the way to the wheel opening, and it's "highlighted" by a red accent line that actually disguises the outline of the door. Awesome!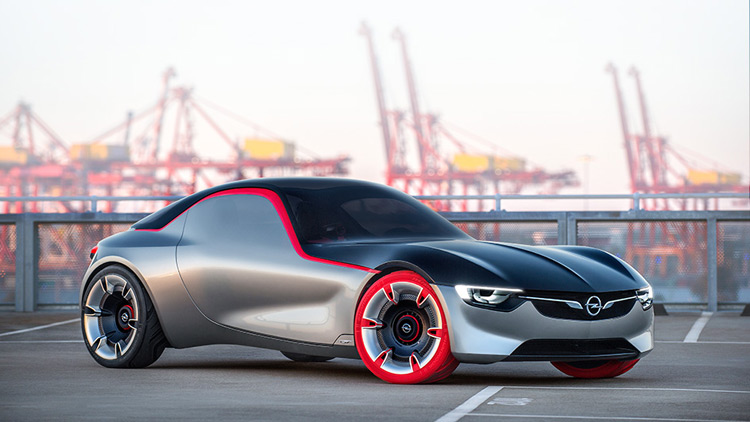 The windows have a silver fog coating that are easy to see out of and add to the slick style. The side-view mirrors are replaced by tiny cameras in the front wheel openings, again, to maintain the sleek lines. Video feed inside is shown through corresponding cylindrical screens at the ends of the dashboard, a logical decision given our instinct to look there anyway (versus an awkward posture to look toward a center screen to see what's going on outside your door). Amazing!
Guys, you might appreciate this unusual feature — the Perimeter Brake label — where Opel mounted the brake rotors inside the wheels instead of directly to the hub. It's a concept similar to the Zero Torsional Load perimeter brakes that the now bygone Buell Motorcycle Company had. It allows for the deep-faced wheels and seems an idea worth pursuing.
Video: A dream car takes shape. Opel GT Concept

Opel also reports a 1.0-liter turbo three-cylinder of 145 horsepower, sent to the rear axle through a paddle-shift six-speed. It hits 60 mph in under eight seconds, thanks to a total weight of just 2,200 pounds. Its max speed is 134 mph, the headlights have a 3D beam that allows for glare-free high-beam driving, and it's front mid-engined and turbocharged. Awe-inspiring!
Concept means big idea, a notion, a theory, but we think (and hope) this concept will become a reality. The Opel GT is lightweight and elegant, a simple rear-drive sports car that exemplifies minimalism in style with enough technology for modern convenience and contentment.
For more information on the Opel GT Concept, please make sure to take the jump over to opel.com.