NASCAR is much more than cars going in circles. In fact, what makes NASCAR great is the drama and the never-ending back stories. Family, history, the evolution of the sport, and the constant account of past and current events as they unfold and are countlessly retold are what makes NASCAR an interesting sport to follow. Case in point; the story of Austin Dillon.
For the non-NASCAR fan, you may ask, "Who is Austin Dillon?" For the die-hard NASCAR fan, the answer is simple. He is the grandson of a legend, and he drives the No. 3 car made famous by the late legendary driver, Dale Earnhardt Sr. For me, a connoisseur of the sport and a proud member of NASCAR Nation, he is the future. He is what NASCAR needs. Austin is a young driver with NASCAR roots, a respect for NASCAR history, and a guy who can actually drive.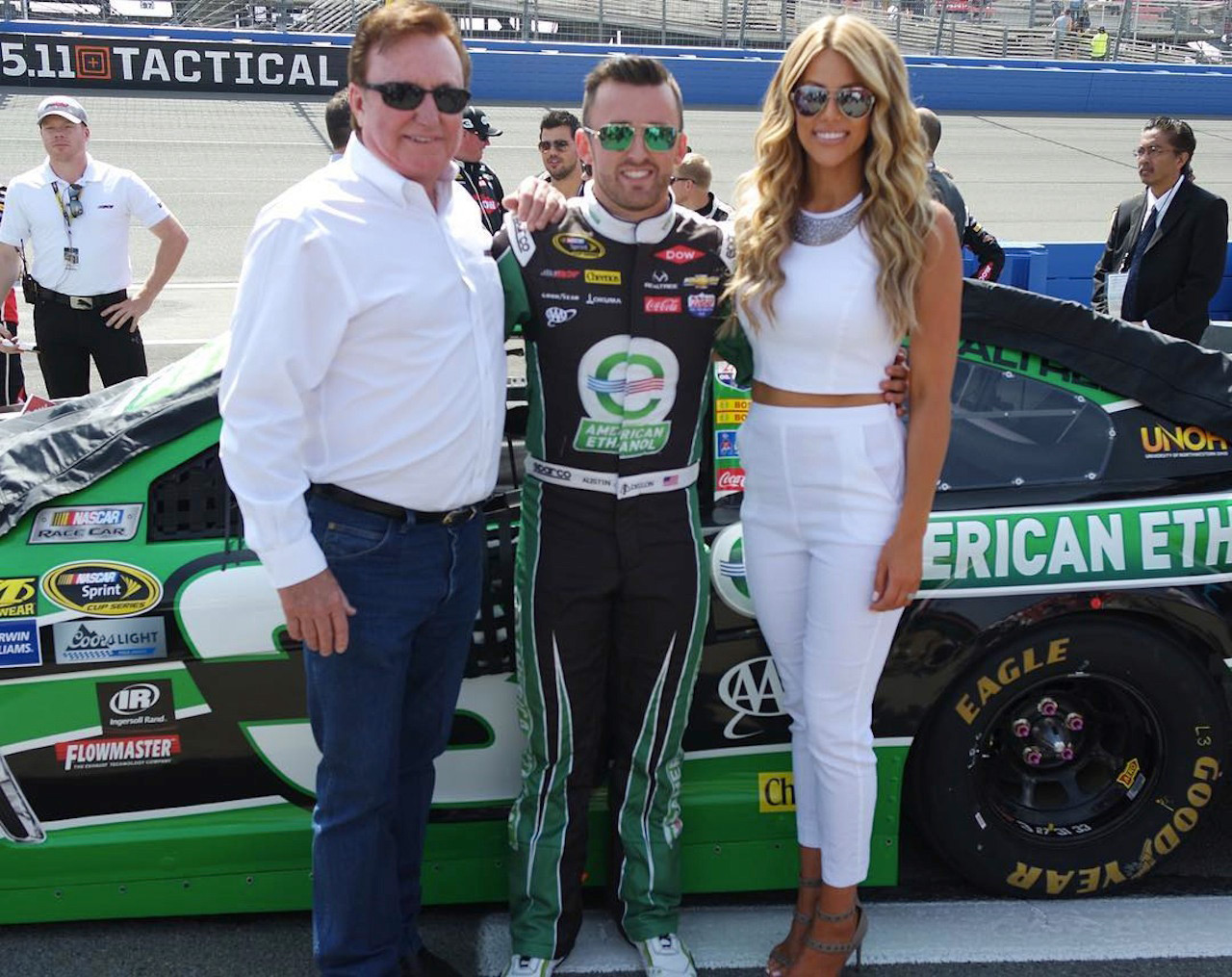 photo credit: Instagram
Austin Dillon's narrative: He is the grandson of car owner Richard Childress of Richard Childress Racing (RCR), the son of former driver and RCR general manager Mike Dillon, and the big brother of NASCAR driver, Ty Dillon. Austin is also the fiancé of a former NFL cheerleader. His grandpa was once a racer himself before retiring to start a team of his own, which included Dale Earnhardt Sr. behind the wheel of the No. 3 car. Earnhardt drove the No. 3 until he was killed on the last lap of the 2001 Daytona 500. In 2013, after moving through NASCAR's ranks, Austin's grandpa and Dale Earnhardt Jr. gave him their blessings to use the No. 3, which had not been driven in NASCAR's premier series for 13 years.
photo credit: Instagram
Austin's achievements included winning the 2011 NASCAR Camping World Truck Series Championship and the 2013 NASCAR Nationwide Series Championship. He is also the 2008 K&N Pro Series East Rookie of the Year, 2010 Camping World Truck Series Rookie of the Year, 2011 Camping World Truck Series Most Popular Driver, and the 2012 NASCAR Nationwide Series Rookie of the Year. Behind the wheel of the No. 3 car, which made its first Sprint Cup appearance after 13 years, Dillon clinched the pole position during the 2014 Daytona 500 qualifying.
In his third year in NASCAR's premier series and now a bona fide contender in the 'Big Boys' series, Austin Dillon qualified for his first Chase for the Sprint Cup this year. Only 16 drivers make the Chase each year and Austin Dillon was one of them. Not bad for a guy whom many would say, has big shoes to fill. Some would say the pressure is tremendous for a young guy who is all of 26, but I would say that's NASCAR. That's family. It's history. And this is why the sport is so much more than cars going in a circle.
I had the opportunity to attend NASCAR Champion's Week on behalf of Mankind Unplugged and my NASCAR podcast, All Turns No Brakes. I didn't ask Austin many questions, but I did ask him about family. Check out what he had to say below.
Q&A WITH AUSTIN DILLON
Tam: Are you excited for your brother [Ty Dillon] to be moving up to Cup Series?
Austin Dillon: Yeah, It's going to be…It's really exciting. I get another guy to look at. As far as his driver traces, I get to look at data on my grace weekend and then see what he does, and hopefully, we can work together to make each other better. And he just brings a little bit more knowledge to my team, having him there and racing.
Tam: With all that being said and this is going to be probably the dumbest question…
Austin Dillon: No, I don't care, ask a dumb question
Tam: With you and your brother now competing against each other, if you're at the finish line, are you going to bump and go for the win?
Austin Dillon: Yeah. He knows it's coming. Oh yeah. We're both going to go for the win in Cup Series.
To find out what else Austin and I discussed, take the jump over to 3 Questions With NASCAR Driver Austin Dillon..