Hat hair – it's a real thing. Everybody gets it and nobody likes it.
But you don't have to be victimized by hat hair anymore thanks to our Old Spice "Hats Off to #Smellegendary Hair" Giveaway!
Old Spice Swagger gel offers the #smellegendary manly scent you want, plus high hold and moderate shine for hair that doesn't try too hard. It's perfect for protecting yourself from hat hair, and we want to give it to you!
READ: Catch the Swagger: Old Spice's Newest Rockstar Hair Product
You don't just get Swagger Gel with this giveaway – you get the entire Old Spice Hair lineup. Included is Old Spice Pomade, Steel Courage Shampoo, an Old Spice Beanie and a $25 gift card for popular online hat store Lids so you can choose the perfect hat.
Keep a Lid on It
Want more info on how to combat hat hair? Try these tips from Old Spice and celebrity groomer Benjamin Thigpen!
Start with Old Spice Swagger Gel – Apply a small amount (no more than nickel size) to your fingertips and rub together before applying to the hat line.
Keep it Dry – Make sure your hair is completely dry and styled before wearing the hat. Otherwise, your hair will flatten and take the hat's shape.
Hat Indentation Quick Fix – Use your fingertips to press and start rubbing the hat line out. Think of your fingertips as an eraser!
Water Works – In a pinch and without product? Wet your hands with water and flick excess off. Start with a small amount. Remember, it's just a quick touch up!
• Hats Off to Hats – Many guys wear hats on a daily basis, and they can be cleverly used as a styling tool.
They work great to bring down hair volume, or to help keep Swagger-styled hair in place.Benjamin's clients include: Marc Jacobs, Bruce Willis, Nate Berkus, Francisco Costa, Nick Swisher, Josh Duhamel, Tony Hale, Jimmi Simpson, Boyd Holbrook, and many more.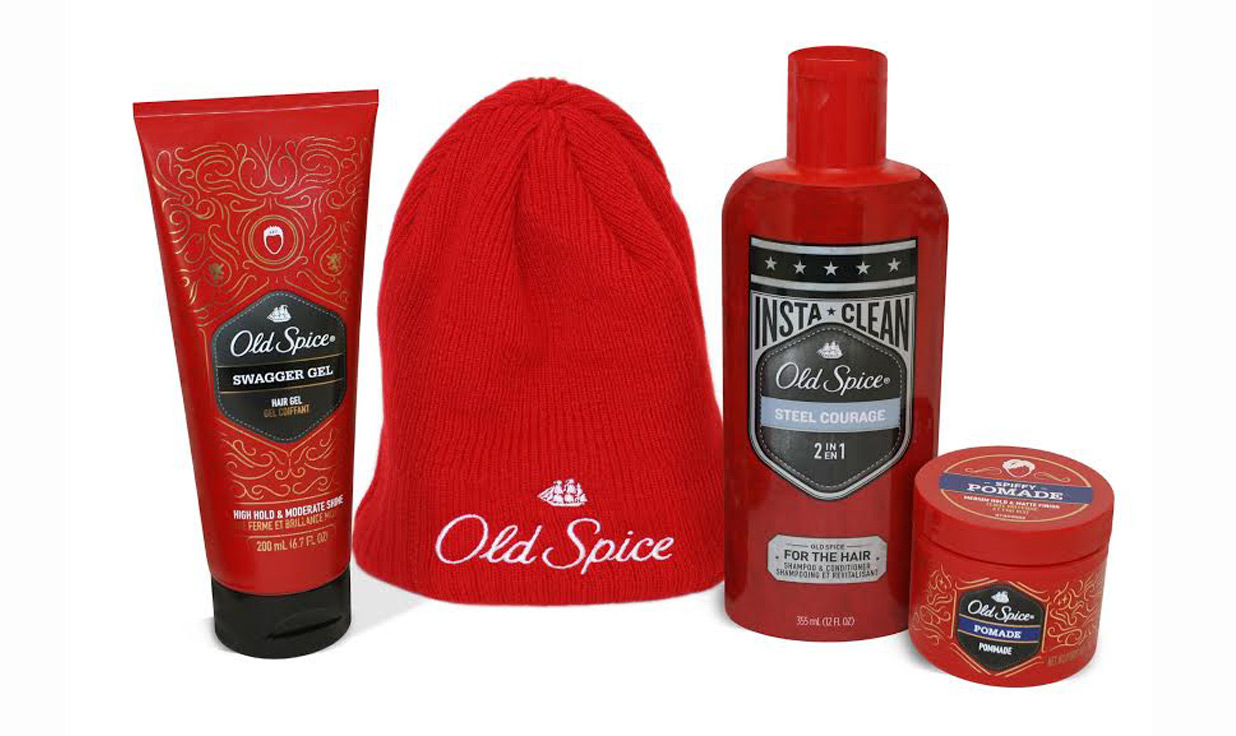 Giveaway Instructions
You can enter to win two ways. You can click here and enter your email address to sign up for our newsletter. Or, follow us on Twitter @MankindStuff and send us this @ reply message:
Hey @MankindStuff I need @OldSpice to help me combat "Hat Hair." #Smellegendary
We will choose one lucky winner on Sunday, March 19, 2017. Winners will be notified by email or via Twitter DM. For more information on Old Spice's Swagger Gel, make sure to visit OldSpice.com.
Find Old Spice Hair products nationwide in retailer hair care aisles at the affordable price of between $6.99-$7.99.