Photo credits: Instagram/p1_houff
When Quin Houff was introduced to NASCAR at the age of four, it was just something the family watched when they got home from Sunday church services after picking up a snack at 7-Eleven. Like most who make it in stock car racing, Quin started as a young kid racing on the Go Kart circuit. In 2018, at the age of 18, he got the opportunity to race in the ARCA Racing Series & NASCAR's Xfinity Series. He hasn't looked back since. Quin is now a contender on NASCAR's biggest stage: the NASCAR Cup Series.
It's not every day you sit down and speak with a guy who makes a living driving 200 mph every Sunday afternoon. I've talked to my fair share of people in the motorsports industry, but it isn't often that I meet someone as calm, cool, and collected as NASCAR Cup Series driver Quin Houff.
Stories like Quin's are rarely told, not because his story isn't worthwhile, but because people gravitate to over-hyped and manufactured headlines. Make no mistake: Quin's journey to sit behind the wheel of the StarCom Racing #00 Chevrolet Camaro is a story that should be shared. In fact, it's downright refreshing.
I talked to Quin in his second season as a full-time racer in the NASCAR Cup Series, just after the announcement of his new partnership with 8 Ball Whiskey. He shared his thoughts on his favorite things to do away from the track, working in the family trucking business, living in Virginia, how his wife's husband wrecked him, and of course, NASCAR.
Quin isn't a NASCAR superstar (yet), but I hope our conversation puts him on the radar of those looking for someone to root for. As we talked, it became apparent that his open personality and honest perspective is something NASCAR and non-NASCAR fans alike will find invigorating.
Below is an excerpt of the interview. The full interview is available on the All Turns No Brakes Podcast.
LISTEN:

Tam: I know you raced go-karts as a kid, but at what age were you introduced to NASCAR?
Quinn: Well, I was introduced to NASCAR at a much younger age than when I started racing NASCAR. To me and my family, it was just something that after church, you went to 7-Eleven on the way home and got your soda and your snack, and then you went home and turned on the TV to watch NASCAR. That's something my dad and I did from a very young age. I was doing that with him probably at age four or five or so. I was a little league baseball player, and I always saw the go-kart tracks out but back behind the bullpens, besides the putt-putt courses, like you see all the time. I raced my dad there for a couple of years at a young age and then bugged him for two years that I wanted to race for real, and he finally caved. That's kind of where the bug got started.
Tam: You're from Virginia. What was the one driver that you idolized growing up?
Quin: I grew up watching it with my dad and cheered for the same guys. He cheered for Earnhardt Sr. He was the man for everybody. Then my dad became a Jamie McMurray fan early on when he got his break in the sport when he filled in for the Coors Light car, and then the Virginia boy Denny Hamlin came into the picture. We kind of just followed along with him, as his career grew, obviously being a Virginia native as well. So, it's just been something that I've followed my dad's lead on as far as the fan aspect of it. But as I became part of racing and racing myself, I just started to look at drivers for their talent abilities and what they're able to achieve on the track just out of natural abilities.
Tam: That's interesting that your dad went from Earnhardt to Jamie McMurray but, okay.
Kenny (All Turns No Brakes): Pretty interesting. I know. You have the Virginia background. You grew up racing at the legendary South Boston Speedway. What is your favorite moment racing at that track?
Quin: Yeah, South Boston Speedway has got a lot of history to it. It puts on a good show for sure. Obviously, a lot of great names have come through there. I'm glad to come through there as well as Motor Mile Speedway in Radford. But honestly, my favorite moments, there's probably not really on track related. I actually met my wife Elizabeth there. I was racing her dad in the Late Model Series there. She was always there, working on his stuff. She was the tire girl on his team. He was one of those veteran guys that, you know, taught me a few hard lessons and wrecked me a few times because of things that I didn't know that I was doing. We just became friends in South Boston. And you know, here we are married, going into our second year.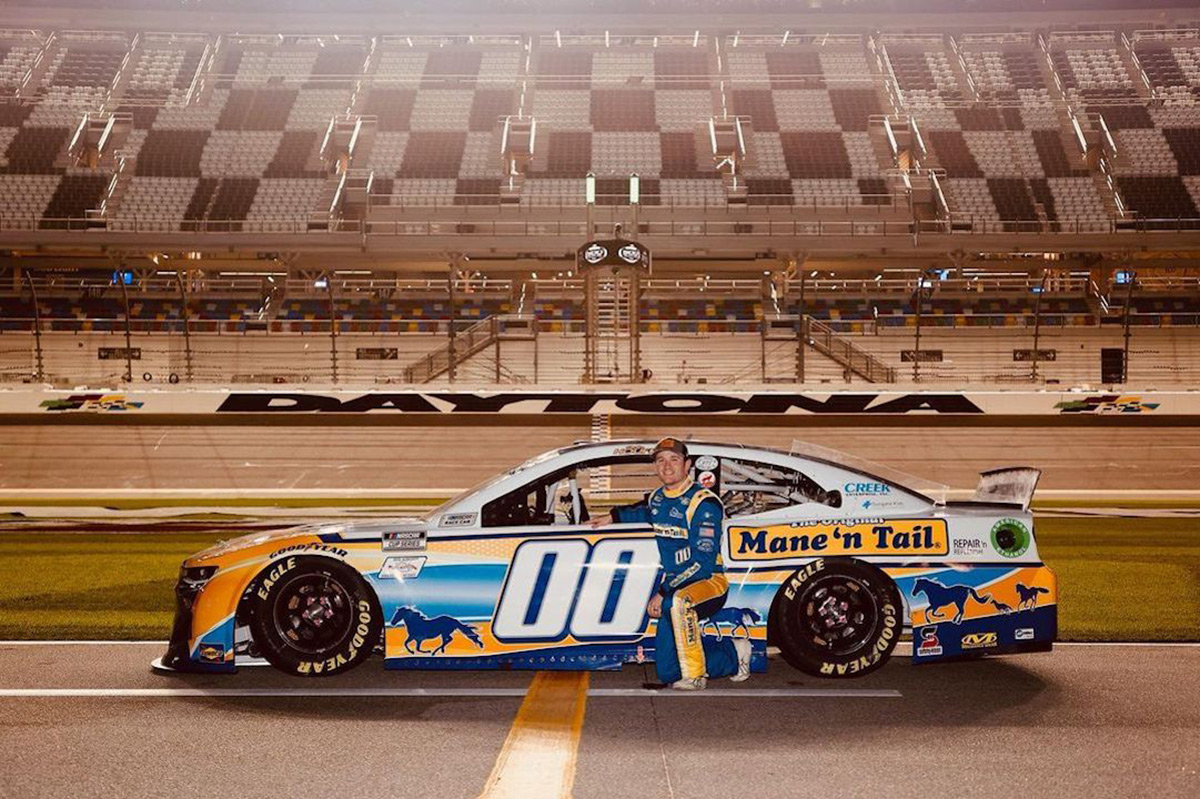 Tam: I want to take you back just a bit, Quinn. At what age did you know your dream of actually becoming a racecar driver was going to be a real possibility? I know you started racing early on, but at what age did you say, okay, I'm really about to be a NASCAR driver.
Quinn: Gosh, that's hard to say. You know, there are obviously some aha moments in everybody's career. But I always felt like every opportunity behind the wheel, every next step behind the wheel was a blessing and not knowing if there was going to be another one. If I had to say did I think there was a real possibility that I could become a NASCAR driver at the professional level it is probably kind of back-to-back. I was 18 years old, going from racing short tracks, at places like South Boston, like we just talked about, and I got a chance to run ARCA Car at Daytona International Speedway. So here I am going from under a half-mile track to a two-and-a-half-mile superspeedway. I went there and I led a lot of that race my first time ever at a superspeedway and had great success and unfortunately didn't get the result we needed. But that was kind of a little bit of a springboard leading to an opportunity with a part-time team owned by a Virginian as well. I debuted in Xfinity at 18 as well. I went to Bristol. I grew up watching Bristol. And people told me I was crazy to go to Bristol as the debut tracks because it's so fast, and you're so close to quarter racing. And you're going there with a part-time team, you're not locked into this show. I have to qualify and we went there and ended up finishing inside the top 15. And that was kind of one of those moments that it was like, I don't want to say that I thought it was a real possibility that I could become a professional NASCAR driver. I just felt like it was one of those moments that was like, I know I can do this.
Front Row Kenny: You made your NASCAR Cup Series debut in Phoenix in 2019. How are you adjusting? And what have you learned so far in the Cup Series?
Quinn: Yeah, you know that list is pretty endless. I feel like there's so much to learn coming into the Cup Series, especially with the experience level that I had. I jumped into the Cup Series relatively quick compared to a lot of other drivers that haven't had the opportunity to run Cup yet. And obviously, it's a humbling thing to be able to run the Cup Series, but it's also something that's a risk versus reward, you know, you don't take that much time and in a feeder series, if you will, like Xfinity or ARCA, so, you can get experience. I looked at it as getting my sponsors the most exposure and putting myself in the ultimate position that I wanted to be in, which was the Cup Series. And when that opportunity came up, I was faced with racing the 40 best drivers in the world — stock car drivers. I had to learn quick. I had to learn on the fly. It was a very tough. My second racing season in the Cup Series full time, I raced I think 17-18 races 2019. But then my first full-time season a pandemic hit, and you lose all of your practice and qualifying time. That made it a lot tougher as well, especially being new to Starcom Racing and everything. I had to learn the length of the races and how to run your race within the race. And, just learning the driver's skill sets. You're running against a lot of different guys that haven't really run around a lot. And just learning how that personality is or how that driver is on the track is something that takes some time. That was a very valuable experience in 2020. Obviously, it looked very different. But I'm excited heading back into 2021 with the same team, a lot of the same guys, and actually having some valuable experience and notes to slingback on and go back to and see what we learned.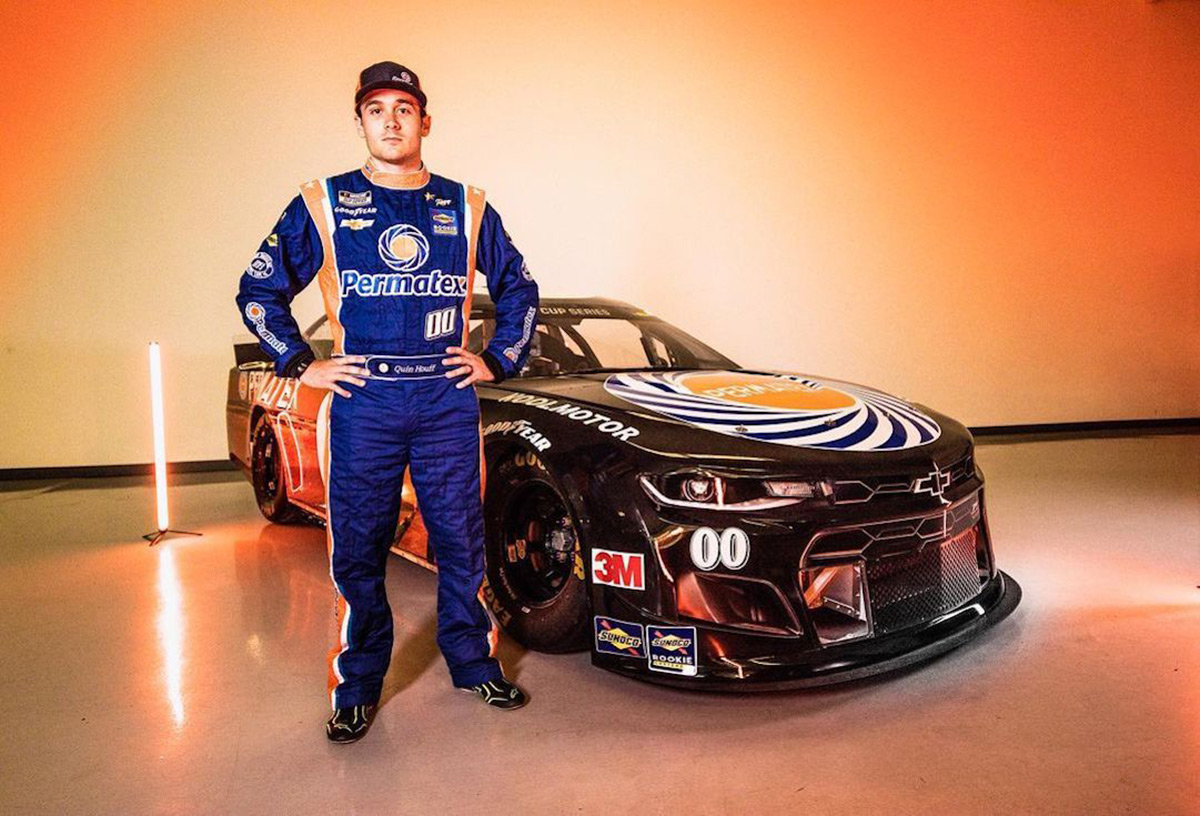 Tam: Quinn, I wanted to jump back into something that you just said about being two years in and things switching up because of the COVID situation. What advice would you offer the next generation driver who is trying to make it in Cup Series. Is there one specific thing that you would tell the next person coming up?
Quinn: I'm the kind of guy that's always saying follow your dreams and don't give up. I never had anything that said that should be racing as a professional driver in the NASCAR Cup Series. I didn't have the name or the racing family background, or I didn't have that big corporate multimillion-dollar sponsorship. A lot of people think just because all those things are stacked against them that they don't stand a chance. It might not always be pretty, and the journey might not always be easy. But if you just follow your dream and commit to it and let God's path take you where it's supposed to, you're going to end up in a place that you want to be. As far as anything inside the Cup Series learn, it's really hard for me to tell them anything they can learn outside the Cup Series to apply when they get there to be ready. But you know, it's all about just not giving up on those strings to get to the pinnacle of where you want to be.
Tam: I think that's excellent advice. Quinn, you just mentioned family, but you also share that your wife's dad wreck you, which is crazy. Like most NASCAR drivers, you are married at quite a young age. What's the best thing so far about being married?
LISTEN:

Quinn: I don't know if it's turned into being younger to get married or not. But a lot of NASCAR drivers, you know, you know, don't get married till later age, just because the lifestyle is so rigorous with travel and everything. I felt like I had the soulmate. And there's no reason to wait. I knew kind of my career, where it was going and the travel that was going to take and I wanted to have her along with me. So, it's been great to have that rock to lean on. And you know, obviously, my wife comes from a family that races as well. So, it's been kind of neat to integrate that into my daily life as well and be involved with her family. It's been nothing but positive for sure. We got two little dogs that travel with us whenever we can. And it's fun to have family on the road. Take a little bit of home with you everywhere you go.
Tam: Have you officially moved to Charlotte yet? Are you still hell-bent on staying in Virginia?
Quinn: No, I'm kind of a holdout. I don't really want to make the move down to Charlotte yet. You know, I love the area that we live in the valley in Virginia. I feel like the North Carolina thing is over-saturated and overpopulated until I have to go down there, I'll probably hold out in Virginia. But this is where our roots are up here. And that's where we're going to try to stay as long as we can and have a connection here.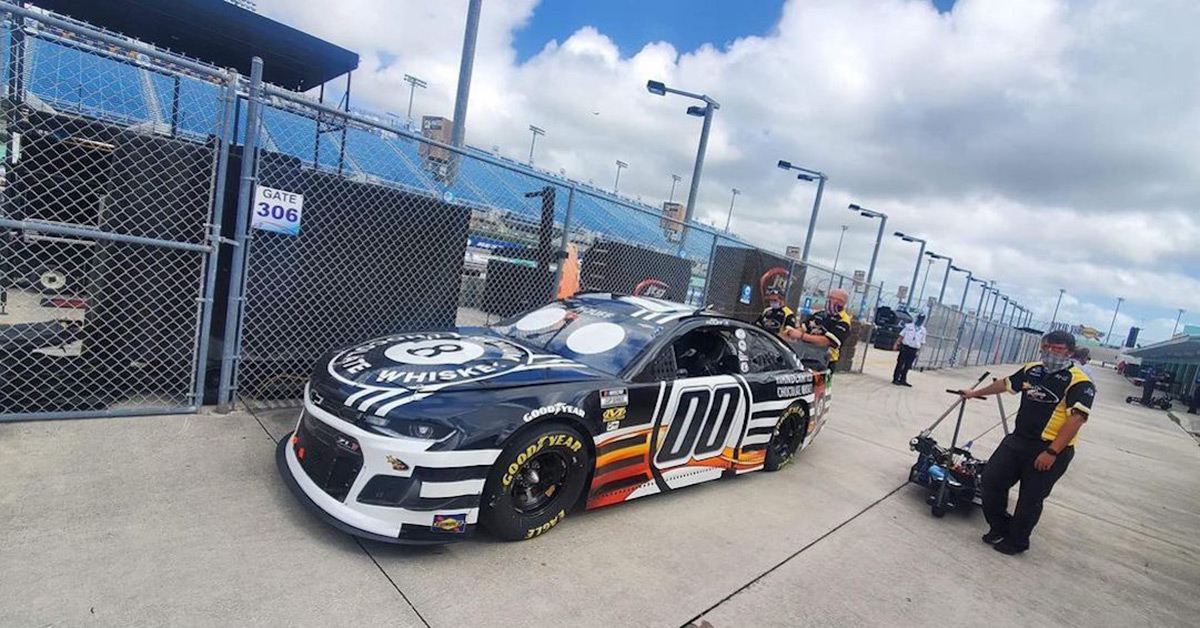 Tam: We have to jump into some whiskey talk. 8 Ball Premium Chocolate Whiskey to be exact. Can you share how that sponsorship came about and they've committed to being with you throughout 2021?
Quinn: It's very exciting to finally be able to bring the news to everybody that 8 Ball Chocolate Whiskey is coming on board with us. And it's always refreshing to not only bring a new sponsor to the sport, or a new company to the sport, but also just to have someone like 8 Ball, believe in me, and what I'm doing as well as the team that is just kind of fate. You know, Paul Thomas and his team are a great group of guys out of the West Coast and Southern California and around Vegas. We never knew each other. I met the product over there on the West Coast last year before COVID. One thing led to another, I got in contact with Paul Thomas, the CEO of it, and we hit it off really quick. He's a Motorsports enthusiast himself with doing a lot of Baja things out west with the Baja 1000, and stuff like that. He listened to my story. And he believed in hard work and grinded things out, just as I am. And that's what he's done to do all the things he's achieved so far in his career as well. So we just matched up really well and seemed like fate decided that we were supposed to become together and help each other out. I'm excited to become a part of his family on the 8 Ball side of things. As that brand continues to grow and come across the US, I'm excited for him to invest in what I'm doing and continue to further my career and racing. I'm really excited about it. Like I said, it's just a very refreshing thing to have something like this come on board and be such a big part of 2021.
Tam: You mentioned the Baja. Have you done any rally racing before?
Quinn: No, I haven't ever done anything like that. But he's telling me a lot of crazy stories. And he wants me to get out there and go out. He still has a team that races out there in the Baja 1000 on dirt bikes and stuff. So, he's wanting to get me in a chase card, I might have to go out there and see what it's all about. The stories I hear about that sort of stuff is this guy's pretty crazy.
Tam: Quinn, if you weren't a race car driver? Would you have gone into the trucking business with your dad? Or would you have pursued something else?
Quinn: I'm the fifth generation in our small family business out of Virginia. I was washing trucks and trailers at age 14-15 on weekends after school, and I was actually working in the mechanic side of things. I was a trailer mechanic at night all through my senior year of high school. I would get out of school and go work from five to 9, 10 o'clock, and then, even after I graduated, and started to focus on racing. I was a part-time racer at that time, even when we're talking about 2019 racing. I was going home and working in the trailer shop from two to midnight, so that was always kind of something I was very interested in and being involved with as well. And something that is obviously, close to my family's heart. So that would definitely be something I feel like I'd be involved in and could even still try to be involved in as much as I can through racing. And then after racing as well.
Front Row Kenny (All Turns No Brakes): Since you are in the Cup Series, you drive a Camaro Z01 in the Cup Series, and quite a few guys in racing our car guys like my buddy, Corey Lajoie. I know he recently built a HellCuda, which is just a 1970 Plymouth Barracuda that he's been building for quite some time. Do you have any favorite cars that you've always wanted or anything that you want to build as a future project or something that you want to buy maybe in the future?
Quinn: It's really hard to say. I'm like you said. I'm just a car guy that appreciates a lot of different cars. But I definitely haven't been around long enough to be able to have the extra time or money to mess around and build or re-do cars or buy, you know, some vintage or a really expensive one. So, I always try to keep it simple to keep myself out of trouble on the public roads. I got a 2012 rebuilt Title Ford Focus that gets like 32 miles a gallon that just doesn't go very fast.
I do a lot of traveling. I just stick to that. It keeps me out of trouble. The new toy that we got recently in the family is my wife got a brand new 2021 Jeep Wrangler. And, you know, Jeep Wranglers are really cool being able to take the top off. It's been snowing up here in Virginia lately, so we have been able to mess around with all the modes it's got. That's kind of been a little new thing to the family to play with recently, but I'm trying to keep it simple for now.
Tam: That's a good choice your wife chose. I drive a two-seater sports car, and my dream car is actually a Ferrari, but I'm not driving a Ferrari now. Don't think I'm in a Ferrari.
Quinn: Everybody's dream car is a supercar.
Tam: What are your favorite things to do off the tracks?
Quinn: My favorite things to do off the track is obviously, come home to Virginia. I travel the extra four hours to come home and be able to be where I grew up. And when I'm home, I like to try to kind of keep a simple routine, lay a little lower on the radar, just go to the gym, just stay in shape, study everything I can that I need to for racing, talk to great people like you guys.
Tags 8 Ball Whiskey Chevy Motorsports Nascar NASCAR Cup Series Podcast Quin Houff Sports