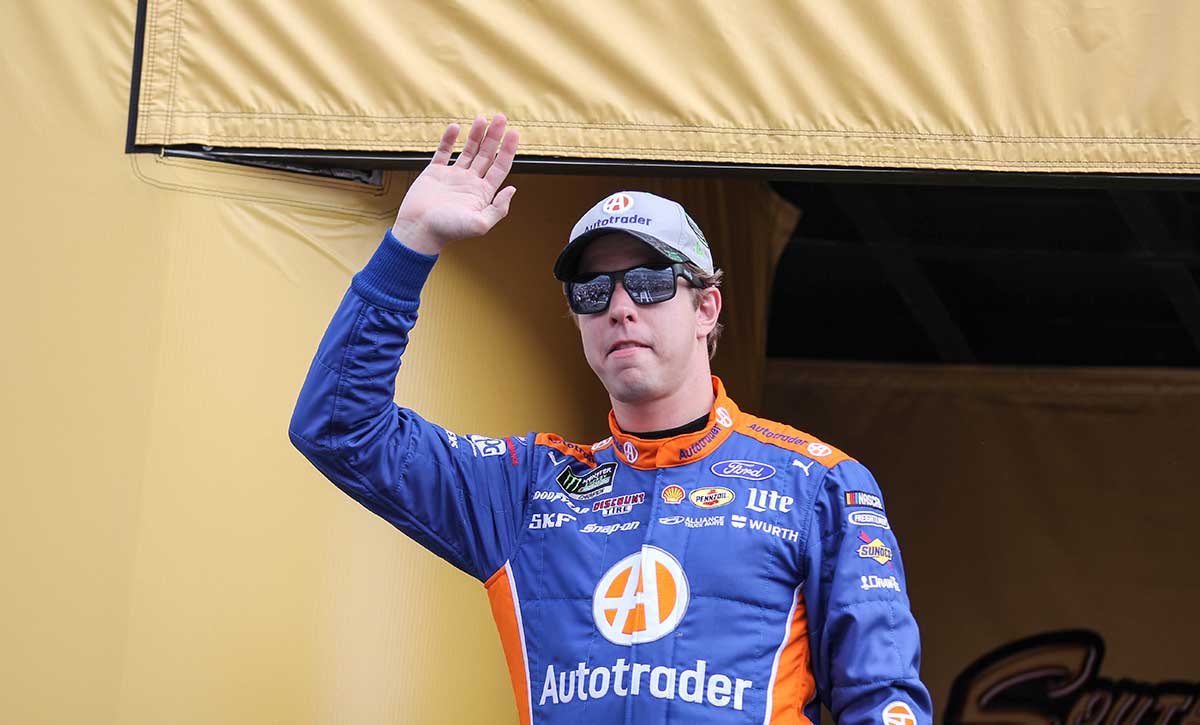 Photo credit: Rachel Schuoler
Some would argue that it is harder more than ever to become a champion in any sport especially auto racing. With constant advancements in technology, acquiring success in motorsports requires top tier equipment, a well-funded team, and a driver with impeccable skills and a lot of intelligence behind the wheel. Team Penske and the driver of the No. 2 Ford Mustang, is that winning combination.
On the eve of the kick-off for the NASCAR Playoffs, I spoke with one of NASCAR's most skilled, and some would argue, most intellectual driver, NASCAR champion Brad Keselowski. Raised in a family where life revolved around racing, Keselowski is often considered one of the smartest drivers in NASCAR's top series for his comprehensive knowledge of stock car racing. One of a handful of drivers to win a race in each of NASCAR's three national series, Keselowski is one of only four drivers to have won a championship in both the Monster Energy NASCAR Cup Series and the Xfinity Series. He is the 2012 Monster Energy NASCAR Cup Series champion and the 2010 NASCAR Xfinity Series champion.
Ask any NASCAR fan and they'll throw in the word "intelligent" when describing Keselowski. Whether fans love him or are indifferent about him, no one ever doubts his accomplishments, knowledge, and the way he articulates his thoughts on the ever-changing landscape of NASCAR. And absolutely no one will deny that he is one of NASCAR's greatest drivers today.
Before Keselowski got behind the wheel of the Team Penske No. 2 Autotrader Ford Mustang at the Las Vegas Motor Speedway, I sat down with him to talk all things NASCAR. As a long-time NASCAR fan, the chance to have a friendly chat with Keselowski proved to be a conversation I didn't know I needed on my bucket list. It's not every day you sit down with a NASCAR champion in an informal setting, but thanks to Autotrader, who served as the primary sponsor on the No. 2 Ford Mustang with Keselowski behind the wheel, I added my conversation with Keselowski to the top of a list of cool things I've done in the sport of NASCAR.
For the first NASCAR playoff race of the 2019 season, Autotrader.com joined Team Penske with a NASCAR sponsorship of Brad Keselowski's No. 2 Ford Mustang race car. Their partnership helped bring awareness and visibility to the potential performance attributes of popular car models such as the Ford Mustang, and the fact that NASCAR uses these vehicles clearly validates their quality and integrity at the factory model level.
Team Penske is one of the most successful teams in the history of professional racing. Over the course of its five-decade history, the team has earned victories in the IndyCar Series, the NASCAR Cup Series, the NASCAR Xfinity Series, and the IMSA WeatherTech SportsCar Championship. Brad Keselowski is part of the winning legacy of Team Penske. He has driven for team owner Roger Penske ten full seasons and is the all-time winningest driver in the history of Team Penske.
Below are excerpts from my conversation with the champ.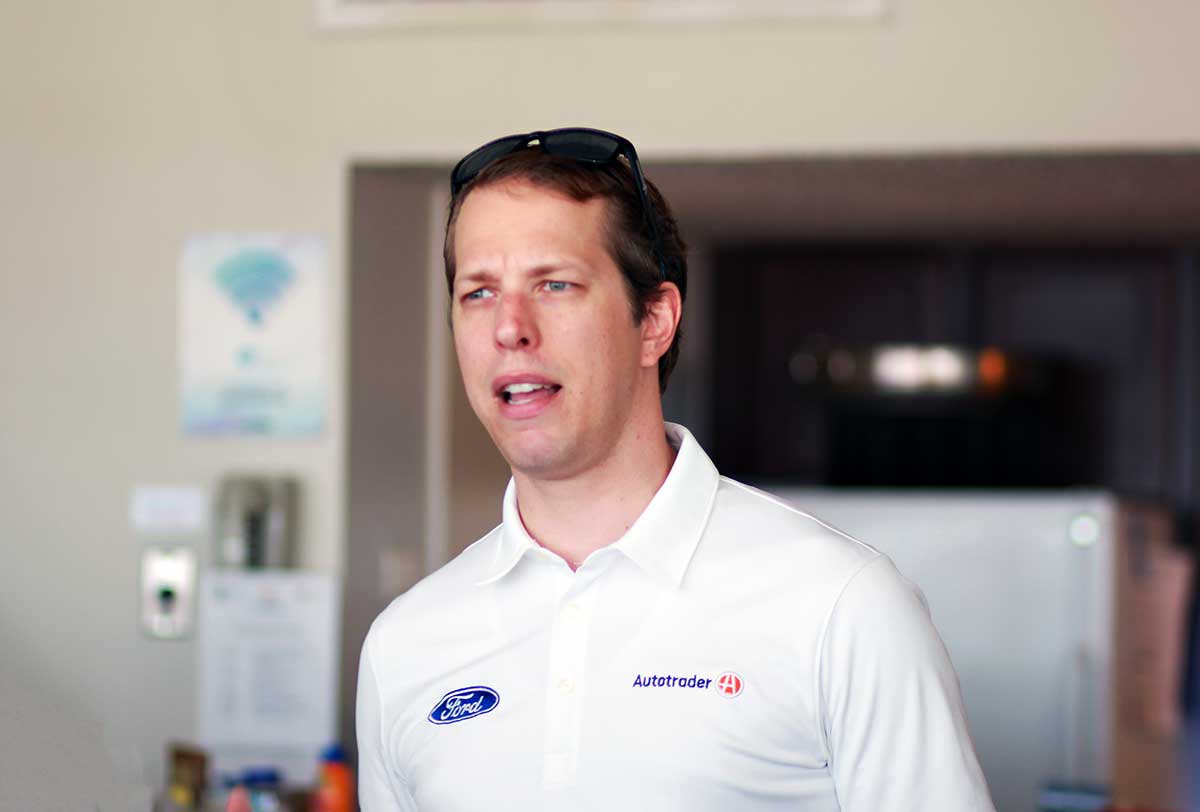 [Note: This interview was edited for clarity. Ross Collicutt is a writer with TheManual.com]
Tam: The first playoff race of the season and the first playoff race ever at the Las Vegas Motor Speedway way is transitioning from day to night. Thoughts?
Brad: She's good and she knows what's up. There are a few things you can do. Not a lot, but a few things. Mostly, it'll be cooler in the car, which I like. But with the car setup, we try to prepare it when it transitions into the night for the track to gain grip You can make your car run fast for a few laps– that's what qualifying is. You can make your car run fast when the track has a lot of grip, or you can make your car fast when the track is really hot and slick, but it's almost impossible to make it fast in all three of those. With that in mind, you try to at least get one, and then you try to build adjustability to different pieces of the car, so that you can convert them during the race. So that might be like some of the suspension settings, that might be some aerodynamic settings, and then you try to make those things that you can change very easily on pit stops so that's mostly how we prepare.
Tam: Since you brought it up, I don't like to talk about the package, but I'm going to ask you about the package. How do you feel it is going to be with the playoffs starting? Do you think there's going to be a good setup for Las Vegas, or…?
Brad: I think it's good for here. The 2019 rules are really good for tracks that are multiple groves because it keeps the cars tight on [the] straightaway, then the corners you can flare out and still make speed so I think it will be good here.
Ross: What's your training regiment? Does it change?
Brad: I'd say that's a good and funny story and here's why. I grew up watching basketball when I was like five or six years old, and Michael Jordan was the guy. Back then, he was the basketball everything like Lebron is now. I grew up in the generation that "if you believe it, you can achieve it" generation. I believe that one day I was going to dunk a basketball. And I practiced in my backyard all summer long time and I didn't get any closer to dunking a basket.
At some point in your life, you realize that there are things that you can train for and there are things, you either got it or you don't got it. Driving a race car, there's some part of it, you can train for. Most of it you either got it or you don't. And I can keep trying to dunk a basketball and it happens. And Michael Jordan one time tried to be a racer and it didn't happen.
So, there are certain things that I believe God's given us and there are certain things he doesn't. A calling of mine was to find what those are and make the most of it.
I'd like to say, because it sounds cool that I have the greatest workout program in the world. You watch these hard knock shows and they show Antonio Brown jumping in the water and doing all this crazy stuff. But the reality is, at some point, you either got it or you don't. And the preparation mentally and physically that you do is really more like housekeeping. You don't get to build the house, but you keep it clean. And so I believe that from that perspective that that's my guiding light to train. I don't like to get into any specifics, but I feel like that's always foolish to do. I don't want to really teach my competition. I want to beat him. And so, that's my guiding principle.
Tam: Brad, you're a true racer. If you were putting together a team, give me your three drivers — old school drivers.
Brad: Retired drivers?
Tam: Yeah.
Brad: Oh wow. Cale Yarborough. Cale Yarborough was just a tough race car guy; tough as nails and super-skilled. David Pearson is one of the smartest race car drivers you ever seen. Of course, I would probably add, it's pretty tough, someone like a Tim Richmond—super-talented and a wild character.
We've got to have a good mix if I'm a team owner. I don't want all the same people.
Tam: If I'm not mistaken, you had 14 top 10s going into the playoffs? Do you think that you guys can keep up the consistency?
Brad: Yeah, I think so. You know, we've got to go out there and work at it and earn it, no doubt about that. But you know we've shown that we can put races together and that every week no, but more weeks than not yes, so just got to keep our foot down.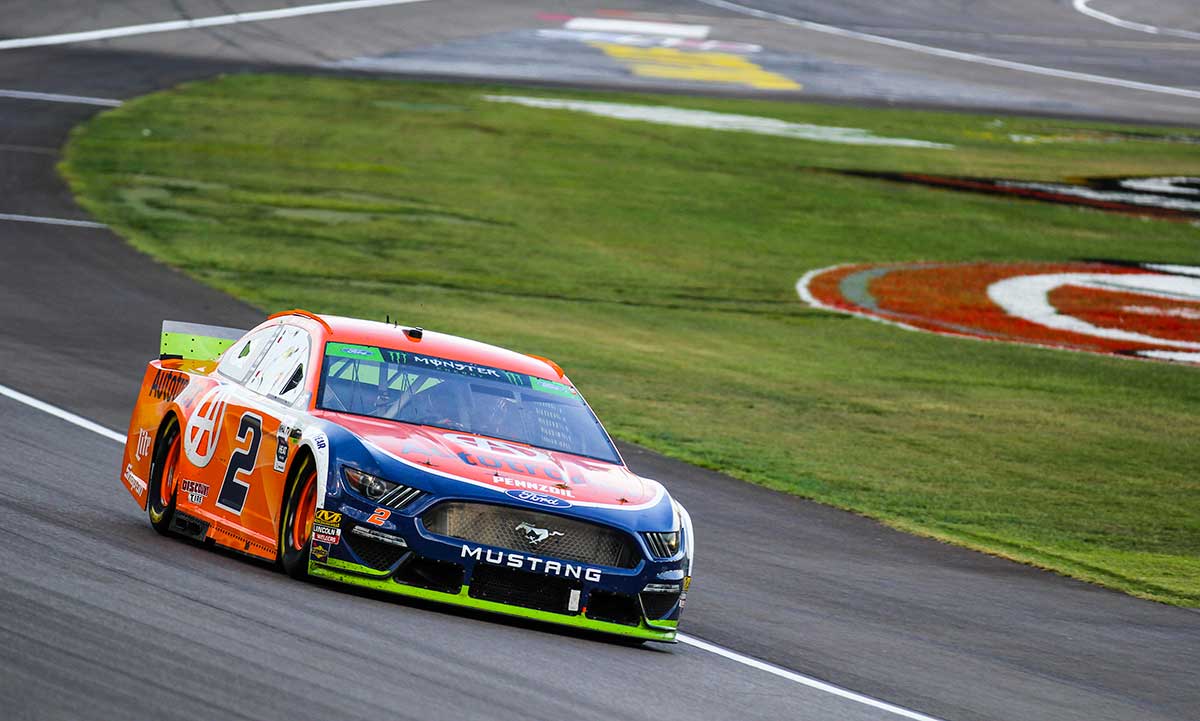 Photo credit: Rachel Schuoler
Tam: Okay. What track are you looking forward to during the playoffs?
Brad: Probably Martinsville. We won there in Spring, we dominated there, and we seem to be running really well there right now.
Tam: If the schedule consisted of one type of track would it be short tracks, intermediate or super speedway?
Brad: It' would be such a shame if the schedule was like that.
Tam: I know it wouldn't be that way. That's a hypothetical question.
Brad: It's perhaps my favorite thing about NASCAR that it's not one type of track because I tell people all the time. You know the trouble with other sports– and we're watching football right now– is that Tom Brady only has to line up at quarterback. I would love to see him having to line up at wide receiver. I'd love to see him after lineup, but running back or tight end, then we'd really find out who the best players are.
Tam: A little bit everything.
Brad: Yeah. And that's how I feel like motorsports or NASCAR is, because we compete on different types of track. It's like a different position.
Tam: Some people excel at road courses, some at speedways. You have done pretty well because your team has a lot of speed.
Brad: Oh yeah, we're all selfish, so we're going to pick the tracks we run the best on. I mean, if I had to pick, I would pick the short tracks but I would hate to have to pick because I appreciate the fact that we race on all different types of tracks
Tam: When you retire, how would you like to be remembered?
Brad: Whoo… the legacy question. Well, first, I'd like to be a winner.
Tam: You have one Championship [Monster Energy NASCAR Cup Series].
Brad: Yeah. One championship makes you good, maybe great. Winning multiple championships makes you elite. I like to be elite.
Tam: Do you think anybody will ever crack eight?
Brad: No.
Tam: So, you think it's not going to happen for Jimmie Johnson?
Brad: No. Once they changed the format, that pretty much ended that.
Tam: True. That's kind of interesting, because I feel like every year over the last couple of years, there's just a different winner and hasn't been a repeat winner. I don't think it'll ever be like the Jimmie Johnson days or Richard Petty days
Brad: Not with the format we have now.
Tam: Young drivers that you root for, or that you think are going to be super good, like, when Kyle Larson came in, everybody was like, "he's the next best thing." Or even with Joey, he was sliced bread. Any young drivers you root for now?
Brad: Yeah. I look at probably Chase Briscoe and Tyler Reddick that way. I'd like to see what they can do.
Tam: I know you love American cars, but in terms of exotics, would it be a Lamborghini or Ferrari?
Brad: I prefer the GT.
Tam: Aside from Ford. I know you're a Ford guy.
Brad: If I couldn't pick a Ford? Like, if Ford went out of business tomorrow? Only in that situation?
Tam: Yes.
Brad: McLaren
Tam: McLaren. Okay. I'm a Ferrari girl.
Brad: I mean, I like Ferrari; it's like picking your favorite ice cream. It's not that you don't like a different kind of ice cream. I like it all.
Tam: I have been around the sport long enough to see it. I think a lack of personality is the issue why the sport is not growing as much as I think it should. What do you see? Do you think that the sport needs more personality? People don't ask this question a lot.
Brad: There are some pretty strong personalities. You know, it's tough. You look at the media landscape which certainly drives our sport, and it's a tough media landscape. It really is. The majority of our revenue comes from a TV contract. And the TV contracts, they're interested in selling commercials and doing all those things and to make their money back, right? Well, strong personalities are not always the friendliest to marketing campaigns, whether it be TV or whatnot, and everybody is just super cognizant of that. And with that in mind, it really takes some of the super dynamic personalities we have and put them in a shell publicly, not privately. I think there's a lot of public and private personas that might differ from each other because, keep in mind, my job when I get in a car is to win. It's not to make friends. It's not to make fans. I like my friends. I like my fans. But I'm hired to win, and anything that gets in the way of that I gotta squash like a bug, so if I spend a lot of time working on all that other stuff, sometimes it might inhibit the ability to win. And that's tough. I'll get fired. I don't want to get fired. I want to win. That's not just me; that's a lot of different drivers. I think from a personality perspective, the personalities are there, but they are perhaps more reserved on camera than they are away. You can't do the things that you could do 20 or 30 years ago.
Tam: But [laughs]. Yeah, I've seen a change.
Brad: It is a different era in sports and what was acceptable then is not acceptable now. I think, you see a lot of these personalities that we have, they're still there, but they're really just trying not to get in trouble. I mean, the 80s had some amazing personalities; none of those drivers would make it today.
Tam: No?
Brad: They'd get thrown out of the sport in a hurry.
Tam: When you look at Tony Stewart, it has only been three years since he retired. We're in a PC World now so I don't think his personality would fit.
Brad: I don't think he'd make it today.
Tam: And even when you think of Kyle Busch, he has toned down a little bit because he was in it with everybody at one point.
Brad: Exactly.
Tam: The sport is driven by sponsors so you can't really do all that now.
Brad: You're exactly right.
Tam: How do you deal with social media? Do you have somebody that runs it? Or do you just kind of jump in?
Brad: I do all my own Twitter stuff myself.
Tam: And blogging?
Brad: Yeah, I do that myself, too. I have somebody that helps me with the posting on that. But yeah, I do the blogs myself. But with that in mind, it's hard. There's a lot to keep up with. Every time I turn my back, there's a new social media site coming out. I keep hearing about Tic Tok.
Ross: I find it tough sometimes to get critiqued on Twitter, Facebook, blogs, or wherever. Do you just kind of put in the back of your mind?
Brad: I've gotten used to the point that no matter what I do, it's wrong by somebody. It's not that you don't care, but you just build up some thick skin.
Ross: It used to be newspapers. Now, it is social media and everything else.
Tam: It was slower when it was newspapers. Now, the news cycle is so fast. You do something on the track and in 30 seconds it is already on Twitter, and the video is replaying 10,000 times.
Brad: It comes at you fast, no doubt about that. I can't complain. I think I can sit here and complain about social media, but the reality is, I'm just glad people are paying attention.
Tam: Do you keep up with a lot of news and things happening online?
Brad: Oh, yeah. I'm a news junkie. I like to know what's going on. I find the news very interesting.
Tam: If not NASCAR, would you pursue Formula One or IndyCar, or neither?
Brad: Oh, that's a great question. If I had to pick a racing circuit outside of NASCAR, wow. Probably not Formula One because, generally, I don't think the Europeans really want us over there. You tend to go where you are wanted. I feel like IndyCar likes Americans a little more.
Tam: Would you ever do the double [Indy 500 and NASCAR's Coca Cola 600]?
Brad: I had a lot of interest, but I think the window probably passed for me. The problem was that Team Penske has an IndyCar team, but it's a Chevrolet IndyCar team. We're obviously a Ford team so that kind of blocks me out.
Brad: I think Penske put you guys in the best situation. You're an excellent driver, but you're on a great team that is also a well-funded team. You can't win without a great car in NASCAR, IndyCar or any racing series.
Ross: How is the foundation going?
Brad: We've got a number of programs going at any time so many, I can't keep up. We had a board meeting last week and we were deciding on grants. We've got a number of great programs and it just feels good. I've been given a lot in life and I feel like with that privilege comes some responsibility to give back and try to do what I can, when I can. No one can do it all right, but I believe that we all can do something, and that's kind of like my guide. The foundation has helped a lot of people and it's something that really makes me proud.
Ross: What is your favorite part of it?
Brad: Meeting the actual people helps. I really don't like meetings and I don't really care so much for fundraising. That's a lot of work. I'd rather just meet the people.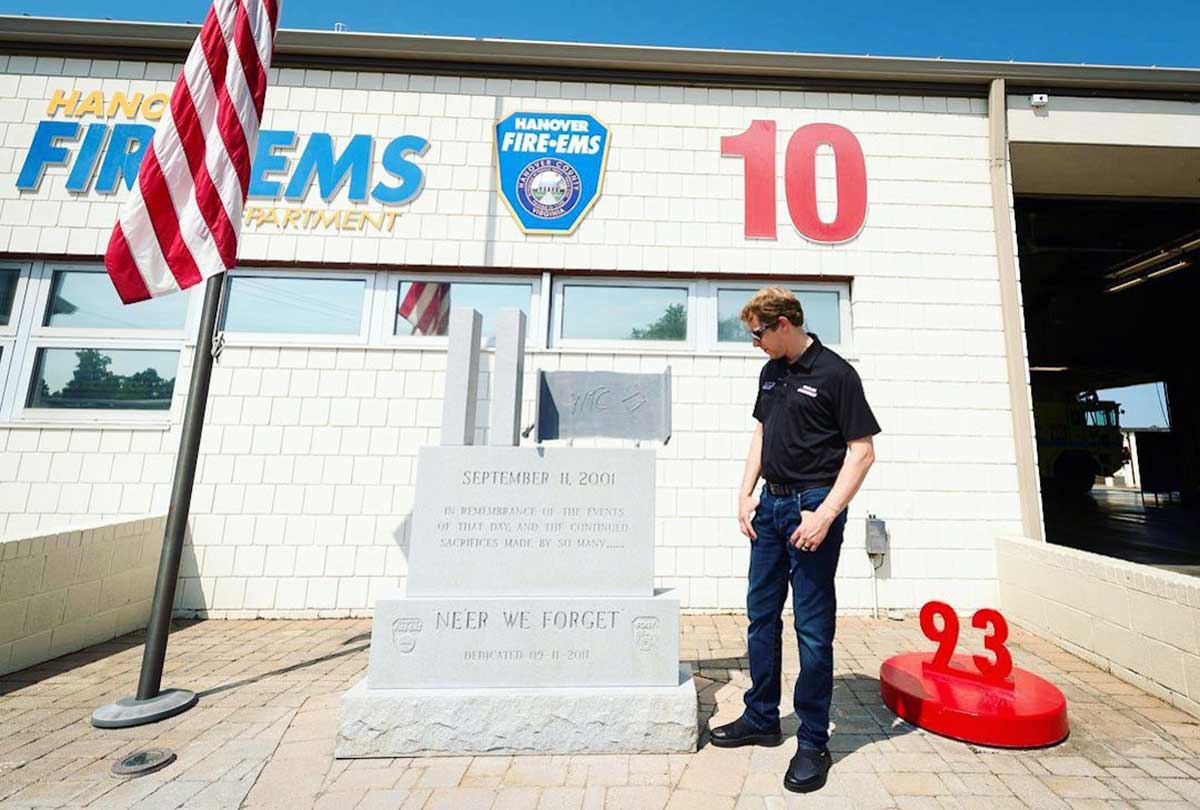 Photo credit: Instagram
Ross: Do you have any stories that really stick out to you from any meetings, or anyone that's inspiring?
Brad: Yes, meeting the quadriplegics. When you think you're having a bad day, go into a hospital and see someone with no arms or legs or both you get some perspective really quick. I went in the hospital one time, I can't name names, but I met this soldier and he lost his arms and legs and was clinging to life. His Mom was there and he was unconscious. I'll never forget walking in there. I think he was about the same age I was at the time. That hits you really quick, right? It's pretty heavy stuff. You just realize how fortunate you are to get to do the things we get to do. This is an entertainment sport. We're not curing cancer. It's quite a privilege to be able to do things like this.
I haven't been to every country in the world, but been to enough countries to know not everybody's got it as good as we do so I'm very grateful and thankful for this. That doesn't come free so I like to support those that have, or willing to make sacrifices to allow us to do what we do.
Tam: Did you always grab the American flag after winning a race?
Brad: No, I started doing that in 2010 since my second Cup win.
Tam: And work life balance [laughs]. I mean, it is almost impossible. When it's all said and done, are you going to take off and not do anything for a long time, or will you always be a part of the sport?
Brad: I don't know. I would like to think I would always be a part of the sport. You never really know those things till it happens. It's kind of like, "what kind of parent will you be well?" You don't know till you have a kid [laughs].
Ross: The ultimate test.
Brad: Yeah. Everything before that is really just a guess. And you'd like to think you know but when that kid shows up, you find out. So, I don't know, I'd be assuming the sport still wants me.
Tam: Any aspirations to go into the booth [broadcasting]? It seems like Kevin Harvick is leaning towards going in the booth.
Brad: I've enjoyed my time in the booth, for sure, but I haven't looked at what opportunities there might be. And that's a very dynamic situation as well; so much about the opportunities than anything else.
Tam: I don't really feel at this point if somebody wanted to do it they could. All the spots are taken for the most part.
Brad: Yeah, those come and go.
Tam: Who were you surprised at to see retire? We went through that stretch where it was Jeff Gordon, he was gone. I call him Cousin Carl Edwards, he was gone. Tony gone, Dale gone, all in a short time.
Brad: Matt Kenseth
Tam: My Quiet Assassin is gone. That's what I call him. All of them were gone all in a short period. Which one surprised you?
Brad: Oh, Carl by far. I think everyone saw it coming. Carl was certainly a surprise.
Tam: We are seeing this quick turnover. And it's kind of scary because I feel like now, we have to get ready for Jimmie to be gone.
Brad: Yeah. And we're not going to see drivers make it to 50 anymore. It's really going to become rare to make it to 45. The hits are harder, the cars are faster. It takes more of a physical and mental toll more than ever to be a part of this sport and you're just not going to make it that far.
Tam: Do you have a number in mind for yourself? Or are you taking it day by day?
Brad: Well, it's kind of a similar question to the last one…you think you know, but not sure. I really don't know. I think most drivers, they start to trail off around 45. And the last thing I do is kind of out stay my ability to win.
Tam: I argue with people all the time when they tell me NASCAR is not a sport. I was fortunate. I've done a lot of track work, you know, I'm in these exotic cars going around the track. But when I actually got behind the wheel of a NASCAR and did a couple of laps, I was like, "I'm not going to make it after two laps." I was over it [laughs] because it was hot.
Brad: Yeah. And add 39 other crazy screwballs out there.
Tam: Yes, it was so hot and then with the HANS device, my neck was like this [visual demonstration] I couldn't move and I was Iike, "do not have a panic attack." Then I was worried about hitting the wall [laughs]. I think to myself how can anyone not think that this is a sport because it's a whole different thing.
Brad: [It's a] whole different experience when you get in that car, right.
Ross: Any advice for kids that want to get in the sport and start racing? How do you start?
Brad: Well, first, don't rush it. I see a lot of kids they get burnt out because they rush it too early. So, that's probably my number one reason. And, two, don't forgo your education. Yeah, those are probably 1A and 1B.
Ross: Thoughts on the whole eSports thing?
Brad: Oh, I like it a lot. It's a good place to get started. Maybe that's number two. Start eSports.
Tags Autotrader Brad Keselowski Interview Monster Energy NASCAR Cup Series Nascar NASCAR Playoffs Team Penske