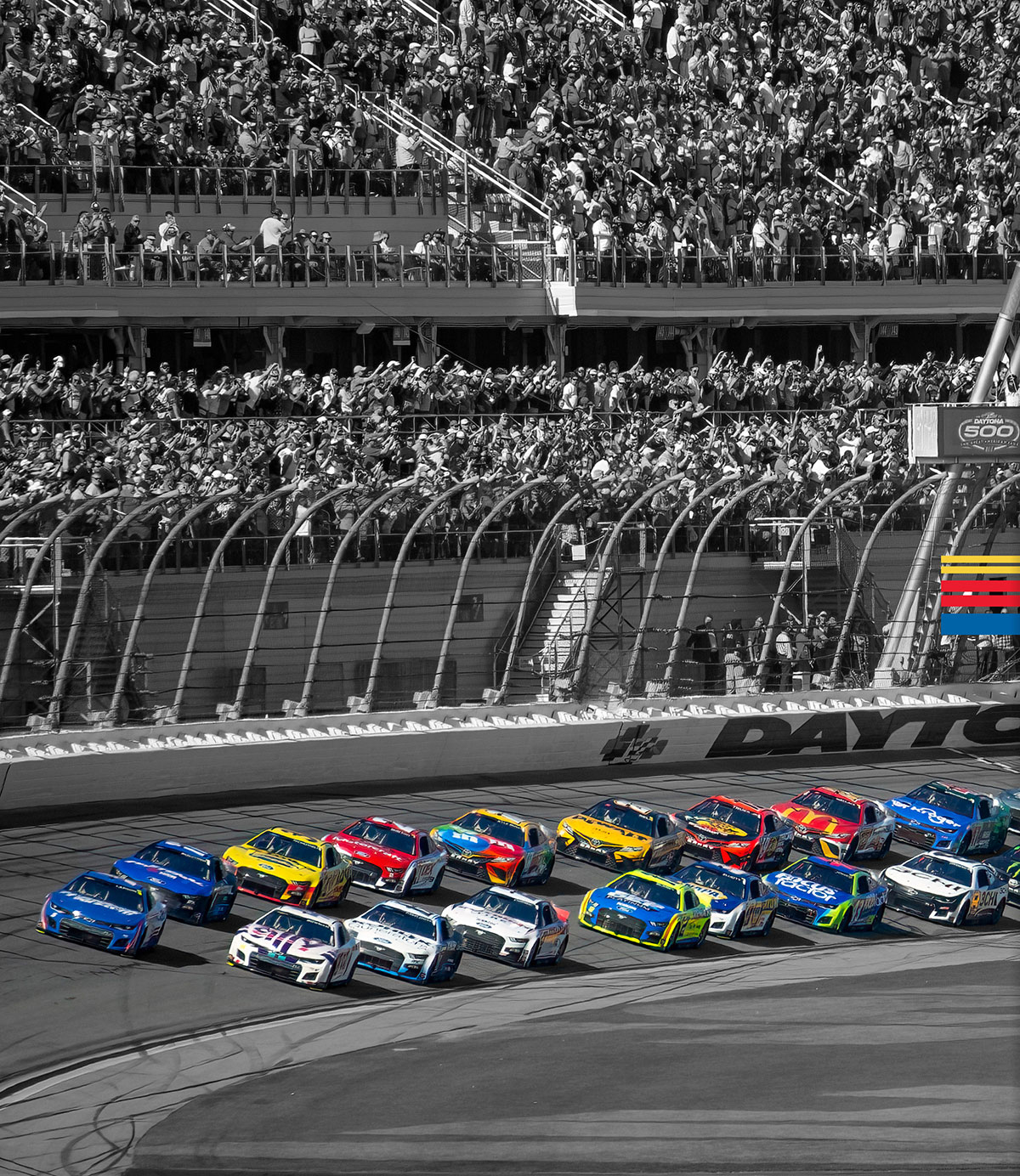 photos courtesy of NASCAR 75 Years
Sure, there's Formula 1 and IndyCar, but it's hard to think of motorsports without NASCAR coming to mind. Few sports are as "All-American" as NASCAR racing. NASCAR is a sport full of excitement, drama, and close finishes, and it is also a sport full of colorful characters, from the drivers to the fans who cheer them on. As NASCAR celebrates its diamond jubilee, this is a perfect opportunity to reflect on the history of the sport and celebrate the greatest drivers who have ever taken to the track.
Perhaps I am a little biased — I spent close to 10 years covering NASCAR — but NASCAR is one of those sports that you have to see live to fully appreciate the excitement and action. We've had 75 amazing years of watching the racing association grow into what it is today, and the book NASCAR 75 Years does an excellent job of capturing key moments of the sport throughout the decades. NASCAR 75 Years' writers and photographers create a picture that is hard to resist, even for those who are unfamiliar with what makes stock car racing in America the best.
Through kicking up dirt in the 1940s and 1950s, the revolutionary advancements of the 2020s and beyond with the Next Gen car, and insight into iconic drivers like Dale Earnhardt Sr. and Tony Stewart, NASCAR 75 Years follows the sport's decade-by-decade history in a 224-page hardcover book full of interesting information and stunning illustrations.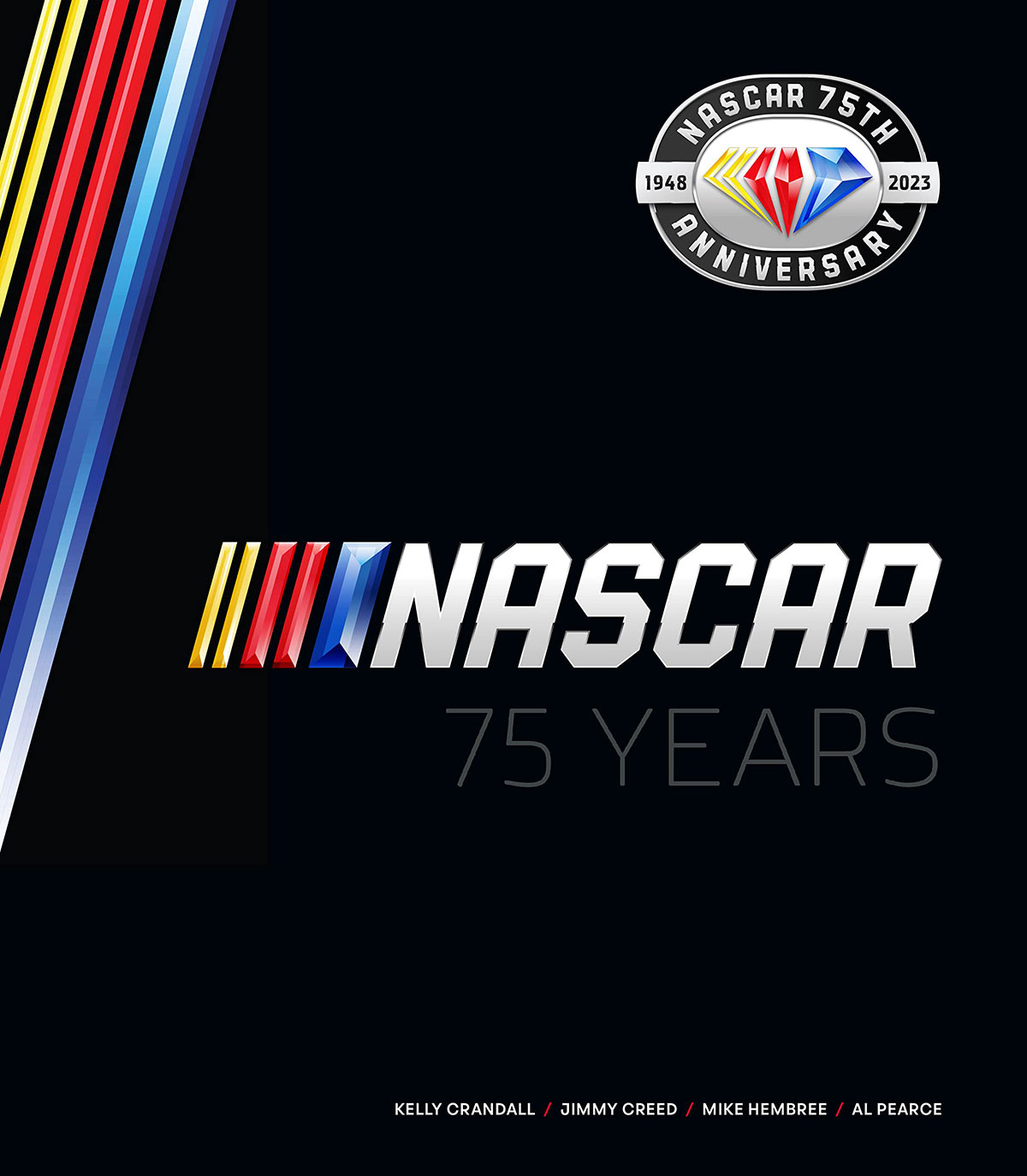 The Start.

NASCAR has come a long way since its humble beginnings in 1948, and it's now one of the most popular sports in the world. With NASCAR celebrating its 75th anniversary this year, it's not only great to look back at the sport's history by picking up the book NASCAR 75 Years, but it is also a great time to take a deeper dive into its greatest drivers. Fans of the sport know that NASCAR is known for its excitement, drama, and close finishes. But for those new to the sport, NASCAR is also full of great characters, from the drivers to the fans who cheer them on.
NASCAR has grown from a small, regional sport to a global phenomenon. The sport has produced some of the greatest athletes in history and continues to attract new fans every year. The sanctioning body has released a list of its top 75 greatest drivers to commemorate 75 years of a sport built on tradition but also constantly evolving.
The Greatest…

NASCAR's 75 Greatest Drivers is a list of the top NASCAR drivers of all time, which includes the original 50 drivers from the 1998 list and 25 additional drivers. Updated in 2023 to celebrate NASCAR's 75th anniversary, the list is like the ultimate hall of fame for NASCAR drivers, where only the best of the best will live in fame. These drivers are the ones who have shaped the sport and set the standard for future generations.
As fans, we are curious to see who will make the cut. Will it be the drivers with the most wins? The most championships? The most memorable moments? Or will it be a combination of all three?
One of the most exciting parts of the unveiling of the 75 greatest drivers in NASCAR history is that it is anyone's guess who will make the list. A committee comprised of former drivers, team owners, industry personnel, NASCAR executives, and current and former media members will determine the 75 greatest drivers.
The List

NASCAR unveiled portions of its unranked list, and as it expands the list to include 25 new drivers, it is sure to be a hot topic of conversation among NASCAR fans. As NASCAR Chairman and CEO Jim France said, "We look forward to adding 25 new drivers as we recognize the 75 Greatest Drivers by recalling the talents and heroics that made each so remarkable." And as a fan, I couldn't agree more.
I have been fortunate enough to meet some of NASCAR's 75 greatest drivers in person, and they have all been incredibly gracious and down-to-earth. They are passionate about the sport and committed to giving their fans the best possible experience.
NASCAR has seen some of the greatest drivers in all of motorsports compete over the years. From Richard Petty to Dale Earnhardt to Jeff Gordon, NASCAR has been home to some of the most talented and successful drivers in the world. But who are the greatest drivers in NASCAR history? That's a tough question to answer, but here are a few of the names that come to mind and are already on the list of NASCAR's 75 Greatest Drivers:
Richard Petty: Nickname "The King," Petty is one of the most iconic drivers in NASCAR history and is the all-time winningest driver in NASCAR history with 200 wins. He is known for his smooth driving style and ability to win on any track. He is tied for the most championships (seven) in NASCAR history.
Jimmie Johnson: Nickname Mr. Seven-Time Champion. The GOAT. Jimmie Johnson is the most successful driver in NASCAR history. He has won seven championships, including five consecutive, from 2006 to 2010, more than any other driver in the sport. He is also known for his consistency and his ability to win races at a high level.
Dale Earnhardt: Earnhardt was known as "The Intimidator" for his aggressive driving style, which often led to on-track confrontations with other drivers. Earnhardt is one of the most popular and successful drivers in NASCAR history, winning seven championships and 76 races. His death in a crash at the 2001 Daytona 500 shocked the world and left a void in the sport.
Jeff Gordon: The Rainbow Warrior. Jeff Gordon was one of the most successful drivers of his generation. The three-time Daytona 500 winner won 93 races and four championships, including three consecutive from 1995 to 1997. He was also known for his smooth driving style, ability to win on any track, and for helping NASCAR from a regional sport to the mainstream.
Dale Earnhardt Jr.: Affectionately known as "Junior," he won the Most Popular Driver Award fifteen consecutive times from 2003 to 2017. Dale Jr. never won a NASCAR Cup championship, but he did win a pair of Xfinity championships. Like his dad Earnhardt Sr., he is synonymous with racing in the draft. Dale Jr. has six Superspeedway wins, including four career wins at Daytona.
Tony "Smoke" Stewart: Smoke is one of the most versatile drivers in NASCAR history, winning championships in both NASCAR and IndyCar. He is also one of the most popular drivers in NASCAR history, known for his fiery personality and willingness to speak his mind.
The Legendary.

The list includes drivers from all eras of NASCAR, from the sport's early days to the modern era. These are just a few of the many great NASCAR drivers who have left their mark on the sport and will forever be remembered for their accomplishments as some of the greatest drivers in NASCAR history. Greats like three-time Cup Series champion Cale Yarborough, Davey Allison, Dale Jarrett, and Terry Labonte are also on NASCAR's 75 Greatest Drivers list. And let's not forget that some of these drivers had pretty sweet mustaches back in the day that would rank at the top of anyone's list of the greatest mustaches in history.
As I looked through NASCAR's 75 Greatest Drivers, I realized that they all had one thing in common: they were all really good at driving cars really fast. And that's something everyone can appreciate, even if you don't know the first thing about NASCAR.
All joking aside, it is an honor to be named one of the 75 greatest drivers in NASCAR history. These drivers are the best of the best and deserve to be celebrated. So let's raise a glass to them and all the memories they have given fans over the years.
NASCAR's 75th anniversary is a milestone season filled with excitement and anticipation. From the incredible races to the unforgettable moments to the larger-than-life stars, there is much to celebrate during this 75th anniversary season. And if you're ever in the mood for some excitement, check out a NASCAR race. You won't be disappointed.
Tags Books on NASCAR Drivers & Racing History Greatest Drivers Nascar NASCAR 75 Years NASCAR Books NASCAR Drivers NASCAR Greatest Drivers NASCAR's 75th Anniversary