Watch maker Bovet and famous design house Pininfarina have collaborated to create the new Pininfarina Tourbillon Ottana watch. Sharing both the Bovet and Pininfarina name on the dial, the watch is a celebration of Pininfarina's 80th anniversary. The famous design firm is probably best known for their contributions to Italian car maker Ferrari. Pininfarina has, until now, not collaborated with the world of fine watch making.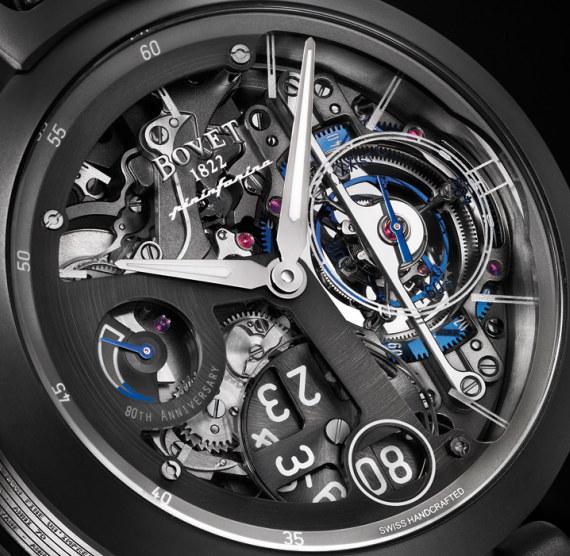 The Pininfarina Tourbillon Ottana has many technical specifications including a special seconds hand that makes a revolution every three minutes. As well as displaying hours and minutes in a traditional layout, a reverse hand-fitting carrying a single hand that allows the hours, half-hours and quarter-hours to be read on the movement's other face. For a more detailed look click here.
Four Watches in One
The development of this new calibre and every aspect of the design and production of its 514 constituent parts is the work of Dimier 1738's engineers and watchmakers. It is housed in a convertible case, meaning it can be worn on the wrist with either of its two faces displayed, or combined with a titanium chain – also exclusively designed – for use as a pocket watch, or deployed as a miniature table clock. All of this is possible by means of simple manipulations, without tools, according to the needs or mood of its owner.
The watch will be limited to just 80 pieces retailing for $300,000.
Tags 4-in-1 watch Bovet Bovet Pininfarnia Ottanta Tourbillon Watch