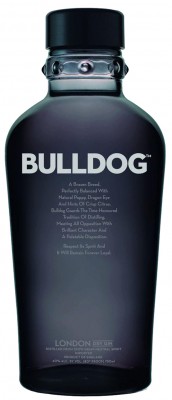 BULLDOG Gin is relatively a newcomer to the premium gin scene; however, if their packaging is any indication of the quality of their gin, I am sure they will be around for a long time to come. Housed in a smoked-grey tintec bottle with broad shoulders and an iconic spiked collar, BULLDOG is an ultra-premium gin handcrafted in London.
If the uniquely designed bottle is not enough to encourage you to make a stop at your nearest wine and spirit store, knowing that a one-time Banking Analyst is the brains behind launching this premium gin should. After having lunch with his friends in New York City, Anshuman Vohra, who always dreamed of becoming an entrepreneur decided to mirror the rebirth of the vodka market by creating a high-end gin such as Absolute. Vohra eventually came up with the name BULLDOG and a new brand of gin was born. Get this… he did it all while still working his day job at J.P. Morgan Chase.
The gin, which is quadruple distilled and contains botanical flavorings such as poppy and dragon eye, has been a hit with bars and distributors. To date, BULLDOG Gin has earned the highest rating ever given to a gin by Wine Enthusiast Magazine (also a Top 50 Spirit in 2008).
Whether you are curious about the taste of BULLDOG or if you have dreamed about creating your own brand of gin or even beer, we encourage you to buy a bottle NOW! If nothing else, let your curiosity lead you and go out and grab a bottle to see if BULLDOG lives up to the hype.
For more information on BULLDOG Gin visit their official website www.BULLDOGGIN.com or follow them at Twitter.com/BULLDOGGIN.
Unplugged via InStash
Tags alcohol BULLDOG BULLDOG GIN gin spirits