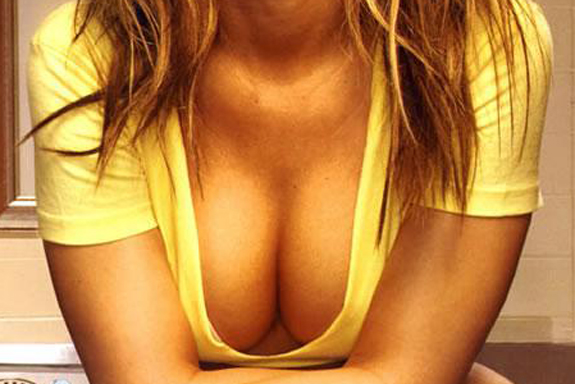 The New Year just got underway, but our friends over at MANjr.com decided there was absolutely no good reason to wait 11 more months to celebrate cleavage. To applaud 100 ladies who display the best cleavage of the year, they put together a rather comprehensive list. Their list contains breast sets of all sizes. They included some variety; fit busts, grand canyons, subtle cleavage, after-market add-ons and all-natural sweater puppy pairings. Overall hotness played a factor in their selection, but since we are girls and it can be a bit hard to judge other women's breast, we decided to make this our only criteria.
12. Scarlett Johansson


Scarlett has a very quiet sex appeal.
11. Jennifer Lopez

10. Sofia Vergara

9. Jaime Edmondson

8. Kim Kardashian


hmmmm… Kim K just because you guys can't seem to get enough of her.
7. Camen Electra

6. Eva Mendez


Eva has a great body!
5. Hope Dworaczyk


As the 2010 Playmate of the Year (PMOY) Hope had to be in our top 5!

We recently interviewed Arianny and quickly discovered she is not only sexy, but definitely a girl you can bring home to meet your parents.
1. Denise Milani


Denise gets our top pick because not only is she hot, but her boobs are EPIC!
Tags Best Breast Big Boobs Boobs Celebrity Cleavage Cleavage Denise Milani Hope Dworaczyk Hot Girls WOMENkind