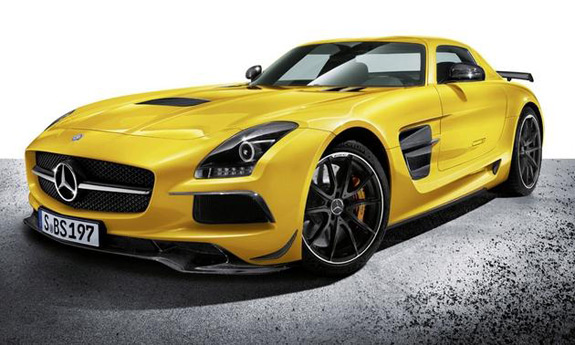 Mercedes-Benz recently revealed AMG's latest model the 622-hp V8-powered SLS AMG Black Series. The fifth in a series of limited-production, the new SLS includes a series of aerodynamic and mechanical developments brought over from the SLS AMG GT3 race car. Although the SLS Black Series is not the most powerful version of Mercedes-Benz's reborn gullwing coupe, it definitely has improved acceleration in combination with the increased torque loading. According to Mercedes, the SLS Black Series accelerates to 60 mph in 3.5 seconds and reaches a top speed of 196 mph. With a larger front splitter, side skirts, and rear spoiler, the 2014 SLS AMG Black Series is clearly a car for those that have loud style.

CHECK OUT THE MERCEDES BENZ SLS AMG GT
If you have big pockets, the SLS AMG Black Series is schedule to hit the streets June 2013 with a price tag of $200,000+.
VIDEO: Mercedes-Benz AMG SLS Black Series Trailer

[jwplayer mediaid="15776″]
Tags AMG SLS Black Series Mercedes-Benz Mercedes-Benz AMG SLS Black Series SLS AMG