If you have $1.7 million you can cruise the blue seas in your very own Mercedes Benz luxury yacht. Quickly being dubbed the S-CLass of the seas, the first ever motor yacht from Mercedes-Benz has set sail and embarked on its maiden voyage.
The 14-meter (46-foot) long sleek yacht was first unveiled as a concept in 2012 at the Monaco yacht Show. Fast forwarding, the luxurious yacht is now undergoing sea trials after four years in development.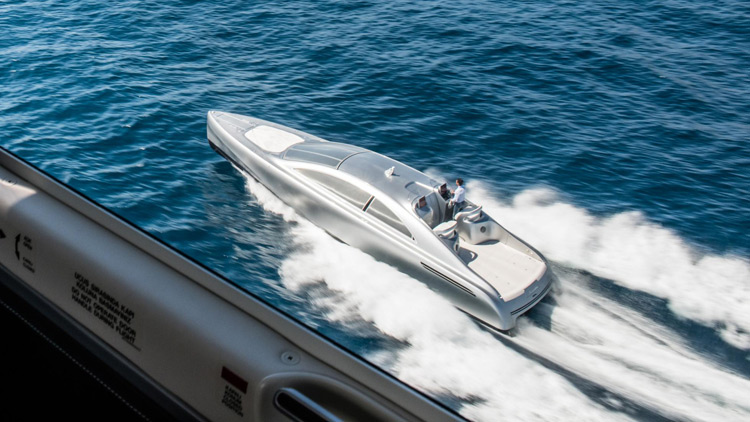 The one of a kind Mercedes-Benz Arrow460-Granturismo can accommodate as many as 10 people. It was designed to combine the performance of a Mercedes Benz and showcases unique innovations. As you would expect the amenities are top notch including a high-quality audio system, a wine-cellar, ice making machine, a separate dressing room, nubuck leather, eucalyptus wood panelling, an enchanting restroom system, and windows that automatically tint according to the sunlight.
Although Mercedes provided the style, the impressive and spectacular vessel is a joint venture with Silver Arrows Marine to create an exclusive yacht. With two Yanmar diesel engines pumping out 760kw (860 hp) of power to propel this yacht boast top speeds of 40 knots (46 mph).
VIDEO: Silver Arrows of the sea: Mercedes Benz's prestigious yacht

It's safe to say that floating on water will never be the same for the rich and famous. Initially, only ten boats will be produced and only one person per country will be able to buy one. If you have the dough to spend, reservations are now being taken. Good luck!
Tags Mercedes-Benz Mercedes-Benz Arrow460-Granturismo mercedes-benz news Mercedes-Benz Yacht