Rihanna finally unveiled her stripper inspired video for "Pour It Up" and not only did she deliver, but she made Miley Cyrus look stupid. Lets face it, right now bad gal Ri Ri oozes sex and owns ratchetness. Miley's attempt at twerking clearly backfired while Rihanna's new stripper video has everyone talking, but in a good way. After watching this video men want her and women seem to want to be her. We know we watched this video about 7 times and still counting. Rihanna brings it… what ever it is. What do you think? Does Rihanna do the pole justice?

VIDEO: Rihanna "Pour It Up"

[jwplayer mediaid="19597″]
And of course there are already several gifs from the video making the rounds on the internet.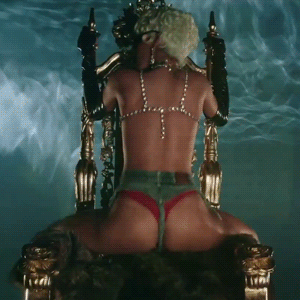 ***UPDATE***
We found the behind the scenes video. Warning… it's kinda uncut. Butts are popping everywhere.

[jwplayer mediaid="19605″]
If you like Nicole "The Pole" Williams in this video make sure to check out her audition video.

[jwplayer mediaid="19607″]
Tags Miley Cyrus Pour It Up Ri Ri Rihanna Rihanna Pour It Up. Video Stripper Twerking