With Christmas now in full swing, there are a few holiday traditions that you just won't be able to escape: dinner at your in-laws, Christmas carols blaring, Salvation Army Santa's posted up outside of every shopping mall, and eggnog. Thankfully, our friends at SoCo have introduced a limited-time holiday eggnog to make your holiday traditions a little more…comfortable.
Look for this special holiday eggnog in your local grocery store, but it's non-alcoholic so don't forget the Southern Comfort on the way out. You will be the highlight of the holiday party with this concoction on the menu.
Pinkies out? No problem! Here is a recipe for that classy soirée:
*Southern Eggnog Martini*
1 oz. Southern Comfort
3 oz. eggnog
Ground nutmeg
Combine chilled ingredients in a shaker (no ice). Shake. Strain into a chilled martini glass rimmed with nutmeg.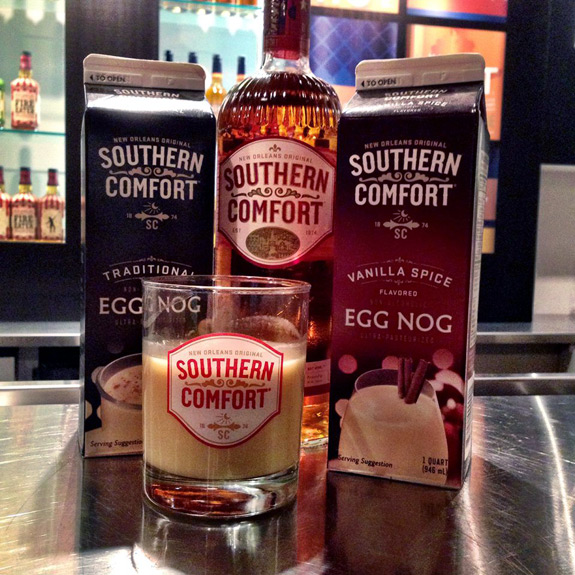 If you plan to skip the martini glasses and make eggnog for the masses, SoCo's got you covered:
*Southern Eggnog*
1 cup Southern Comfort
4 cups Southern Comfort Eggnog
Nutmeg
Combine Southern Comfort and Southern Comfort Eggnog in a punch bowl and stir. Dust with nutmeg.
Don't forget to nab a SoCo stocking stuffer for your holiday party. Southern Comfort has a gift pack that includes a bottle of Southern Comfort, two Southern Comfort rocks glasses and two "Whatever's Comfortable" stir sticks. It is available throughout the holiday season while supplies last.
Cheers!
Tags alcohol Eggnog Recipe Southern Comfort Southern Comfort Eggnog spirits Wine