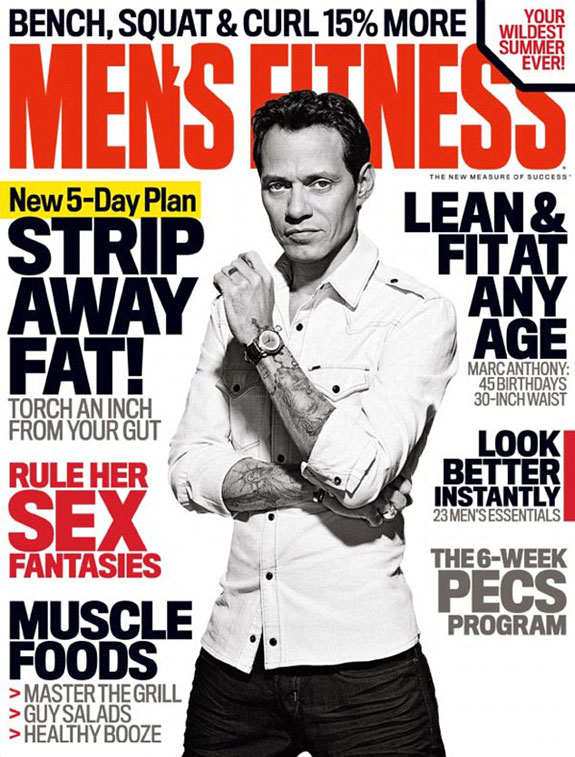 Grammy Award-winning musician Marc Anthony has build a reputation as somewhat of a charmer and lady's man. Let's face it, the Latin superstar has bagged some of the hottest women around. From models to singers, Marc clearly doesn't discriminate when it comes to picking the hottest chicks to stand by his side. He's been linked to Topshop heiress Chloe Greene, Miss Universe Dayanara Torres, and Venezuelan model Shannon de Lima to name of few. And of course we all know he was married to Jenny from the block aka J-Lo aka the butt that started it all.
At best Marc Anthony weighs a buck 'o 5'. If you are anything like us, we are sure you are wondering how does he do it. It could be his Latin charm or the fact that he is a musician, singer-songwriter, actor and producer; however, Marc Anthony himself attributes his luck with the ladies to confidence. In his cover interview for Men's Fitness, Marc admits his dad told him "Son, I'm ugly and you're ugly – work on your personality." Marc also goes on to say, 'I swear to God. I told him a couple of months ago, I said, "Dad, you remember telling me that when I was little?"' The actor and singer said.'He's like, "I'll tell you that shit today, too!"'
It's hard to believe that a man would tell his own son that he is ugly, but in the case of Marc Anthony his dad may have did him a favor. Marc clearly knows a thing or two about being confident, making money, and being a lady's man. Check out what else international pop icon Marc Anthony shared about his secrets to career longevity, repeated success, and silencing the haters.
EXCERPTS

Anthony's father, a former amateur bodybuilder, got his son started with some basic exercises. By the time the young musician was 9 years old, he could bang out triple-digit pushups in a day, but he still struggled to bulk up. He wasn't exactly genetically predisposed—his dad, after all, competed as a 105-pound bantamweight—but the real lesson Anthony's father was teaching him was confidence. "My dad was confident, and I think it takes somebody like that to weigh 105 pounds and enter a fucking bodybuilding contest," he says. "So what I never lacked was confidence."
During the course of his 26 -year recording career, Anthony has become one of the most successful performers in the world, selling more than 12 million records worldwide. His first English language solo album in 1999, Marc Anthony, which featured the hit singles "I Need to Know" and "You Sang to Me," went triple platinum and helped ignite a turn-of-the-millennium Latinpop explosion that ushered in crossover artists like Enrique Iglesias and Ricky Martin.
In Marc Anthony's words, "…confidence is a powerful thing." Would you agree?
To read the rest of the story on how Marc Anthony earned his confidence, take the jump to MensFitness.com.
Tags advice J-Lo Marc Anthony Marc Anthony Interview Men's Fitness Relationships