Last week, we told you all about tennis champ Roger Federer challenging ski legend Lindsey Vonn to an event in #ChocolateHeaven while sitting in his hotel room in Switzerland, the home of Lindt chocolate. The challenge was finally revealed and you will never believe what it was or, better yet, where it was. Of course his challenge included a game of tennis, but the match was no ordinary match. Federer challenged Vonn to a tennis match atop the Jungfraujoch on the Aletsch glacier, against the backdrop of the Bernese Alps.
Watch Roger Federer and Lindsey Vonn event in #ChocolateHeaven:
VIDEO: Lindt Chocolate Heaven Flight 2

To celebrate the opening of Lindt's newest store, the highest chocolate shop in the world, the pair took to a custom build tennis court on the largest glacier in the Alps. The Great Aletsch Glacier is one of the many glaciers located between the cantons of Berne and Valais on the Bernese Alps in Switzerland. The Aletsch Glacier area is protected and the facilities are mostly restricted to the external zones with the Jungfraujoch railway station giving a direct access to the upper Aletsch Glacier making this the perfect place for two legendary athletes to go head-to-head.
READ: An Invitation to #ChocolateHeaven
Tennis, on a glacier, anyone? (REUTERS) pic.twitter.com/GLkntZRI32

— Joe Fleming (@ByJoeFleming) July 16, 2014
Known as 'The Top of Europe,' the Jungfraujoch is a spectacular place to play an unusual game of tennis and shop for some Swiss chocolates. Would you agree?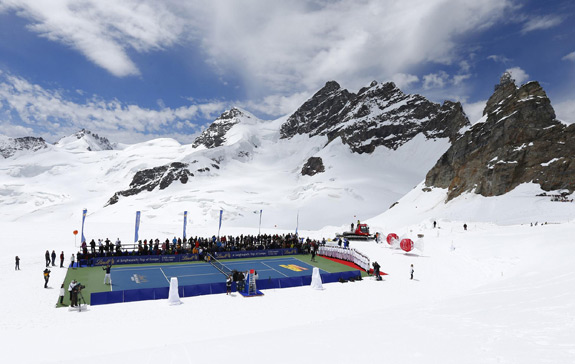 Visit Lindt's official Facebook page or follow the Swiss chocolate and confectionery company on Twitter at @Lindt. Don't forget to follow the hashtag #ChocolateHeaven.
Tags Chocolate Chocolate Heaven Lindsey Vonn Lindt Chocolate Roger Federer Sponsored Post