Fall is a fantastic time to visit those popular summer destinations for one simple reason: the price is right. Summer is over, kids are back to school and most adults are also back at their desks, making it the perfect time for a getaway to that dream location you have always wanted to visit.
Fall weather is ideal in so many destinations around the world — it's not too hot, it's not too cold — so it's perfect for relaxing, without the extremes of sizzling sun or freezing blizzards. Fall has long been considered off-peak for tourism, but when you really consider the benefits of the season, we're not sure why that is. With less expensive flights and more affordable rooms (not to mention smaller crowds), there is no downside.
We've got our top four destinations for an unforgettable Fall getaway listed below, plus the essentials to make the most of your time in each location. As you put together your Autumn adventures, consider these locations and recommended items to enhance your time away:
1. Hawaii
Whether it's a romantic getaway or family vacation, Hawaii is always an attractive destination. Known as the 50th state, Hawaii is the only state that consists entirely of islands, so it's a destination that rivals the best of them around the world. Whether you choose the Big Island, Maui, or a smaller spot like Lanai, traveling to Hawaii is like traveling to paradise. Fall provides the same tranquil waters, exciting water sports, hiking to get in touch with nature, and all the same adventure or relaxation you'll find in June or July.
Travel Essential: A Camera
Exploring Hawaii without a camera is like sleeping through a baseball game. Don't do it. Take any camera you've got, but consider a DSLR camera to capture all the beauty of the islands (it really will be more beautiful than you expect). If you're a novice photographer, consider the Canon T3i Rebel. It's affordable and easy to use, so you'll capture those picturesque locations and possibly produce your best vacation masterpiece yet. And you don't have to settle for still shots only, with an enhanced ease-of-use professional video-making tool, you'll get full HD video to replay over and over when you're stuck inside next winter and want to relive the sound of the ocean or the color of Hawaii's tropical plants…you'll forget the grey drab of winter, if only for a few marvelous minutes.
2. Mexico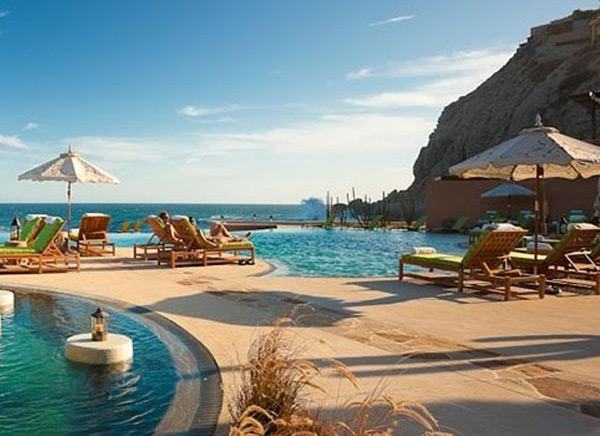 Mexico is not just for spring break. With a rich history and varied landscapes, there's much to see and do in Mexico. There are the beachfront resorts of Cancun, Cozumel, or Cabo San Lucas – beautiful hotels and luxury villas — but for the more adventurous types or those with a interest in centuries past, Oaxaca and Tulum offer ruins to explore and native customs for a sense of the country's true culture.
There are coral reefs, colonial cities, sandy beaches, and, of course, the delicious cuisine of Mexico. The country caters to all types, so if you're looking for a laid-back getaway in a quaint setting like Puerto Vallarta or want to experience some cliff diving in Acapulco (even if you're only watching those who might be a bit braver than you), you're sure to see there's more to Mexico than your typical night out at the restaurant down the street. Margaritas with chips and salsa are great the rest of the year, but take a siesta south of the border this Fall in marvelous Mexico.
Travel Essential: Touch eReader
There's much to see and do in Mexico, as we just mentioned, but you'll no doubt have some downtime relaxing by the ocean or some elaborate resort pool. Even for die-hard paperback readers, an e-reader is a great investment. It takes up a lot less space in the suitcase and it is very portable from home, to the airplane, to your beach chair.
If you're a big reader, consider the Kobo eReader Touch Edition for your Fall getaway. With a store of 2.2 million books (including over a million free books) you'll be a bookworm beach side, bar side (tequila goes great with many titles), and bed side. And with adjustable font sizes, you'll see things perfectly.
For you more technical types, know that the Kobo also reads various formats, including EPUB, PDF and MOBI for ebooks; JPEG, GIF, PNG, and TIFF for images; TXT, HTML, XHTML and RTF for text; and CBZ and CBR for comic books. Read your books, catch up on your favorite magazines, don't miss visual aids with colorful, detailed images.
3. Hong Kong

Hong Kong is frequently at the top of travel magazines' lists of world's greatest cities. It's a densely populated metropolis that's colorful and vibrant, making it a must-see for those who enjoy a getaway full of hustle and bustle. It's a sophisticated fusion of the east and the west, often called a "controlled frenzy."
Hong Kong has cultural influences of Cantonese, Mandarin and British. In fact, the Chinese took rule over the city from the British less than 20 years ago. It's now considered the main gateway to China, with glitzy shopping and skyscrapers, making it a grand getaway destination for a variety of experiences: there are luxury accommodations, family tours, sight seeing, ferry rides, and much more, including food tasting all of the vibrant flavors of Hong Kong, the culinary capital of Asia.
Travel Essential: MP3 Player
Traveling to Asia requires a very long flight and once you arrive, you will probably take public transportation. Hong Kong has one of the most sophisticated public transportation systems in the world and having a MP3 player can prove to be ideal as you are touring the concrete jungle. An excellent option is the small and sleek Apple iPod Mini. You can take hundreds of choices with you, so you can spend your time moving about enjoying your favorite music, podcasts or audiobook.
With a long battery life of up to 15 hours, it will cover a very long flight or multiple days of short trips around town. The iPod mini is portable and wearable, but also slips in your pocket or handbag for safekeeping when not in use.
4. Germany

Germany is also considered a first rate travel destination. It's a country full of history, art and culture. A Fall getaway there provides absolutely gorgeous countryside, from the Alps to the Baltic Sea. The scenic views and colorful displays of nature are German culture.
Given it's location in the middle of the continent, Germany is gateway to both Eastern and Western Europe. It's a country with plenty of old world charm as well as modern urban cities, including Berlin and it's many famous sites, such as wi-fi the Reichstag and Berlin Television Tower (the city's tallest building).
Of course, with it's twisting rivers, snow capped mountains, castles set among stone towers and colorful trees, almost anywhere in Germany is beautiful come Fall, but Oktoberfest in Munich is probably our first recommendation. Oktoberfest is the world's largest fair with six million visitors from all over the world, it's the place to drink beer, eat sausage, join together in song, and, of course, break out your Lederhosen. The 16-day festival is a celebration of Bavarian culture and tradition…and a beer drinker's dream.
Travel Essential: iPad Mini
Access to Wi-Fi is pretty much essential for everyday life, but especially when you're thousands of miles from home in a country that speaks a different language. You need access. Whether you want to brush up on your German, research tourist hot spots or get directions from one site to the next, connection is essential. Laptops are heavy and cumbersome for traveling, so consider the easily portable iPad Mini. You'll have internet access, FaceTime to update loved ones back home, as well as the iPad Mini's HD camera and for still shots and 1080p HD videos with its stunning 5-megapixel iSight capabilities. With an incredible battery life of 10 hours, you can tote the compact device all day, documenting your travels, without getting weighed down.
The iPad also doubles as an eBook reader, but who reads when there's beer to drink, brats to eat, and brass band music for singing and dancing (say Oompah, not Polka, to be an informed visitor).
READ: Every Guy Should Have These Items On Their Travel Packing List
Don't let Fall become Winter without that well-deserved getaway. Summer is for school vacation and entertaining the kids, but Fall provides an affordable, attractive and more sophisticated opportunity to relax and visit those destinations you've only dreamed of. Take our suggested travel essentials along for good measure and who knows, maybe September and October getaways will become your standard pre-holiday tradition for years to come.
Tags Best Fall Travel Fall Getaways Fall Travel Travel Travel Essentials