If the BOOM BOOM BOOM in your headphones sounds more like boom boom boom, you need the BoomStick! This handy piece of hardware makes any wired headphones sound better.
Boom!
Do you use your wired headphones to listen to a lot of music? How about while you're watching a movie? When you're gaming against your biggest nemesis online? For a very reasonable price (under $100), you'll get extraordinary sound with panoramic spatial enhancement that will profoundly transform your favorite songs, movie stars' voices, or the lifelike sounds of battle as you defeat your enemy on the video battlefield.
Boom! Boom!
The BoomStick is small, lightweight and very convenient. If you're already carrying your phone, you'll hardly notice it's there until you plug in your headphones. Then plug the BoomStick into the audio jack, hit the big round button, and enjoy the algorithm magic. BoomCloud 360 created this dongle (New word to you? It's a piece of hardware that connects another device to make it provide additional functionality) and its algorithms to essentially provide you with the bass boost buttons on the old CD players and boom boxes (do you even remember those?).
Boom! Boom! Boom!
The battery will last up to 14 hours and your audio will not just get louder, but you'll hear more detail. Phones are convenient for listening to music, but let's admit it, the sounds is less than perfect. The expertise of the folks behind these algorithmic auspices lent technology to powerhouses like Samsung, LG and Toshiba before building this little stick of sound superiority.
BoomStick!
Hear the things you're missing…lose the muddle music, admire the subtle sound effects you weren't hearing behind the dialogue in movies before, catch the devil in the details those developers so carefully placed in your gaming that flew right over your head before…so many things you didn't even realize were there.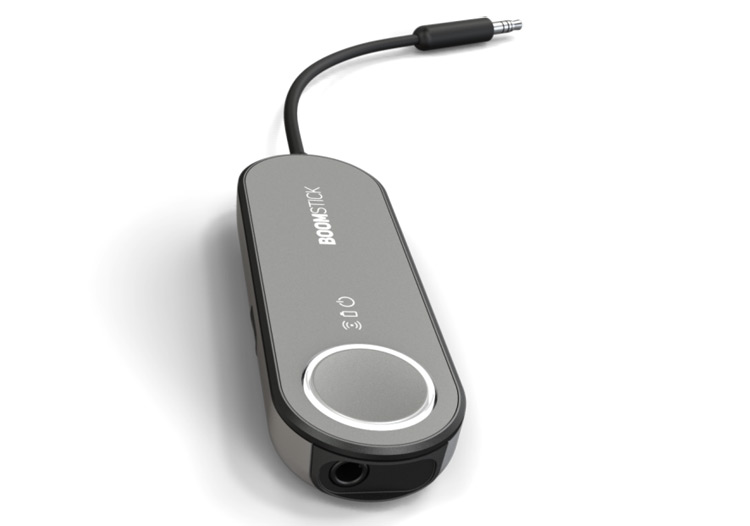 It's flexible — it'll work on your earbuds or headphones, inexpensive or not, so it's not a one-hit wonder. There's a rumor you'll be able to test it out at certain mobile stores soon (do some digging and let us know which one if you figure it out before we do), and there's a toggled demonstration on their website, simply visit boomcloud360.com. Feel the burn? Forget that, feel the boom, people!
BOOM!
BUY $99