As a 12 or 13-year old, it's the item you planned for, you dreamed of, you saved for…and whether it's one decade or several later, a man's car is debatably still his most prized possession. That's why each January when the North American International Auto Show in Detroit rolls around, it's with much anticipation that we await the sleekest slopes of the hoods, the boldest grill and headlight configurations, the engines we wish we could open up on the Autobahn (although we'll settle for a wide open highway outside the city limits). Wait no more — the 2016 models are here on display and many are impressive. We recommend a further look at the ones we've chosen as favorites…maybe make a visit to the showroom this weekend if it's time to trade up or trade-in.
Lexus LC 500

The unveiling of the all-new LC 500 defines a new era for luxury. With extraordinary styling, performance and craftsmanship, the fierce collaboration between the engineering and design teams is evident, bringing forth a new flagship for Lexus. The provocative exterior has sensual curves with a low and wide, imposing stance. The cockpit invites spirited, sporting driving with elegance and an intuitive control layout. We definitely feel this coupe symbolizes the beginning of a new phase for the luxury brand Lexus is.
VIDEO: Lexus LC 500: World Premiere

Buick Avista Concept

This concept car embodies the new soul of Buick, contemporary and dynamic. Not your father's Buick, it's sleek and sweeping, with a 400-horsepower twin-turbocharged V-6 engine and a driver-focused cockpit with fine technical and surface features, including QuietTuning noise cancellation technology and ionic air purifiers. It was designed to "capture the spirit of the perfect drive" and we absolutely agree.
VIDEO: Buick Avista: Reimagine What A Buick Can Be
Nissan TITAN Warrior

Nissan confidently displays their belief in the truck market with this aggressive and unapologetic pickup design. Nissan Design America (NDA) took the all-new 2016 model to a super-sized, off-road modified production design. It features athletic styling, declaring the desire for off-road adventure that should satiate truck lovers' appetites for more content and more unique offerings.
VIDEO: Nissan TITAN Warrior Concept
Volkswagen Tiguan GTE

This is Volkswagen's first SUV to use the new Modular Transverse Matrix (MQB). The efficient plug-in hybrid system uses two electric motors and a gasoline engine that can supply all four wheels with power (automatically or at the push of a button). It ensures VW's SUV will conquer off-road demands, even in the all-electric mode. Most notable in the interior is the new infotainment system with 9.2-inch display featuring intuitive gesture control.
VIDEO: "What is a Tiguan?" | 2015 Volkswagen Tiguan

Audi H-Tron Quattro

Another impressive concept, this sporty SUV uses hydrogen as its energy source. With a conspicuously aerodynamic design, its efficiency is outstanding, with swift refueling, sporty road performance and an impressive range of nearly 375 miles per tank. Audi's technology study in this design demonstrates the huge potential of fuel cell technology where the four-ringed brand will surely quell the competition.
VIDEO: Audi's h-tron quattro concept car runs on pure hydrogen

Chevrolet Cruze Hatchback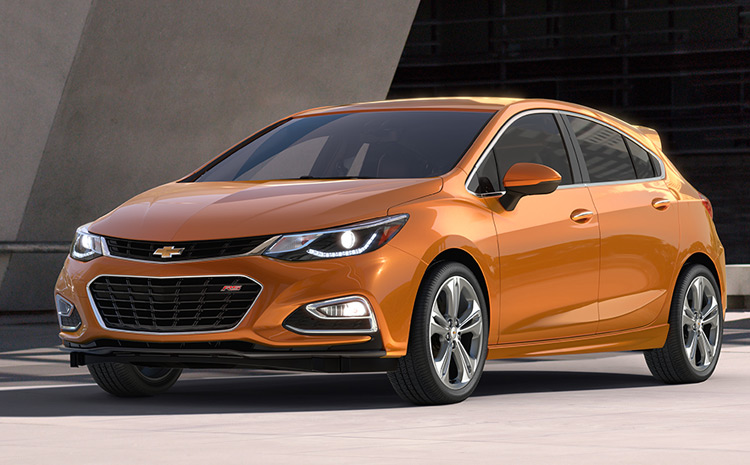 The all-new 2017 Cruze Hatchback was styled to stand out. For you adventurous types who still respect the history of this iconic brand, the new hatch design adds functionality, generous cargo space, sleek curves, and sporty accents for your intrepid spirit. Whether you camp, cycle, or hike with man's best friend, it'll all fit with ease…while you still enjoy top-tier tech and ingenious safety technology, combined with driver power and efficiency.
VIDEO: 2017 Cruze Hatchback Reveal | Chevrolet

Ford F-150 Raptor

Still unmatched, the ever-anticipated truck leader, Ford introduces the all-new F-150 Raptor SuperCrew, America's favorite high performance off-road pickup truck. It's roomier than ever for passengers and gear. It's more agile with an all-new EcoBoost engine that saves 500 pounds in weight for better off-road agility. Plus there's unmatched performance thanks to the new high-output 3.5 liter 10-speed transmission and torque-on-demand transfer case. You'll enjoy better traction in rough conditions with the segment-exclusive redesigned beadlock-capable wheels. By the way, we had the pleasure of getting behind the wheel of several prior year models of the F-150, and evidenced by it's overwhelming popularity, we think this is THE man's man truck. We love it.
VIDEO: 2017 F-150 Raptor Revealed At 2015 Detroit Auto Show

We're barely into 2016, so there's plenty of time to investigate, take a few test drives and find the perfect fit to deliver you in driving style this year. There's nothing like the feel of an automobile that fits your performance needs while delivering on your preference for luxury, sportiness, or both. We encourage you to check out the designs we like, as well as the many others that are debuting at car shows nationwide in the coming weeks. It's drive time, guys, get out and go!
Tags Audi H-Tron Quattro Autos Buick Avista Concept Cars Chevrolet Cruze Hatchback Detroit Auto Show Ford F-150 Raptor Lexus LC 500 N Warrior Nissan TITA Volkswagen Tiguan GTE