photo credit: Instagram
Mass production and machine-made merchandise seem to be all the rage these days. Hunker Bag Company goes against the grain and is one of the rare companies that pride itself on handmade items sourced from carefully selected materials. Offering an exclusive range of exceptionally handcrafted leather bags for both men and women, the company's mission is to provide people with functional, trendy, and superior quality items. Not an easy feat to accomplish, but Hunker Bag Company achieves this mission flawlessly. Let's take a more detailed look into the Hunker brand and showcase a few of their finest pieces.
Established in 2015, Hunker Bag Company is quite a new venture. Founded in Nashville, Tennessee by Denton Hunker, drummer of Green River Ordinance, this company is full of wonderfully positive values. Every bag is made with the belief that it should serve two crucial purposes: hold all of your necessary possessions in a secure manner and take you on an adventure every day. With that philosophy in mind, each product is specially designed to be handmade from locally sourced, high quality, top grain leather, Martexin waxed canvas, and all brass hardware. Everything is made in small batches and is guaranteed to withstand the harsh treatment that comes with daily use. The result is something that is luxurious, extremely well made, durable, unique, and fashionable. The product line consists of men's travel bags, briefcases, clutches, everyday bags, totes, messenger bags, wallets, weekend bags, and backpacks.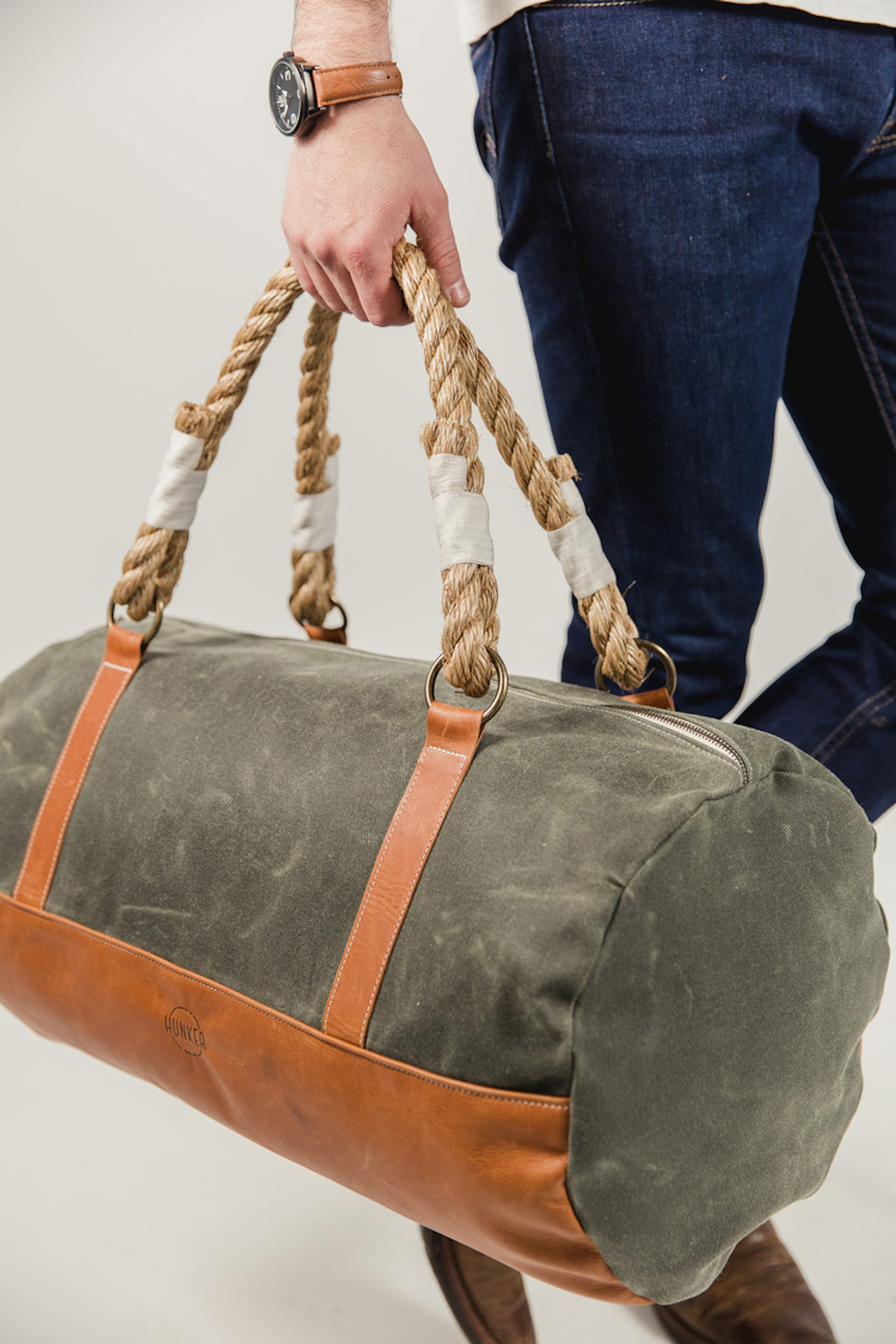 The Duffel No.1 is a signature, structured duffle bag. It is made-to-order from water resistant waxed canvas and/or leather. The sturdy materials are complemented by a rugged hemp rope that gives a rustic vibe to the bag. It is also fully lined, has a large inside pocket, and features a spacious interior. It comes in four distinctive colors: Charcoal Grey, Navy Blue, Olive Green, and Cognac Leather.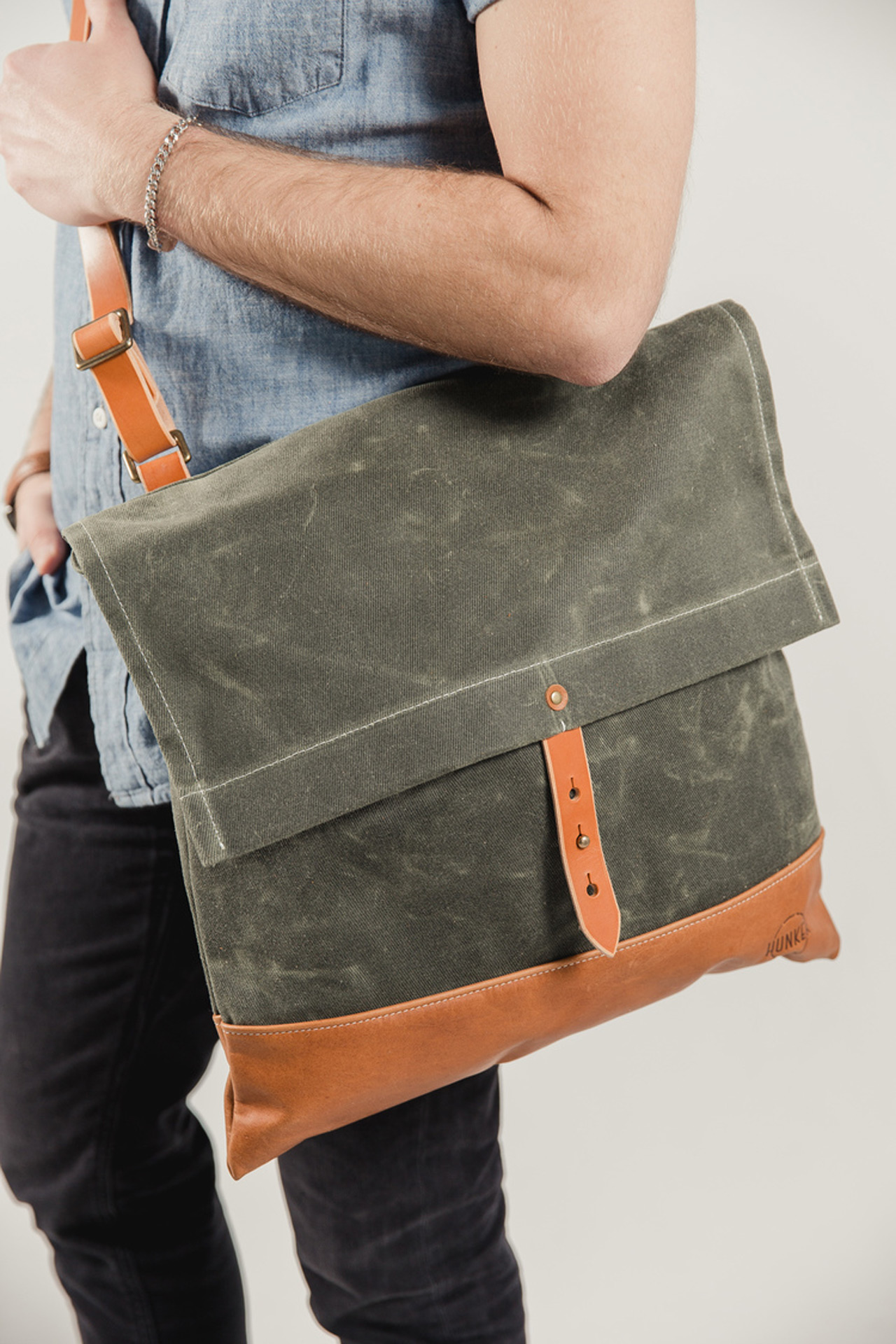 The Mail Pouch is a versatile messenger bag that can be used for office meetings as easily as it can be used for wilderness hikes. It is made-to-order from a sturdy waxed canvas that will expertly shield all of your belongings from the elements. It has an adjustable strap, is fully lined, closes with a single flap and strap, has a large inside pocket, and has plenty of room for whatever you may need for your daily adventures. It comes in three distinctive colors: Charcoal Grey, Navy Blue, and Olive Green.

The Highwayman Rolltop is as interesting of a bag as the name suggests. Suited for travelers of all kinds, it is a rolltop backpack purposely designed with an exceptionally roomy body and multiple compartments of varying sizes. The waxed canvas keeps everything well protected from unpredictable weather. It has adjustable straps, has a top that rolls down for further security, is fully lined, and has an inside pocket. It comes in three distinctive colors: Charcoal Grey, Navy Blue, and Olive Green.
Hunker Bag Company truly has something for everyone, and is sure to fit your unique lifestyle perfectly. For more information, please visit hunkerbagco.com.
Tags backpack Hunker Bag Company Mail Pouch Men's Lifestyle Travel Bag