Formula E racing – the cooler, smarter younger brother of Formula 1 – is certainly here to stay. Its inner-city racing aesthetic and use of cutting-edge all-electric race cars is captivating. We were excited to visit Montreal to learn more when preeminent Formula E partner DHL invited us to the Hydro-Québec Montréal ePrix, the last race of the season, this past July. Here's what we learned.
In It From the Beginning
DHL partnered with Formula E from the very beginning of its founding in 2013. From Beijing to London, New York City to Hong Kong, DHL has been there every step of the way, transporting the fantastically advanced Formula E cars to every race in every venue. Montreal was no different – DHL was out in force, and we got to see it all courtesy of the American-born (now German-owned) company.
Getting a chance to check out the Montreal track before the season finale race was awe-inspiring. DHL told us all about how energy sustainability is a major part of the international courier's mission. The company has already vowed to reduce its own emissions at least 30% by 2020. DHL's dedication to an innovative, all-electric high-performance race organization is part of their plan to support advanced clean and renewable mobility research that can then be used in its own fleet of delivery vehicles. DHL is the first transport company to announce that it will reduce all logistics-related emissions with their mission of zero emissions by the year 2050.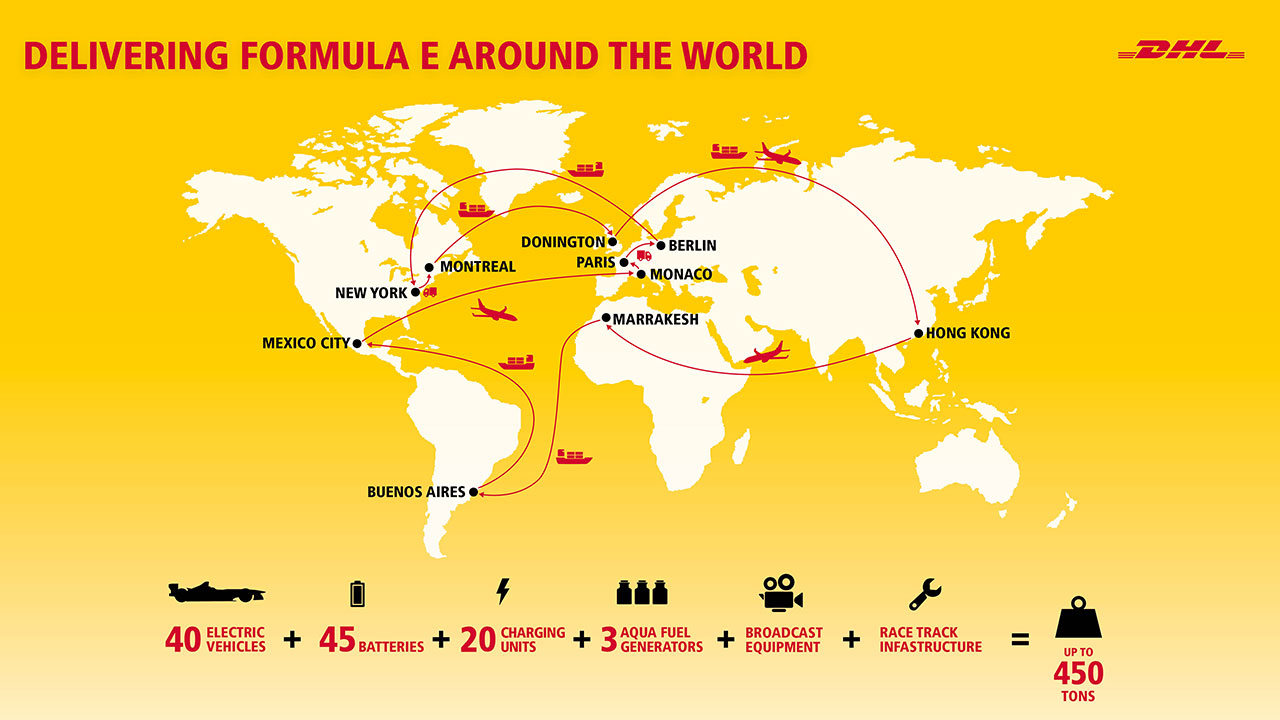 Sustainable Solutions
As an official logistics partner of the world's first fully electric car-racing series, DHL is in a unique position. Each season, DHL covers more than 31,000 miles toting 900,000 pounds of cargo to nine countries on five continents. Cargo is shipped via ocean freight, air, road and rail. The massive shipment includes the track infrastructure, 40 electric racing cars (2 cars per driver), lithium-ion batteries, charging stations, and garage equipment for all ten competing Formula-E teams.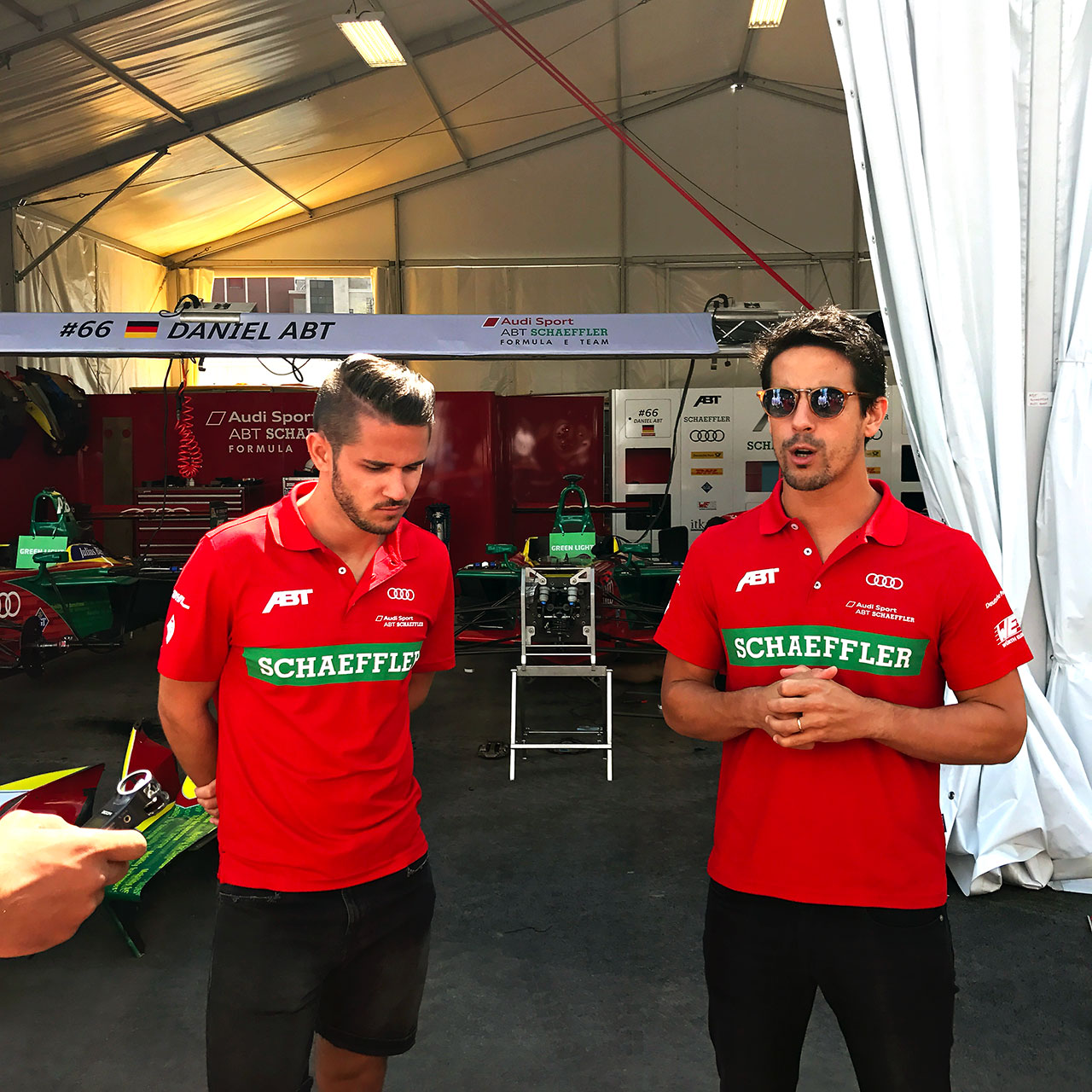 A Good Luck Charm
Part of our insider access to the Montreal ePrix was getting to meet some of the talented drivers of these fantastic electric race cars. Having experienced our first Formula E race thanks to the good folks at Harman Kardon, the NYC ePrix, just a few weeks prior, we were excited to put names and faces to some of the cars and sponsors – this included Daniel Abt and Lucas di Grassi, both driving for Audi Schaeffer Motorsport.
VIDEO: FIA Formula E Highlights: Montreal ePrix II
We'd like to think our meeting with Abt and di Grassi was crucial, as Audi Schaeffer performed like the champs they are. Di Grassi drove to victory as the Formula E champion for this season! At just 32 years old he's been rocketed to fame thanks to his amazing win, and we're completely comfortable in taking all the credit for it.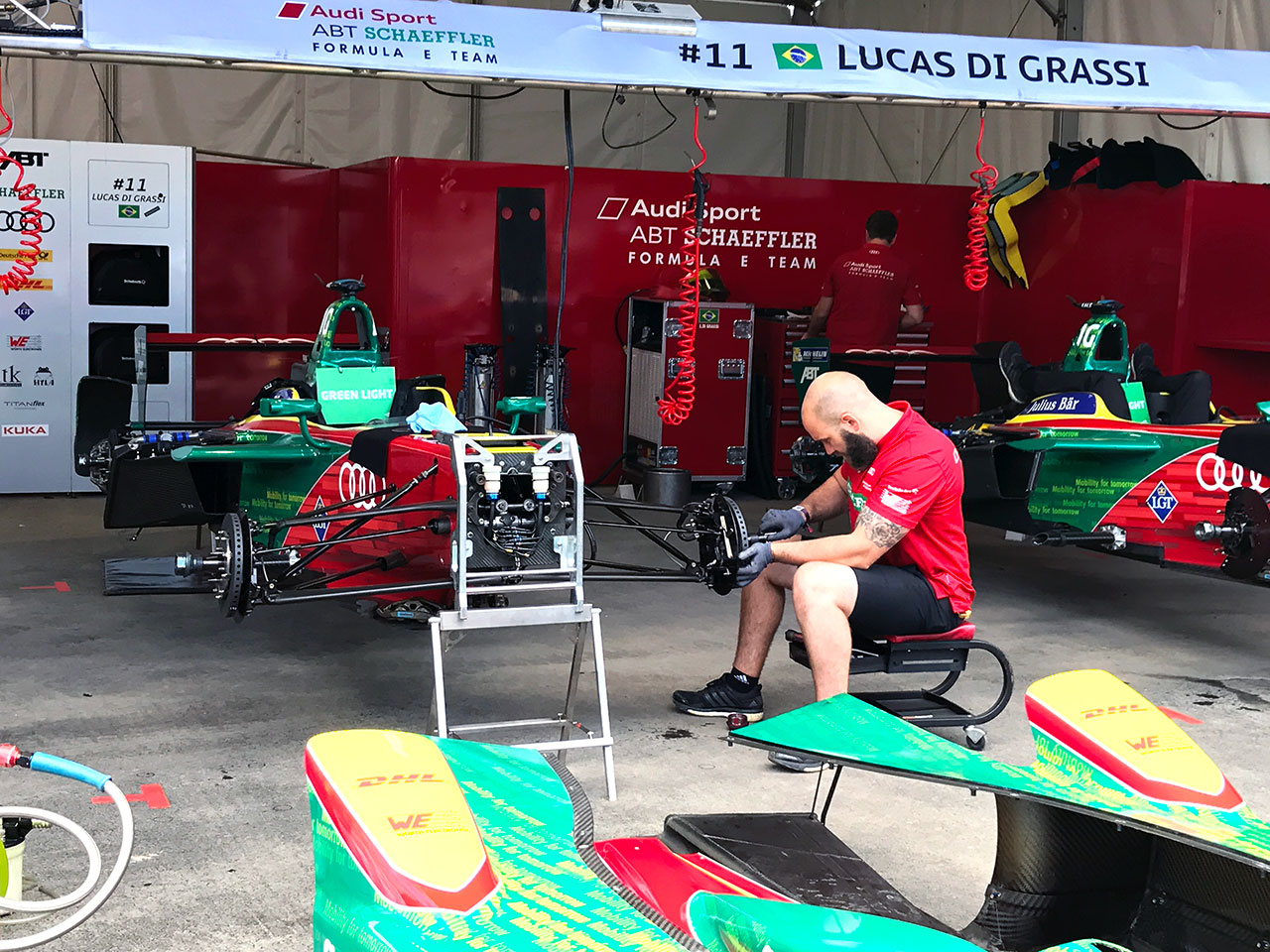 Okay, some. the rest probably goes to di Grassi's driving skills and DHL's unflagging support of one of the most exciting new automotive sports out there. We can't wait to see where Formula E racing goes in the future – and where DHL takes it!