Kelley Blue Book (KBB), the most influential and trusted resource in the automotive industry, has a longstanding relationship with motorsports. Not only is the vehicle valuation and information source relied upon by both consumers and the auto industry, but NASCAR's most popular driver, Chase Elliott, has partnered with the brand for several years. As huge NASCAR fans and frequent visitors to Kelley Blue Book's KBB.com, we jumped at the opportunity when we scored an invitation to hang with the Kelley Blue Book Crew for a NASCAR race at the Texas Motor Speedway.
Old Friends, Great Partners

We never turn down a chance to hang with the #KBBcrew and our buddy Chase Elliott, driver of the No. 9 Chevrolet Camaro for Hendrick Motorsports. KBB always treats us right whenever they invite us out, and this time was no different. This year, we caught up with the Hendrick Motorsports driver just before the Monster Energy NASCAR Cup Series race at the Texas Motor Speedway where he scored a top 20 finish. We received a hauler tour, was treated to a meet & greet with Elliott, and we had an awesome sit-down dinner with the entire No. 9 team. One highlight of our time with the crew was our exclusive interview with the team's interior mechanic Scott Honan, who shared exclusive insight into Elliott's off-track lifestyle.
Chase Elliott established his relationship with Kelley Blue Book in 2016 during his rookie season when he partnered with the legendary vehicle valuation and automotive research company. Kelley Blue Book's partnership with Hendrick Motorsports began in 2014 when the brand sponsored one primary race for Elliott's former teammate Dale Earnhardt Jr. With the help of Kelley Blue Book, Mankind Unplugged has spent time with the young driver each year of their memorable partnership.
Kelley Blue Book will sponsor Elliott for two primary races in 2019 just as they did in 2018. We predicted big things from the #KBBcrew last year, and we were right. Elliott capped off last year with three Monster Energy NASCAR Cup wins, which were the first Cup wins of his career.
READ: Chase Elliott Joins the Kelley Blue Book #ConfidenceCrew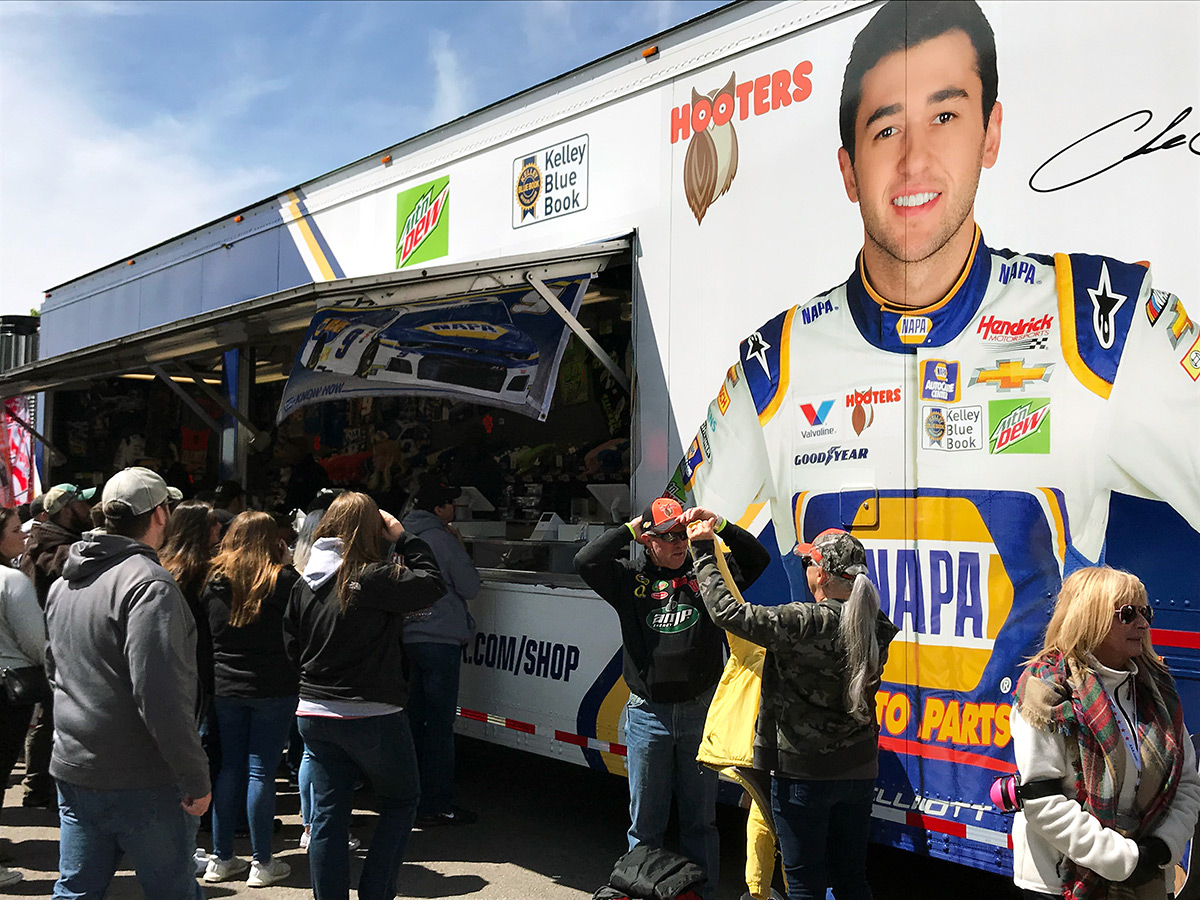 KBB Supports Drivers of All Stripes

It's no surprise that Kelley Blue Book picked a winner when they partnered with Elliott. It's just part of what KBB has always done, like how they have always been there for drivers no matter what — especially when it comes to finding the best prices on cars.
Now Kelley Blue Book has taken it one step further, offering ways to make it even easier to sell your car without the hassle. KBB's new Instant Cash Offer lets users enter the condition and features of their vehicle from their desktop or mobile device and get an instant offer from a participating dealership nearby. With an offer in hand consumers can bring their car to a dealership and walk away with a nice check — or put it towards buying a new vehicle. Whatever consumers decide the #KBBcrew has their back. Kelley Blue Book not only supports world class drivers like Chase Elliott and engages with millions of racing fans, the brand also empowers car buyers to make confident decisions for a more satisfying shopping experience.
Tags Chase Elliott Hendrick Motorsports KBB Kelley Blue Book Monster Energy NASCAR Cup Series Motorsports Nascar Racing