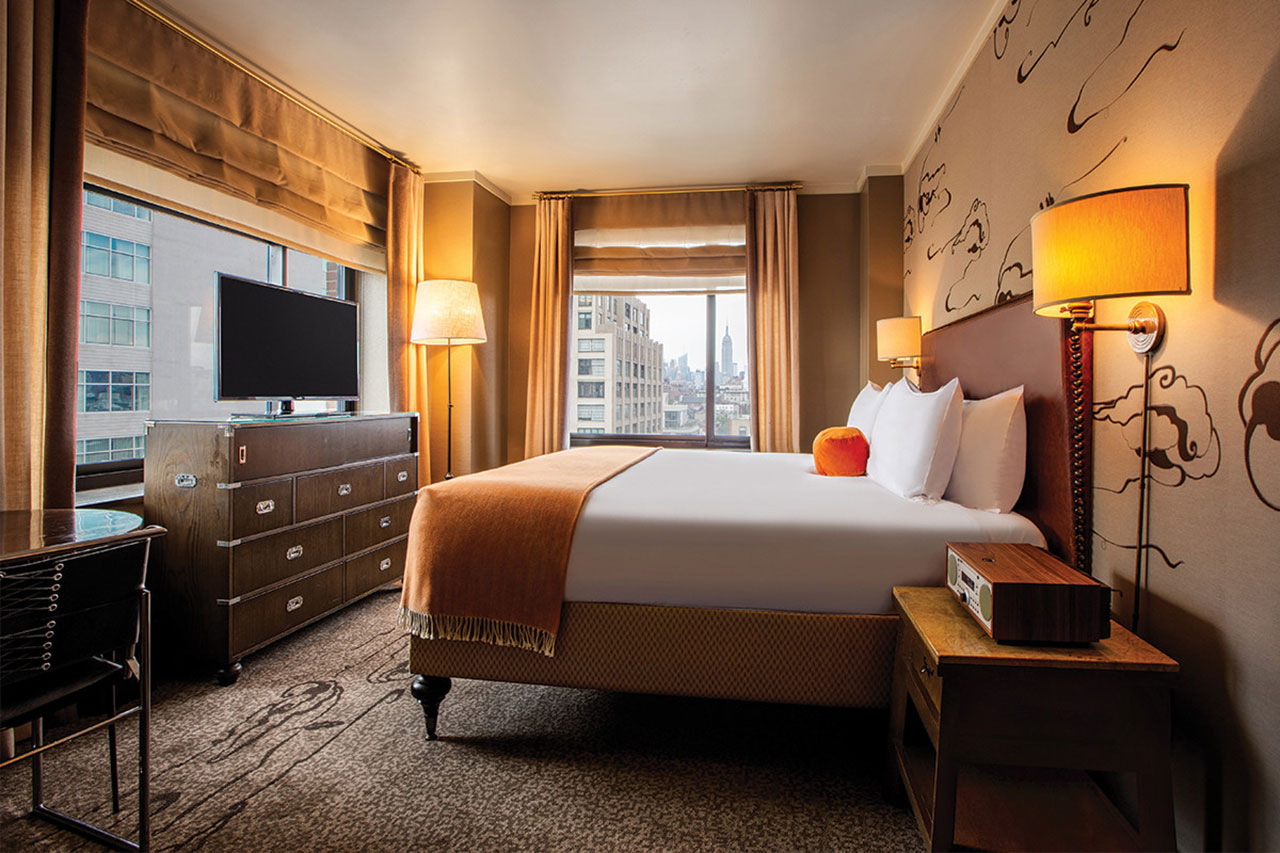 When it comes to luxury and elegance, there's no place like the Soho Grand Hotel. Established in 1996 as the first luxury boutique hotel in lower Manhattan, the Soho Grand rubs shoulders with world-renowned restaurants, boutiques, and art galleries in SoHo, one of the most sought-after neighborhoods in New York City. Thanks to our recent trip to the first ever Formula E race in NYC courtesy of Harman Kardon, we had an opportunity to stay at the Soho Grand. Here's how that went.
A Treasure Hidden in Plain Sight
Approaching the Soho Grand, we were immediately struck by the no-nonsense exterior, reminiscent of the neighborhood's architectural heritage. We found this was an intentional decision by the architects – and it made stepping inside the hotel like finding a glittering treasure hiding in plain sight. The Soho Grand's rooms might be a bit on the small side – typical of downtown Manhattan, where space is at a premium – but they're tastefully appointed with 100% Egyptian cotton linens, Frette bath robes, a gourmet minibar and a personal safe.
Homelike Comfort
The aesthetically pleasing 17-story Soho Grand offers 353 custom guest-rooms and suites. Hotel rooms range from impeccably designed queen, king, deluxe, corner, one bedroom, two bedrooms, and deluxe suites to a breathtakingly penthouse loft spanning 2,500 square feet with a 1,200 square foot outdoor terrace. Each room is carefully appointed to reflect the history and character of the historic Soho neighborhood. Many rooms offer stellar views of downtown Manhattan. "Homelike comfort" is the best way to describe industrial inspired high end fixtures and custom furnishings of each plush and well-equipped room.
The Experience
There's so much to experience at the Soho Grand that we barely spent time in our richly appointed room, though. The hotel's Salon, often referred to as the "living room" of the Soho Grand, offers massive, vaulted ceilings, comfortable overstuffed chairs, and floor-to-ceiling windows curtained by velvet drapes offered a fantastic view of West Broadway, and the Grand Bar & Lounge evoked the old New York style of marble-topped oak bars, banquette seating made from woven leather, and rich wood grain floors completed the ensemble. The collection of 50 American whiskeys on offer, all of them rare blends, didn't hurt any either!
Embracing Island Culture at Gilligan's
Our favorite part of the visit to the Soho Grand was the time we spent at Gilligan's, the hotel's exclusive outdoor dining space and a perfect place to meet with friends. Only available through September, Gilligan's provides a touch of island culture, dripping in tropical decor and with a menu that compliments it perfectly, specializing in locally-caught seafood. Their frozen watermelon margarita, a combination of top-shelf tequila, fresh watermelon, Combier Triple Sec, and lime, was too delicious for words – a few of those and we definitely appreciated the short walk back to our hotel room!
Time to Check Out
Our stay at the Soho Grand came to an end all too soon, but we'd return in a heartbeat. This hotel lived up to its expectations and then some! Did we mention during the Spring, Summer and Fall months that the hotel offered complimentary European-inspired Mozie Bicycles so guests can get around New York in style? With a balance of service and style, the Soho Grand seduction is real.
Tags Hotels in New York Luxury Hotels New York Soho Grand Hotel Travel