If you dread changing your own motor oil because of the mess that usually ensues from the inevitable spill, then it's probably time for you to reconsider the method you are using. Admittedly, I never change my own oil. It's not because I'm not team DIY (Do-It-Yourself), or that I'm a girl and I can't; I don't have to. Not that a woman is not capable of changing her own oil – I'm lucky enough to be a female that doesn't have to. Let me explain. If I opt not to go to the dealership for service, the fortunate young man in my life is always on hand to deliver first-rate service with a personalized touch. Also, as a fan of anything that goes fast on wheels, my love for motorsports and extensive experience behind the wheel has afforded me the opportunity to know about many cutting-edge technologies under the hood, including the launch of Valvoline's newest innovation, the Easy Pour Bottle.
Earlier this year, I was among 300,000 spectators at the Indy 500 in Indianapolis. While there, I met with my Valvoline family and the Clutch Crew. During our trip, we had a top-secret meeting where Valvoline exclusively unveiled their cutting-edge innovation "Easy Pour Bottle" packaging. For months, I have been privy to this game-changing invention, but now that the cat is out of the bag with Valvoline officially announcing their retail launch, I am happy to tell you all about it.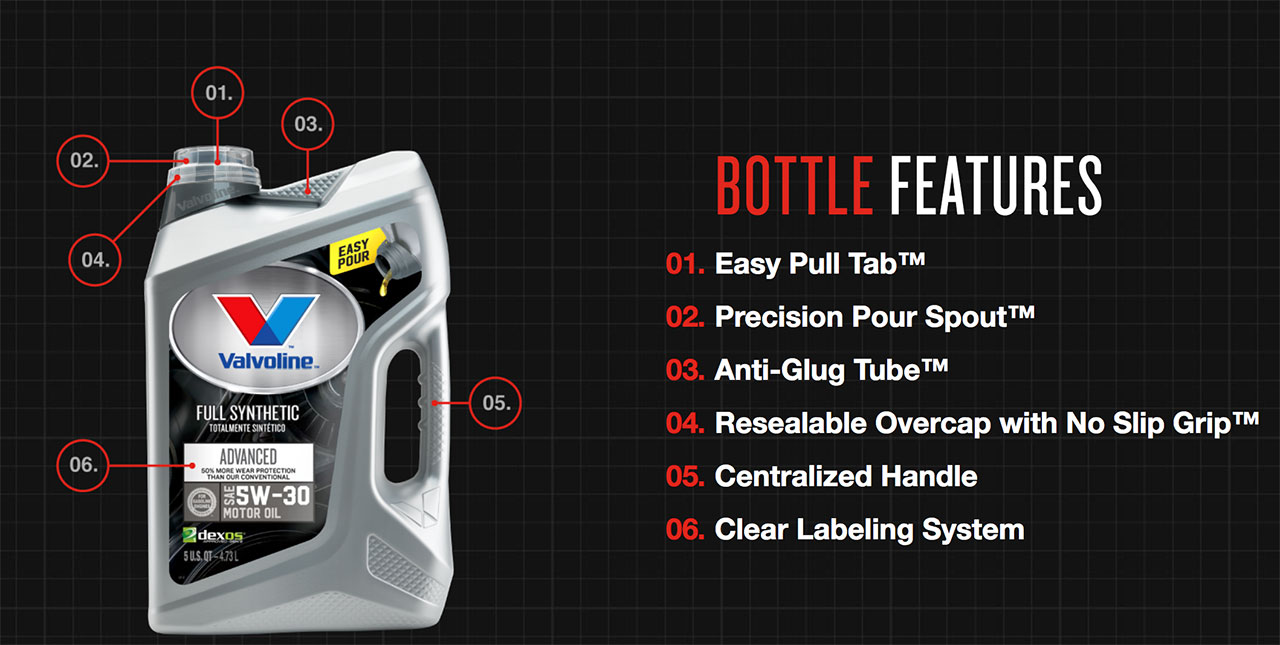 Innovative. Easy. Fast. Clean.
Valvoline listened to consumers and engineered a game-changing, patent-pending Easy Pour Bottle to replace the bottled products currently found on the shelf to make oil changing easier. The new Easy Pour Bottle features an "Easy Pull Tab" consisting of a stress-free pull-ring and foil tab for a cleaner, easier open as well as a "Precision Pour Spout" for an ultra-smooth, no-spill pour every time. Additional highlights of Valvoline's new Easy Pour Bottle include an innovative "Anti-Glug Tube" which allows air to flow back into the bottle for a smooth, glug-free, continuous stream of oil with every pour. To help prevent spillage and for easy gripping of the bottle, the "Resealable Overcap with No-Slip Grip" has a snap-lock threaded closure for secure resealing after each use. A strategic "Centralized Handle" seamlessly aligns with the bottle's center of gravity to make picking up, doing one-handed pours, and transporting the bottle easier. Easy Pour Bottles also feature clear color-coded bottling and an advanced labeling system to assist you with finding the right oil grade for your engine. "Valvoline's goal for 151 years has been to use our expertise for the benefit of our customers. Each part of Valvoline's Easy Pour Bottle has been engineered with our DIY consumers in mind – reimagined, redesigned, tested and proven to make changing oil easier, faster and cleaner," said Heidi Matheys, Valvoline's chief marketing officer.
VIDEO: So Easy Jimmie Can Do It – Autograph
So Easy You and NASCAR Driver Jimmie Johnson Can Do It While…
To demonstrate how simple it is to use the new easy pour bottles, Valvoline partnered with NASCAR Champion Jimmie Johnson, known to us NASCAR fans as Mr. 7x. The seven-time champ makes pouring look easy while shining his trophies, signing autographs, and doing one of his favorite pastimes, riding his bike.
Do-It-Yourself
Whether you have a little racer in you, you're a seasoned mechanic, or a DIYer, Valvoline has simplified the process of finding the right motor oil for your engine. A long-time supporter of motorsports, racers have depended on Valvoline for more than 100 years. In fact, Valvoline VR-1 Racing Oil is the best-selling motor oil of all time and is used in cars today. Most of us aren't lucky enough to have access to the best engines and a garage full of engineers and mechanics like a NASCAR driver, but, with the help of Valvoline, you can have access to color-coded Easy Pour bottles to effortlessly differentiate between products when working in your own garage. "Our Easy Pour Bottle is one of the biggest packaging innovations in the history of Valvoline, and was developed with integral feedback from DIYers and auto experts alike," said Michelle Allen, director of marketing for Valvoline. "As we look to the future, we will continue to innovate in every area – from design to products and services – to meet the needs of our customers."
I won't be pouring motor oil anytime soon, but I'm all for anything that will make life easier including Valvoline's newest innovation, the Easy Pour Bottle. I have put the Easy Pour design to the test (that's me in the photo) and can state without bias it is EASY! Don't believe me? Visit EasyPour.com to learn more about this new, redesigned, re-imagined, and easy to pour bottle. While you're on the website learning about what makes Valvoline Easy Pour bottles the most innovative on the shelf, click through to TeamValvoline.com to check out some of their unique DIY content, as well as behind-the-scenes stories on racing, their legacy, and culture. I promise you will learn something new and useful.
Tags DIY Do It Yourself Easy Pour Bottles How To Motor Oil Valvoline