Modern life is hectic, but it doesn't have to be this way. Here are five of the best mobile apps for getting — and staying — organized.
Habit — Daily Tracker
We all need help with adopting new, better habits. Using an app like Habit — Daily Tracker lets you record your daily progress towards your goals by scheduling habits by the day, letting you set reminders, and allowing you to add notes to keep you on track. If motivational quotes are your thing, you can also add a few of your favorites for daily inspiration. This free app is perfect for anyone trying to improve their quality of life! With this app there is no excuse not to achieve your long-term goals.
READ: Keep Calm And Let These 5 Apps Help You Get Organized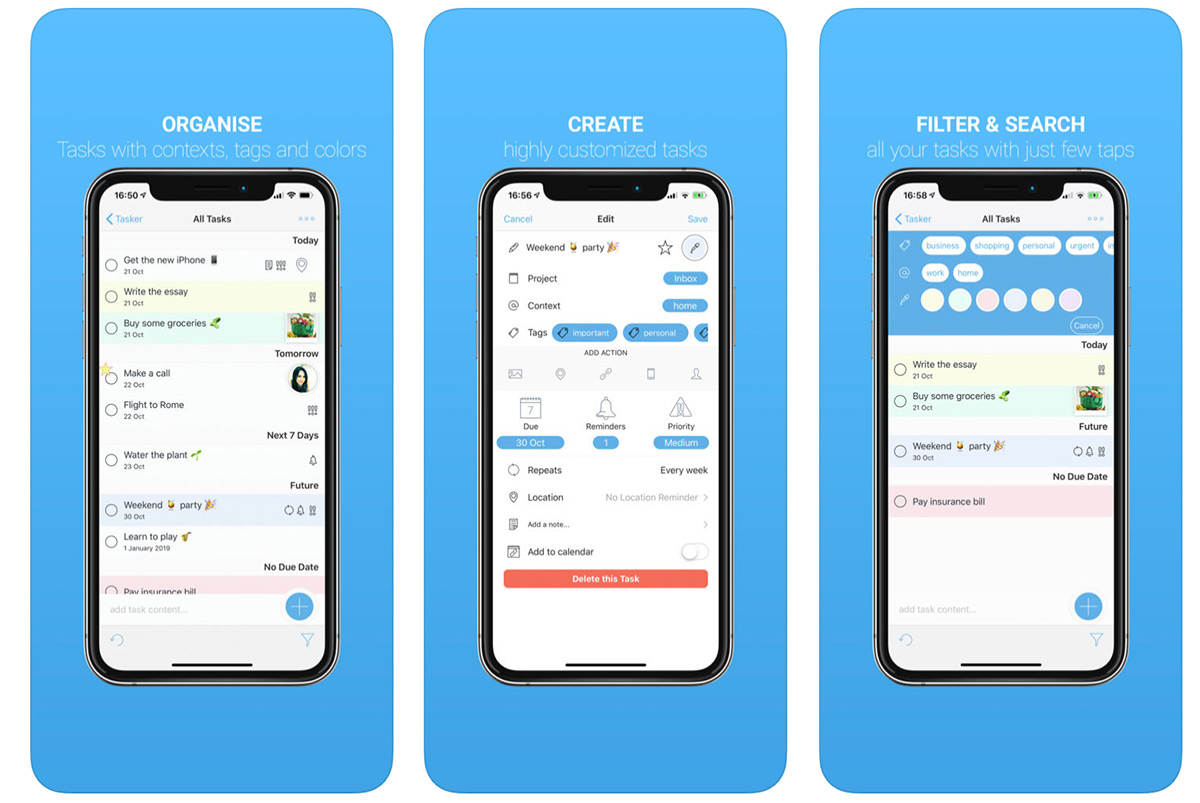 Tasker To-Do List / Task Manager
Whether it's completing projects at work or just remembering to pick up the dry cleaning on the way home, mundane, everyday tasks can be the worst. That's why Tasker is such a great app for ensuring that you don't miss taking care of those important but otherwise mind-numbing chores. For just $0.99, Tasker is one of the most flexible and versatile to-do list. Tasker — To Do List / Task Manager makes you more organized and helps you stay prepared for any task at hand by letting you take your to-do list with you wherever you go.
MealPrepPro
Tired of having no clue when it comes to dinner time? Want to build muscle, lose fat, or simply support better overall health? MealPrepPro has you covered. This subscription-based app offers nutritionist-approved meal plans that save you time and money. You can filter plans for allergies, choose from a number of different options ranging from keto, high protein, vegetarian, and even access recipe videos to show you how to get your meal on from scratch. Not only does the MealPrepPro App save you time and money by preparing your meals in advance, the app also assist with solving the most common problems with meal prepping and grocery shopping.
theScore
Too busy to keep up with how your favorite team is doing this season? With theScore, you never have to worry about being left out of the loop ever again. This fully-personalizable free sports news app makes it easier than ever to keep up with major league sports scores and news before you take the jump over to your favorite online betting sites. There is a reason why millions of fans prefer theScore app. This app even offers chat and messaging options for you to trash talk fans of rival teams. Because we know that sometimes you just gotta put those jerks in their place.
FightCamp
There's plenty of great ways to work up a sweat, but boxing is one of the best full-body workouts anywhere. The free FightCamp app makes it easy to work on your fitness goals whenever and wherever you are, offering 15, 30, or 40-minute interactive studio boxing workout videos led by world-renowned trainers. With this app all the best elements of a world class boxing gym are directly at your finger tips (or fists). You can even combine the FightCamp app with punch trackers for real-time feedback and performance recording!
Tags Best Apps Get organized How To iPhone Apps To-Do To-Do List