When three pioneers of modern barbering are on a mission to rewrite the standards of grooming for movers and shakers, people who stand up for what they believe in, and people that have bold, authentic statements to make, at best, they should create a brand that goes beyond the product. But what happens when they rewrite the standards of grooming and create a brand with purpose? They build a modern barbering brand that shakes things up and makes a statement. Or, in this case, STMNT!
From a simple idea, the founding collective of STMNT Grooming Goods, Julius Arriola aka Julius Cvesar, Sofie Pok aka STAYGOLD, and Miguel Gutierrez aka Nomad Barber, joined forces to create tried-and-true products for different people of all ethnicities and genders. Three different people, three different mindsets, three different styles. These three "working" barbers created three distinct styling collections, accompanied by an innovative 5-piece care line.
STMNT Grooming Goods is something new, something better, and something unique. STMNT is for the image-conscious individual who is seeking high-performance products. Whether you are looking for STMNT Care or STMNT Styling, this versatile brand has products that will fit your lifestyle.
Founding member Julius Cvesar believes, "Finding your own statement is super special. It should be something that comes from the heart. Be yourself. Make your statement. Manifest greatness." If you are in the market for some exceptional grooming products and you're ready to make your own statement, upgrade your routine with these STMNT products designed to take your grooming to the next level.
STMNT CARE COLLECTION – OUR PICKS
photo credit: Instagram
STMNT All-in-One Cleanser
This easy solution is just that – easy. Clean everything from your hair to your beard to your face and hands with the specialty formula. Free from sulfates (SLS*), silicone oils, and animal-derived ingredients, the All-In-One Cleanser consists of a super lightweight formula that has activated charcoal and menthol. If you are worried about the smell, don't. It smells like fresh citrus and lavender with tonka bean.
STMNT CREATOR'S STYLING COLLECTION – OUR PICKS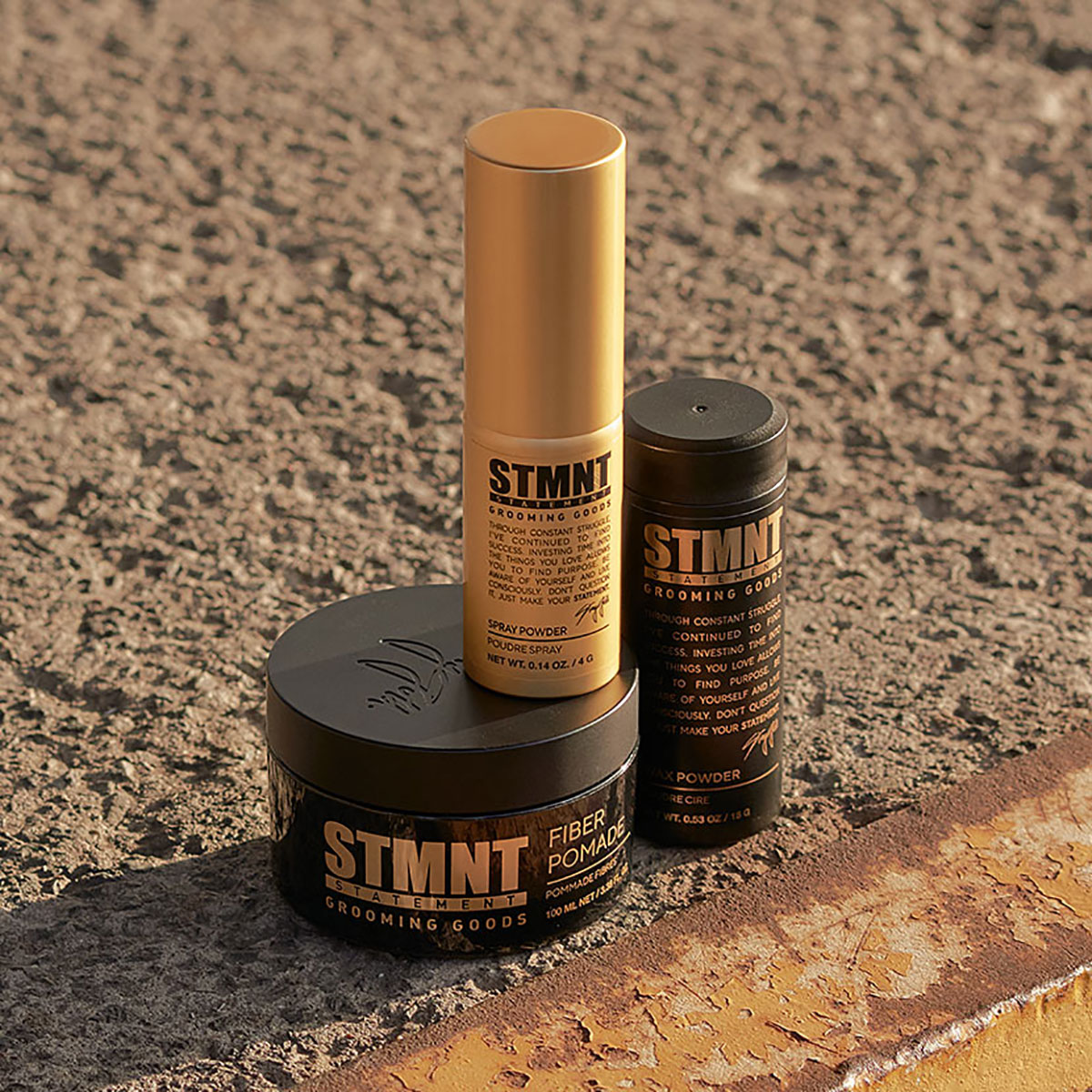 STMNT Spray Powder
Rough texture got you feeling some type of way? Don't let it. Staygold's (@staygold31) signature product is designed for instant root-lift and outrageous volume. This super lightweight formula is your secret weapon if you're looking for a spray with grip and an extreme matte finish. Staygold said,
"I wanted to make her hair really easy to style as if she had just woken up and was heading out. With the spray powder, I was able to apply enough grittiness to give life to this textured faux hawk whilst still keeping it light and not over-styled." Who doesn't love a good unisex grooming product, right?
STMNT Classic Pomade
Finding the perfect pomade can be challenging with so many on the shelves. Spices, lavender, a hint of wood, and everything nice is a classic reason to try Nomad Barber's (@nomadbarber) signature STMNT pomade. If you're looking to add a natural shine to your hair, try this water-based strong control formula. This pomade is easy to wash out and offers a flexible hold without stiffness.
STMNT Shine Paste
If you like your hair to have an understated shine, Julius Cvesar's (@JULIUSCAESAR) signature Shine Paste may be the product for you. The STMNT Shine Paste offers long-lasting texture, and a natural shine finish, while still providing firm control. This non-greasy formula signature scent is coconut and sandalwood with inflections of orris. "In this ever-evolving industry, my passion is to take grooming to the next level – these formulas are designed with the ability to cocktail for truly custom-tailored styling," said Julius Cvesar.
Tags Body Grooming For Men grooming Men's Grooming Men's Grooming Products Men's Hair Grooming Men's Soap Sofie Pok STAYGOLD STMNT STMNT Grooming