Hey guys. We get it. You're just not that into using female body wash. Sure, you like all the fun floral, fruity, and aromatic scents illuminating from her pours, but face it, not many men want to smell like that. Also, you have different needs for your manly well-being. You want to smell like a man. If no one else understands, this guy Jack Haldrup, aka Dr. Squatch, does.
Jack, the founder, and creator of Dr. Squatch's natural, high-performance personal care products, started creating his own natural soap in his garage. Sensing other guys out there wanted better products with natural ingredients and manly scents, Dr. Squatch was born. Dr. Squatch's purpose-built products handle the demands of men everywhere, including you.
READ: Upgrade Your Daily Grooming Routine With STMNT Care and Styling
Most men want something formulated for men and built for performance without compromise. Dr. Squatch has done just that. From a clean skin feeling to leveling up your hair care routine, and yes, freshening up your armpits, their natural products are changing how men approach their hygiene. If you're looking for personal care products that make you feel like a man and smell like a champion, Dr. Squatch has you covered (pun intended). Check out what they offer.
Bar Soaps
Dr. Squatch is raising the bar on bar soap (pun intended, again). Cool Fresh Aloe, Wood Barrel Bourbon, Bay Rum, Cedar Citrus, Deep Sea Goats Milk, Spearmint Basil, and the Rugged, woodsy, and strong Pine Tar are just a few of the scents available for Dr. Squatch's best-selling bar soap. Each bar is made up of the finest ingredients nature has to offer to help you lather up and scrub down daily.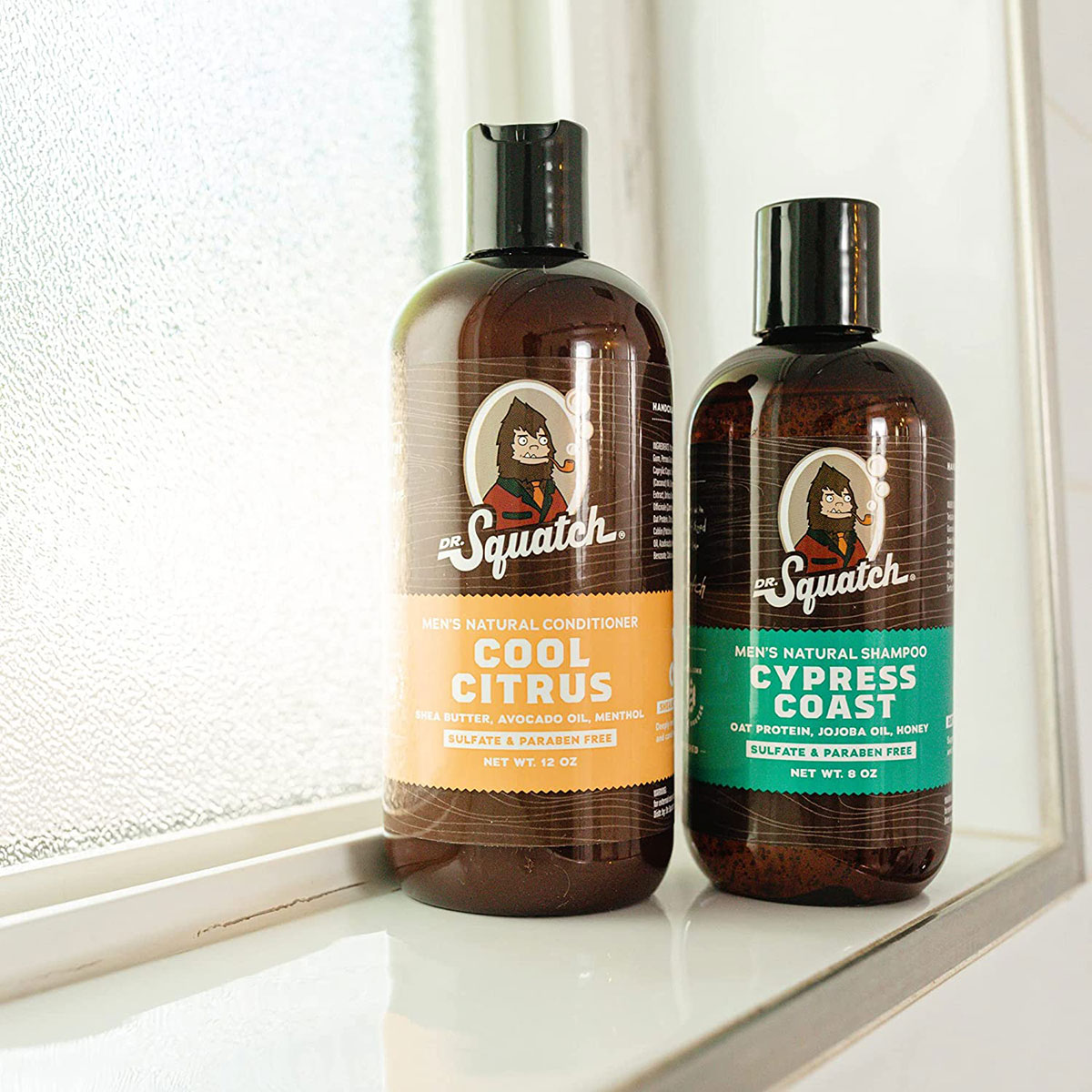 Natural Cold-Process Soaps
Dr. Squatch's shampoo and conditioners are made with the best blend of good stuff that Mother Earth has to offer. Whether you want to refresh your hair care routine or maintain your mane, their shampoo and conditioner comprise a potent mix of all the good stuff you need for luscious locks.
Natural Deodorant
Dr. Squatch's natural deodorant for men delivers a smooth glide application and skin-nourishing moisturizers that are gentle on your skin. Whether you need a rugged and refined blend of spice, bourbon, and oak or a refreshing and clean smell with a hint of citrus, these natural deodorants Odor-Squatching® System will help you give B.O. the boot while preventing the growth of odor-causing underarm bacteria.
As one commenter said, "Dr. Squatch doesn't just sell good products for males. But they make good commercials."
Tags Dr. Squatch Dr. Squatch Deodorant Dr. Squatch Shampoo Dr. Squatch Soap grooming Guy Stuff Men's Grooming Men's Grooming Products Men's Soap